Pears are seriously underrated. They're pretty on the outside with colors of green and sometimes red, and they're sweet, juicy, and crisp on the inside, and really healthy. Thankfully, pears have been getting more attention (maybe because of Rick Ross' shout out) and delectable pear recipes have been sprinkled all over the internet.
Pears can be eaten raw in salads, baked in sweet treats, and even pureed into a sauce. If you are fantasizing about running to your local grocery store to pick up some pears to eat immediately, not so fast; they might not be ripe yet!
---
How Long Do Pears Take to Ripen?
After pears are plucked off of the tree, they aren't ready to eat, and need some time for their sugars to develop, and then they begin to ripen. While the average pear takes about 5 days to ripen after being picked, the exact number depends on what kind of pear it is.
Here's how long fresh pears take to ripen:
Bartlett pears: 4 to 5 days
Bosc and Comice (including Royal Riviera) pears: 5 to 7 days
Anjou pears: 7 to 10 days.
*Tip: If a pear is already ripe, you can store it in your refrigerator for up to 3-5 days.
Note that some varieties of pears will develop brown spots, but this is not bad or a sign of rotting. This is called russeting which is natural and does not take away from the delicious flavor.
Freshly cut pears will start to brown quickly. If you're serving them and don't want them to brown, just dip them in a mixture of half-water, half-lemon juice.
*New: Pears are on the WW Zero-Point Food List and we have a coupon here!
---
How to Tell If a Pear is Ripe? Check the Neck!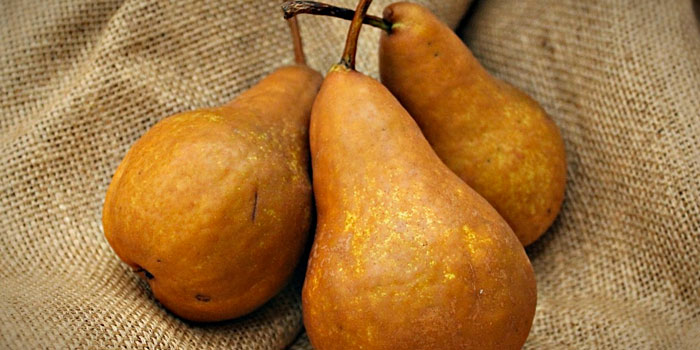 It can be hard to tell when they are ripe because not all types of pears change in color. If you bite into one, it might have an exciting crunching sound, but you won't get that sweet, delicious taste.
Tip: Check the neck: The USA Pear Bureau (is that who agent Ethan Hunt reports to?) has an easy ripe test that can pass for all types of pears: check the neck! (I wonder if that phrase will catch on at Trump rallies? Check the neck! Check the neck!)
Simply press your thumb against the pear's neck (the stem – don't break its skinny neck!) If the unbroken neck yields to your pressure, then it's a ready-to-eat pear! If it still feels very firm, try again tomorrow.
Tip: If your thumb gets buried deep in the pear, and juices run through your tightly-wrapped fingers, you are probably harboring a lot of anger. Remember, it's a pear, not a stress-ball.
Not ripe yet? Check the neck every day until it's pear-fectly ripe. This may take a couple of days to a whole week. If you need your pears sooner, you can do some things to speed up the ripening.
---
How to Ripen Pears Quickly: The "Brown Paper Bag" Method
One thing you can do to make a pear ripen faster is the same method known to ripen avocados faster! Pear your pear with a ripe apple or ripe banana and place them into a brown paper bag.
This traps the pear with more ethylene gas (the gas fruits give off during the ripening process) and triggers the ripening process to speed up.
You'll want to check them a couple of times a day though, as this can double the speed at which they ripen.
Tip: Brown paper bags are preferred as, unlike colored or white bags, they don't have dyes or inks in the paper which may leech into your fruit.
---
Ripen Pears Faster: The "Pear-Pressure" Method
Tip: If you're in a hurry, another way to speed up the ripening process (once again because of the science of ethylene gas) is to "pear" a bunch of pears together in a basket.
When one fruit ripens, the others think it's cool and want to follow along and ripen too. You might even call it, "pear-pressure!" (are you getting the puns yet?)
Hopefully, the ripe pears won't start cyber-bullying the unripe ones, but it happens.
*Are you a wine drinker? New Winc Wine Club Review and $30 off coupons!
---
How to Slow Down the Ripening Process
If you want to delay ripening, you can put pears in the refrigerator. Put them in a clear Tupperware container and cover the top with Saran Wrap. This way you can keep an eye on them and not forget about them.
A pear is perfectly ripe for a short time. If you do forget about your pears for too long (How could this happen? Get your priorities straight, man!), don't worry. Unlike most fruits, overripe pears can still be just as tasty.
Harry & David suggests that overripe pears are good texture agents in cooking and can still lend sweetness to smoothies, pies, cakes, and other purees. View recipes for Harry and David pears here.
---
Know Your Pears: How Many Types Are There?
Before learning about ripening your pears, you should know about the different types of pears (there are 10 types of these curvy beauties!) and find out which ones you want.
The fancy names for these fancy fruits are Anjous (red & green), Bartlett, Red Bartlett, Bosc, Comice, Concorde, Forelle, Seckel, and Starkrimson.
Each kind of pear has its own level of sweetness and texture (just like us; not all of us pear-eaters are sweet!). For instance, Bosc is sweet and best for baking.
The world-famous Royal Riviera pears from Harry & David are actually a type of Comice pear, grown only in Southern Oregon. The Comice is known as the sweetest and juiciest pear, and a favorite to send as a holiday gift.
Most of these pears don't show a color change when ripening, except for the Barlett. When a Barlett pear (one of the most common pears we reach for) is ripe, the skin brightens to a yellow color – a happy color for a happy, ripe day!
---
Rick Ross' shout out to pears:
Well, after Rick Ross' viral pear-endorsement, all the cool kids are going to be going out and buying some, so get your pears from Harry and David while they last! (Hmmm… his body even has a pear-shape!)