You may have noticed that ping pong tables have popped up in a number of New York City parks recently. This is partly due to the enduring popularity of outdoor tables in places like Bryant Park, which has been around for years. It also seems that in our connected, noisy world, people are increasingly discovering both the health and Zen benefits of the sport.
I've been to Bryant Park a number of times, and never really paid much mind to the two outdoor ping pong tables there. However, I recently watched a National Geographic documentary (below) that shows just how special these tables are. Before I continue, I think you should check out the video about "The Tables."
---
The Ping Pong Tables at Bryant Park
Wow, are you kidding me?
So, having recently become obsessed with ping pong myself, I knew I had to go check out the table tennis scene at Bryant Park for myself.
---
Ping Pong Tables: Hours & Location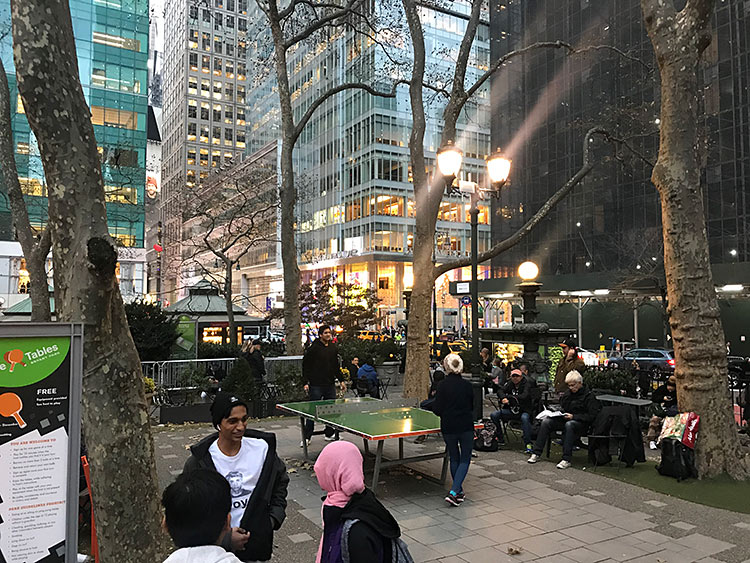 The open hours of the ping pong tables are:
April-September: 11am-7pm
October-November: 11am-6pm
December-March: *Tables are closed when the temperature is below 45°F
Location: The ping pong tables are located in the corner of Bryant Park along 42nd street near 6th Avenue.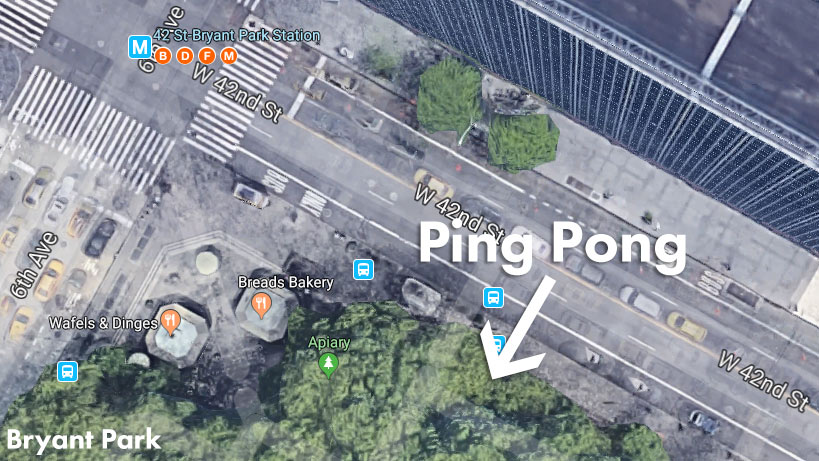 If you are thinking of going, here's what you should know:
---
Want to Play? Here's How It Works: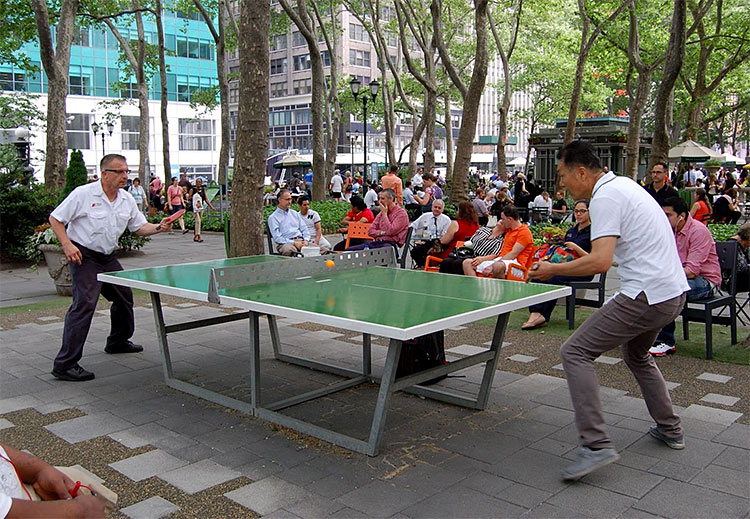 Bryant Park is an oasis of green i the heart of NYC, right next to the buzzing activity of 42nd street. The tables themselves are under a canopy of old Sycamore trees, surrounded by the sounds and energy of the city.
There's an air of excitement and anticipation around "The Tables" that you might expect among people waiting at the stage door after a Broadway show.
While there are weekly tournaments, most of the time people just go there to play for fun, although a sign next to them lays out a few ground rules, including to "be polite, considerate, and courteous in victory and defeat."
If you want to play, you'll need to check in with the host to reserve a spot, which are in 10-minute increments. While most people make reservations in pairs, you're also welcome to show up as a single.
When the weather is warm, The Tables can get crowded, but I went there at an off-peak time, and only waited about 15 minutes to play. You can borrow paddles and balls for free, or you can bring your own, and when it's your turn, the host will call out your name.
---
I Played At the Bryant Park Ping Pong Tables!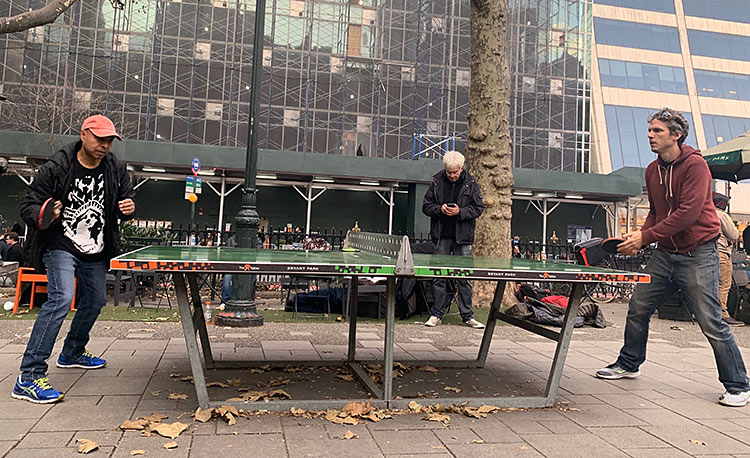 The Nat Geo video gives you a great taste of what it's like to play ping pong at Bryant Park, and of the eclectic characters who flock there to play. I went on a chilly day in later November, and although it was cold and windy, there was no shortage of people eager to play ping pong.
The first time I played, I was paired with a friendly middle-age Latino man. We quickly got to volleying and didn't bother keeping score. Hey, I think he's one of the guys featured in the video! I didn't mention that, but we did talk a bit while we played.
Our focus was more on keeping the ball on the table than anything, as an errant shot will send you running frantically across the park to retrieve the ball as your 10-minutes ticks down.
After my time was up, I rushed to put my name down again. I waited another 20 minutes or so, and the second time I was paired up with a friendly Asian woman who smiled most of the time that we played. She was pretty good, too!
We both thoroughly enjoyed volleying together, and afterward shook hands.
Well, it was starting to get dark, and my family had already patiently waited for an hour, so it was time to go. The video mentioned that the "good" players start coming after 4 pm (with their own paddles) which is apparently true, as the wait time had jumped to 30-40 minutes.
---
Adam Bobrow Playing Ping Pong at Bryant Park:
Popular youtube table tennis star, Adam Bobrow, issued a challenge to the public and played dozens of people at Bryant Park. Here's the video:
---
Ping Pong is Awesome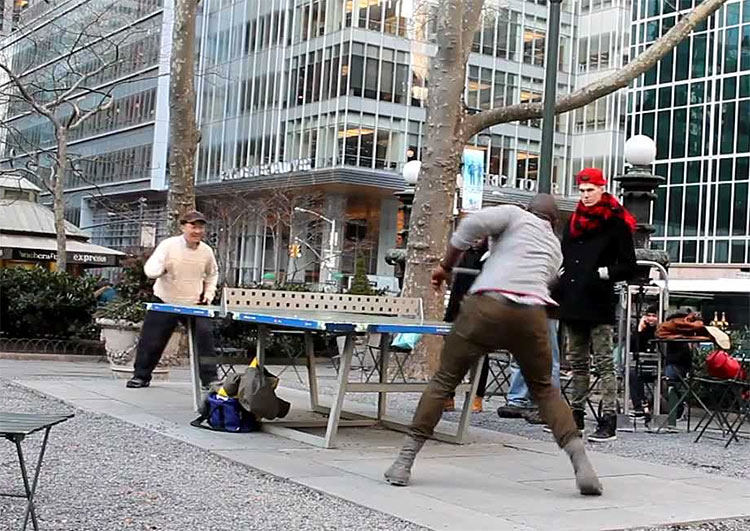 You see, that's what I love about ping pong; you can quickly bond with someone over a table, just about anywhere in the world. And, I can't think of a better place in the world than Bryant Park in New York City to bond with a diverse group of strangers!
Well, playing ping pong at Bryant Park was really fun, and I'm planning on going back again in the Spring!