What should you pack for a Costa Rica family vacation? So, you booked a trip to Costa Rica? Yay! We think Costa Rica is one of the most magical places on earth!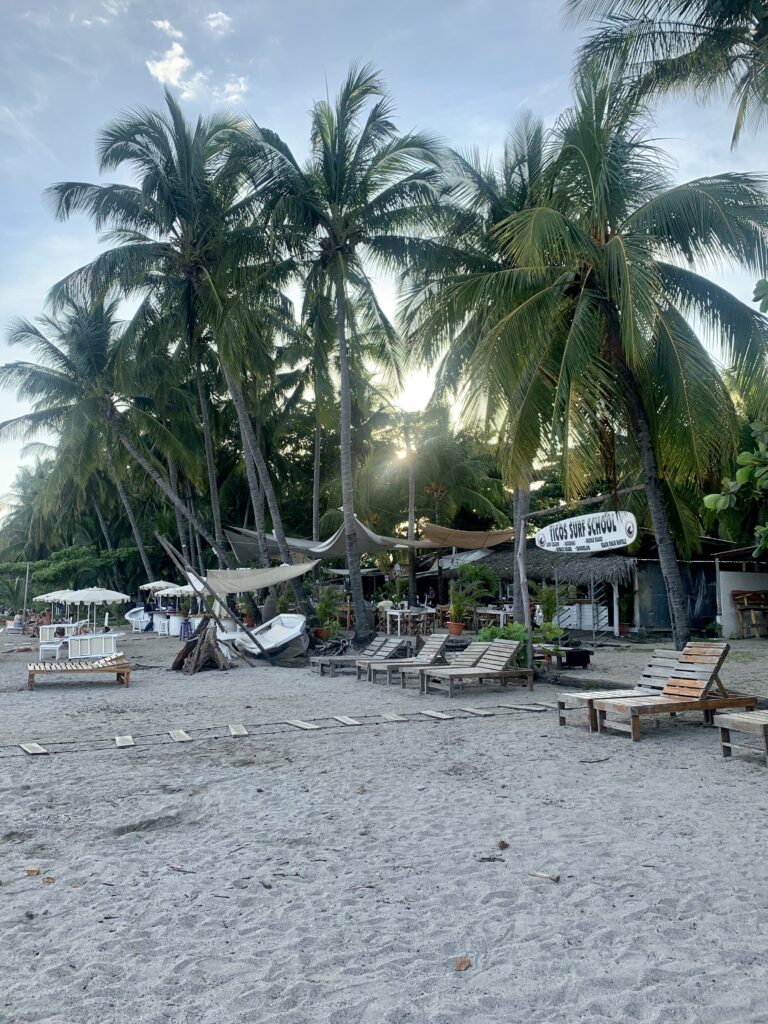 What you need to pack depends on when you are going there, as the weather is seasonal.
So, if you are traveling to Cost Rica between May and November, that is their rainy or green season.
Although it's slightly smaller than West Virginia, Costa Rica has 5 different climate zones (and even those zones are made up of micro-climates). So if your itinerary has you trekking from the jungle to the cloud forest to the beach, chances are you're trying to figure out exactly what you need- and for those of us who love to pack light- what you don't need.
---
Costa Rica: What to Pack for Rainy Season
Stressing out about packing for green season? Fear not. We spent 11 days in Costa Rica with our 3 kids and we packed everything we needed for our trip into 4 backpacks, 2 carry-on suitcases, and 1 small duffle bag.
Tip: Keep packing simple! Think bathing suits, shorts, t-shirts, lightweight pants, 1-2 long-sleeve shirts, tanks, maybe 1-2 sundresses, flip flops, Keens, Tevas. That's it!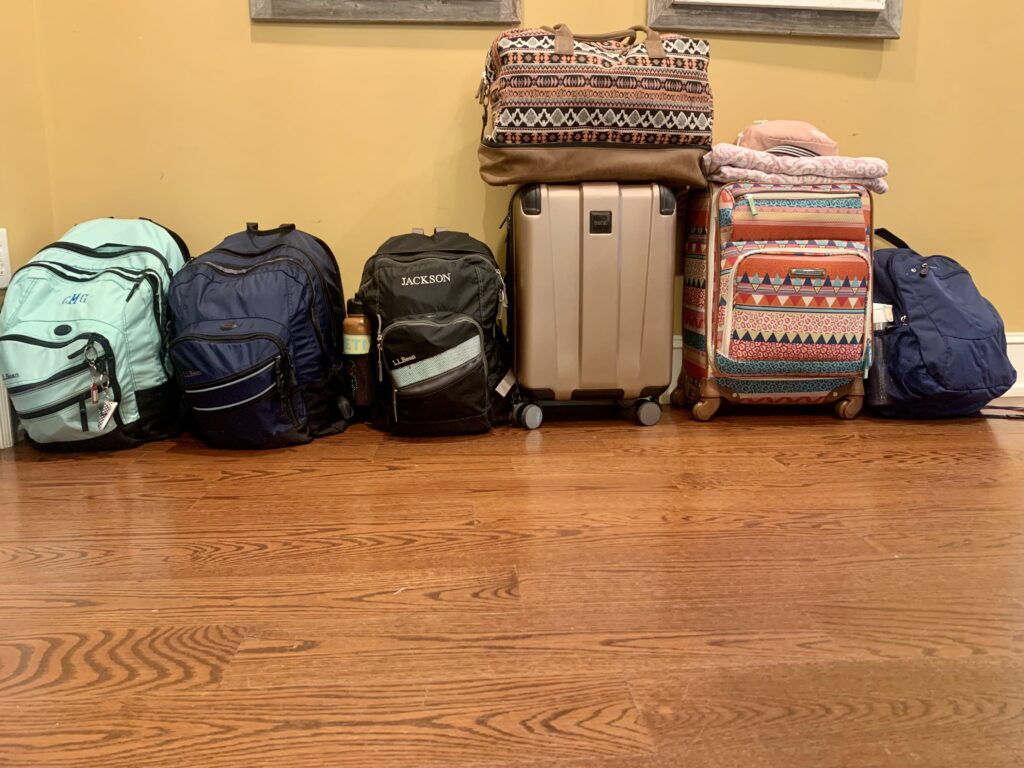 Below is a list of exactly what you need to explore our new favorite country.
Tip: I've left Sunblock off the list because it's a pretty obvious thing to pack! We brought a ton of 3 oz. containers with us, and a few in stick-form too!
1. Pack Bug Spray with Picaridin
I know it's obvious to pack bug spray- but Picaridin is the best! We used Sawyer's brand lotion, and it was a game-changer. Mosquitos LOVE my oldest kid, and he escaped with only about 20 bites. I didn't get bitten once!
Picaridin is a great DEET alternative, and the lotion goes on like sunblock- but isn't sticky or stinky. It also protects against chiggers (which are notoriously bad in the jungle).
We got a large pump dispenser and divided it up into smaller travel containers- remember, we don't check our bags, so everything has to be in those little 3.4 oz containers.
Tip: You can also double down and treat your clothes, shoes, and gear with Permethrin before you go. It's odorless and lasts for 6 weeks or 6 washes. Just be careful spraying it around cats!
2. Pack Thin, Sand-Free Towels
A while back, my sister got me a Sand Cloud towel, and it's the best! And although I adore my children (most of the time), I definitely don't feel the need to spend a couple of hundred dollars on towels for them.
But a quick search on Amazon brings up plenty of great Turkish towel options. We bought a 6 pack for the price of 1 designer brand towel, and they were perfect!
Yes, most hotels supply beach towels. But they're bulky and absorb water. We found that in a place with high humidity, the Turkish towels were perfect! They fit right into our daypacks, weigh practically nothing, and dry super quick!
Tip: We used our Turkish towels to wrap up our fragile souvenirs for the flight home.
3. Pack Gallon-Size ZipLock Bags
While I don't normally advocate for single-use plastic, if your itinerary has you moving from one lodging to the next, plastic bags are perfect for packing up damp bathing suits and dirty shoes. We also used them to transport some pretty soap bars from our hotel bathroom.
4. Travel Clothesline and a Travel Laundry Bag
I don't know how we traveled without a clothesline! When you have 5 people in one hotel room, space to hang wet things up is minimal! This time we brought a braided, bungee-style clothesline that we could rig in the bathroom using either the end loops or clips.
Tip: The braided style meant we could just slip the corners of our clothes into the mini-holes, so we didn't need clothespins.
Everyone should travel with a laundry bag– especially if you're traveling with kids! We just hang it in the closet and use it as a hamper. Then when it's full (usually after about a week), we do our wash and we're set for the rest of the trip.
Tip: Bringing a laundry bag is a great way to pack light! We just pack enough for about 5-7 days and then do laundry halfway through the trip.
5. Pack a Travel Hammock
I'm completely obsessed with our travel hammock. It packs up into its own little attached bag, the included straps can wrap around any width tree, and it takes about 5 minutes to set up. When packed, it easily fits into a small backpack. What's better than a hammock under some palm trees?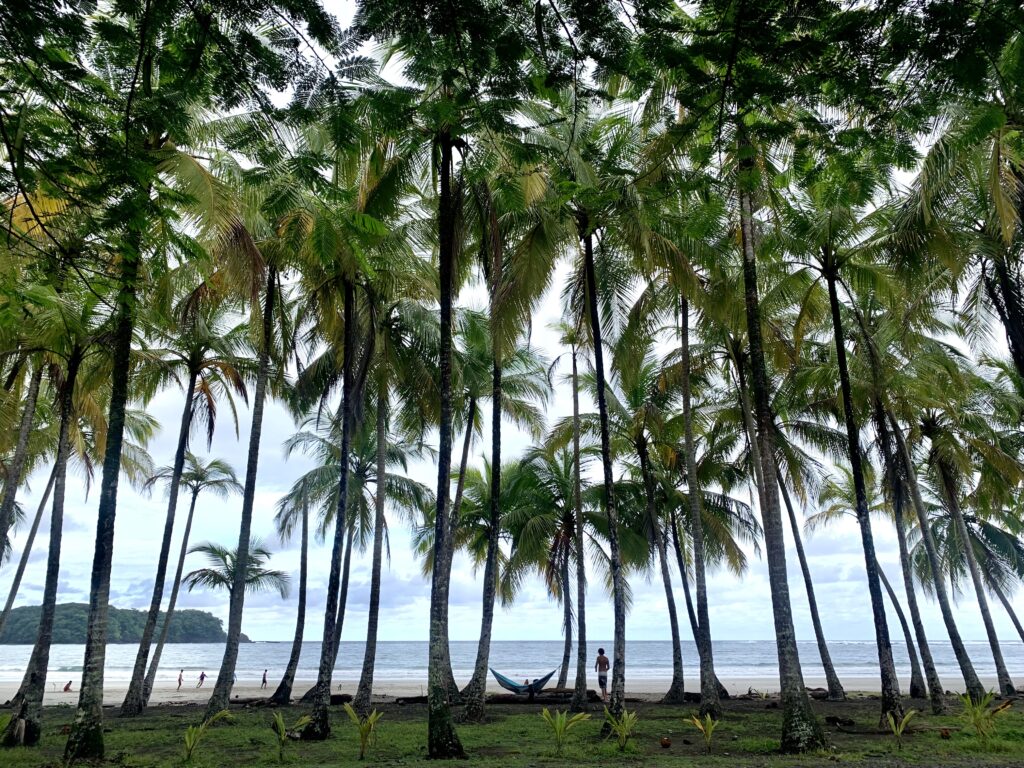 Tip: Just make sure you don't set it up under any coconuts! Apparently, about 150 people die every year from falling coconuts- who knew?
6. Waterproof Backpack or Backpack Cover
If you're traveling to Costa Rica during the Green Season, you're bound to see some rain. And because the weather is notoriously unpredictable, it's important to always be prepared!
Our kids already have daypacks they love, but they're not very waterproof. So we bought cheap rain covers that easily fit over their packs. Even better? When they're not in use, they stuff into a small bag that clips onto a zipper or loop.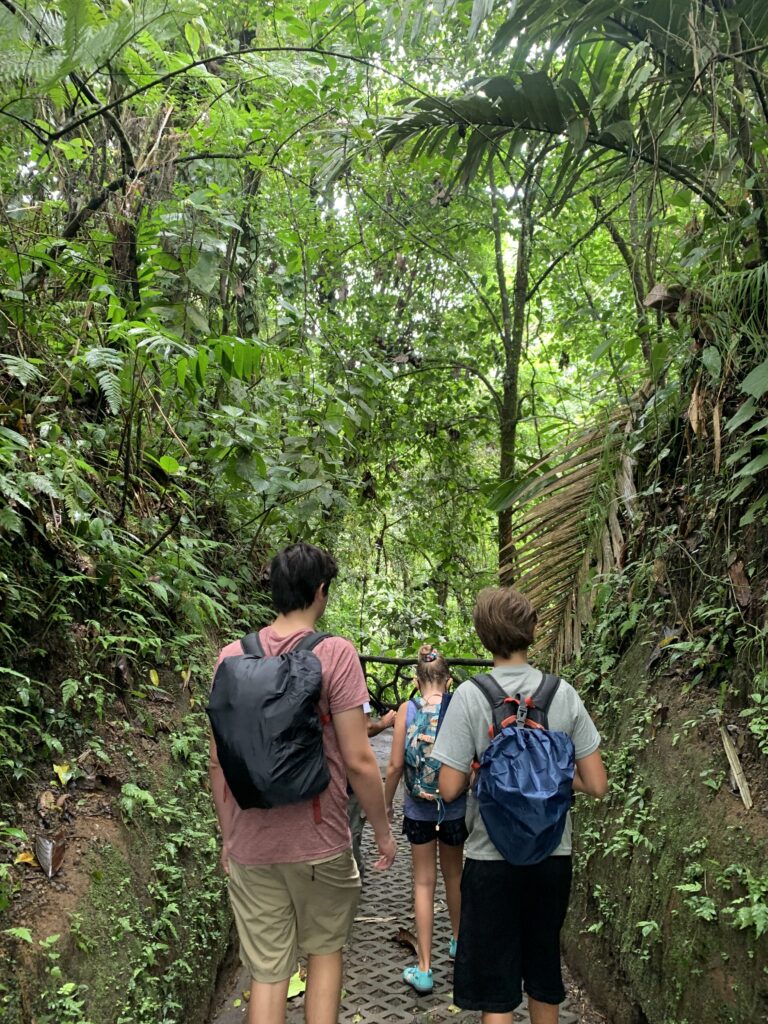 7. Bring Reusable Water Bottles
The water in Costa Rica is perfectly safe to drink- in fact, it's delicious. And since you're traveling to an eco-friendly country, it's best to limit your use of plastics. We love our Simple Modern water bottles- they kept our water cold for hours, even in the heat and humidity.
8. Pack Small Microfiber Towels
We found a bunch of uses for our small microfiber towels- they're great if you're sweaty on a hike, for drying off after a surprise rain shower, or for using as a mat to clean your feet off before walking into your AirBnB or hotel room. They fold up small and dry quickly.
9. DriFit Everything!
It's Green Season, you're 11 degrees north of the equator, it's humid, you're hiking, or horseback riding or ziplining. Trust me- you're going to want clothes that wick away moisture and that dry quickly. We found a lot of great, reasonably priced options at TJMaxx, Marshalls, Target, and Old Navy.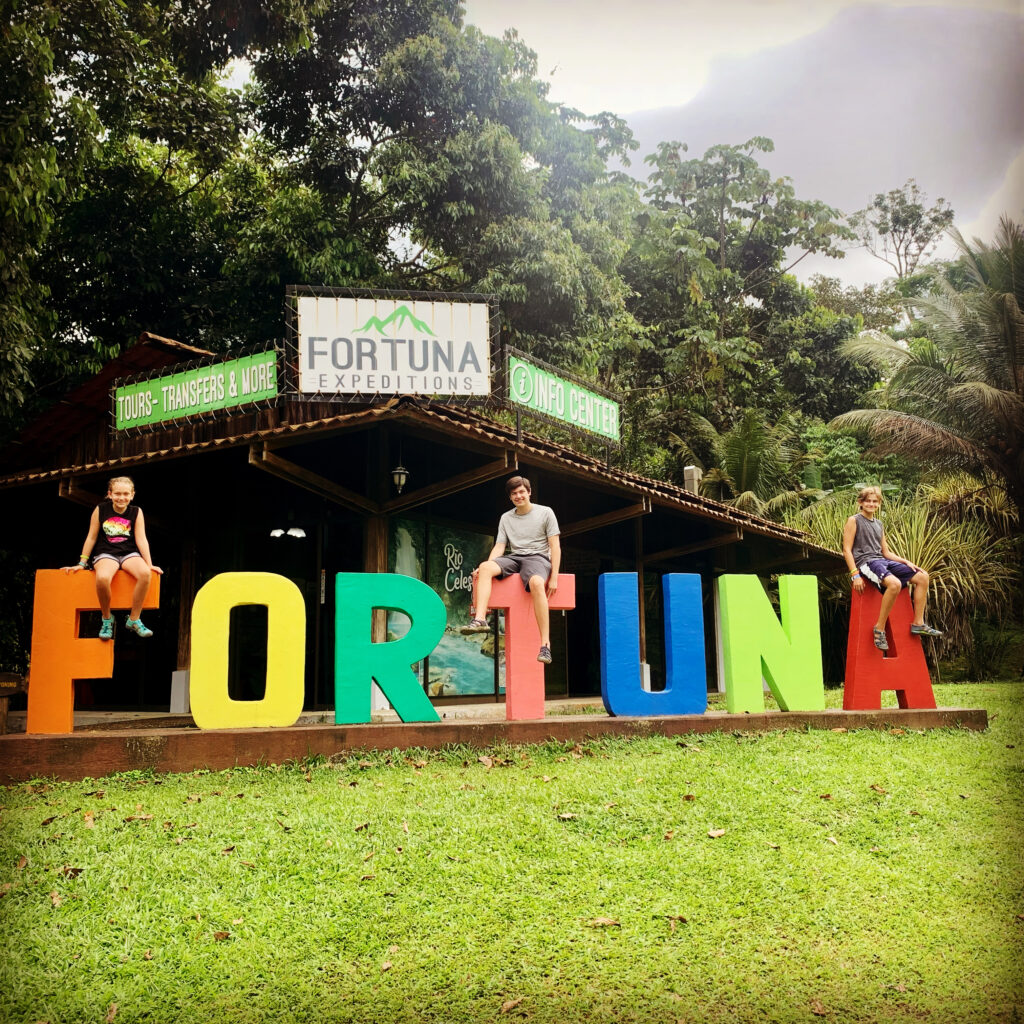 Tip: Drifit clothes roll up small, so they easily fit into packing cubes, which makes packing light so much easier!
10. Thin Raincoat or Poncho
Yes, it will probably rain. But it's also going to be warm. Make sure whatever you bring packs up small so you can stow it in your daypack, and is breathable.
11. Lots of Small US Dollars ($1 and $5 bills)
We didn't bring any Colones (the Costa Rican currency) with us and it worked out great! We used our no-international fee credit card] for most purchases and if we used dollars at a store, they would give us change in Colones. We were also able to get Colones out at the ATM.
Tip: Install a currency convertor app before you go- this way you can make sure you're always getting the right exchange rate.
But definitely bring small denominations of US Dollars for tipping. We blew through our $1's and $5's!
Tip: Some tours only accept cash- so make sure to check ahead of time!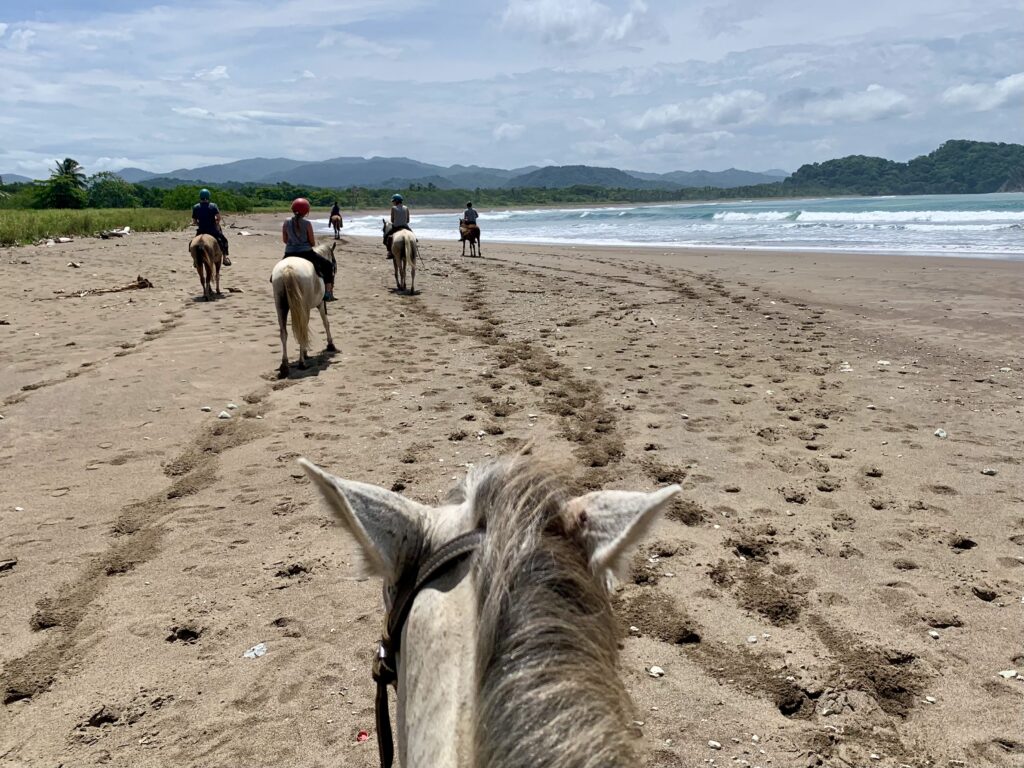 12. Pack a First-Aid Kit!
A well-stocked first-aid kit is key on any trip, but in Costa Rica, it's a must-have. You'll want to make sure you're well-stocked with anti-itch cream (for those pesky bug bites), Dramamine or Bonine for motion sickness (the roads in are a little crazy!), anti-bacterial cream, and wound wash (for, you know, if your kid somehow manages to get rope burn from a zip line), as well as standards like ibuprofen, stomach-relief, bandaids, and Benadryl.
13. Portable Chargers
We used our portable charger constantly. We made sure to bring one that could charge multiple phones at once; this came in handy on our long car rides, or those days when we were out exploring or at the beach.
14. Install WhatsApp on Your Phone
Everyone in Costa Rica uses WhatsApp- I even used it to communicate with our hotels while still in the states. Once we were there, we used it to book all of our tours.
---
3 Things NOT To Pack!
1. Leave Your "Nice" Clothes & Dress Shoes
Unless you're staying at some fancy resort/golf course type place- which, by the way, you shouldn't- then leave the nice clothes at home!
Tip: Do Not stay at an all-inclusive in Costa Rica! Save that for Mexico or the Dominican Republic. A trip to Costa Rica shouldn't feel like a trip to Disney. Costa Rica is meant to be explored- so get out there and eat at the Sodas, let the random guy serving Mojito's on the beach make you a drink, and frolic with the local dogs on the beach at sunset!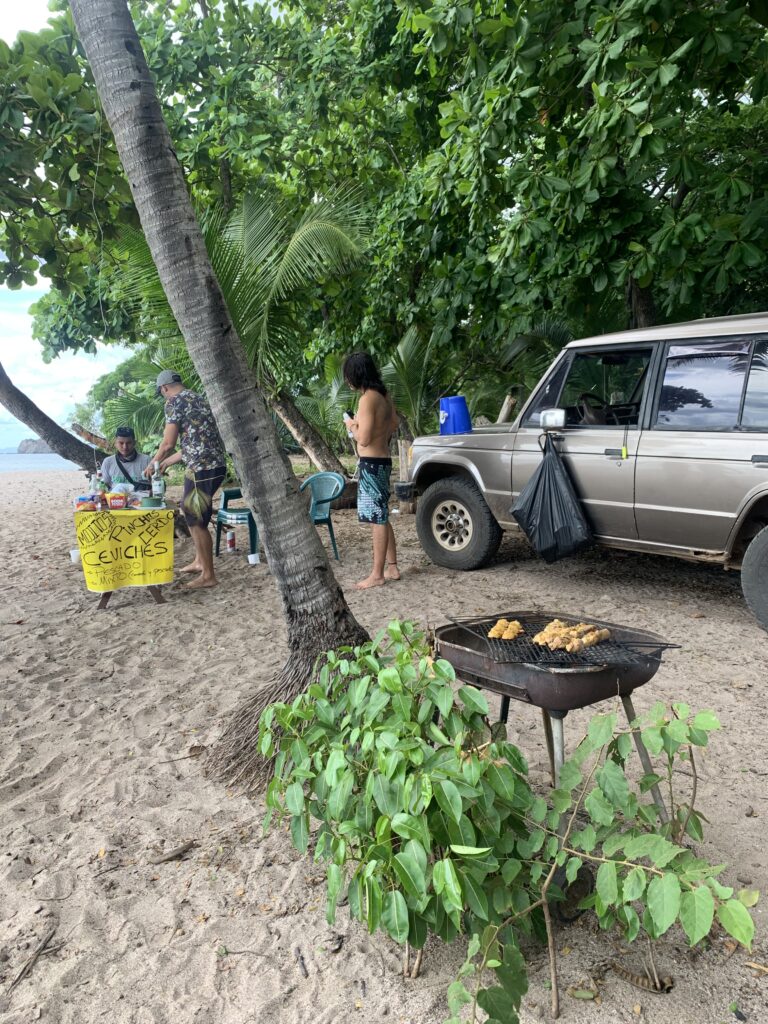 One of the reasons why we love Costa Rica is because it's soooo laid back! And seriously, no one cares what you're wearing.
2. Make-up/Hair Products
Remember when I said no one cares? They don't. This is why you should leave your makeup behind! Granted, I don't wear a ton of make-up normally. But on our 11-day trip, the only thing I put on was tinted moisturizer. It was glorious.
And don't waste your time doing your hair- it's humid! So bring a bunch of hair ties, or a headband or a hat, and embrace the low-key lifestyle.
3. Data Plan for Your Phone
Wi-fi is readily available in most places in Costa Rica. Every restaurant we went to had free Wifi, as well as all of our lodging.
Tip: Make sure you turn off Data and put your phone in Airplane mode to avoid unwanted roaming charges from your carrier!
We rented a car from Vamos, and they included a local phone with Waze and a hotspot for only $5 a day!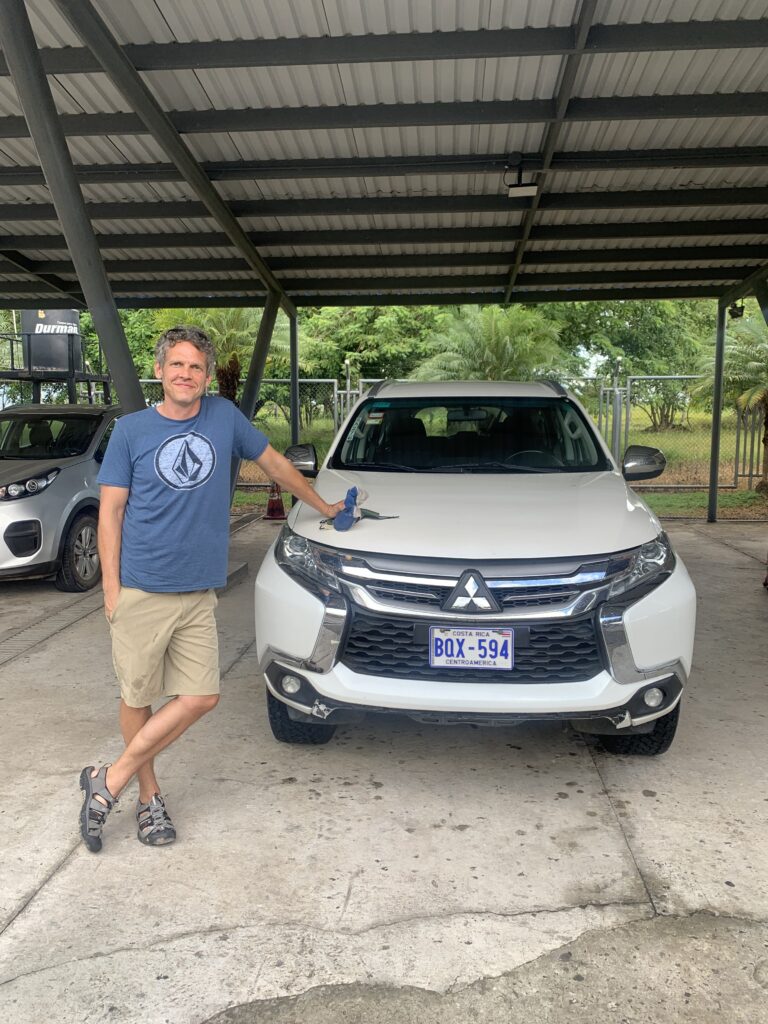 Tip: If you're renting a car, make sure you bring a letter from your credit card showing your CDW coverage- this will help you avoid some of the mandatory (and pricey) car insurance in Costa Rica
Bottom Line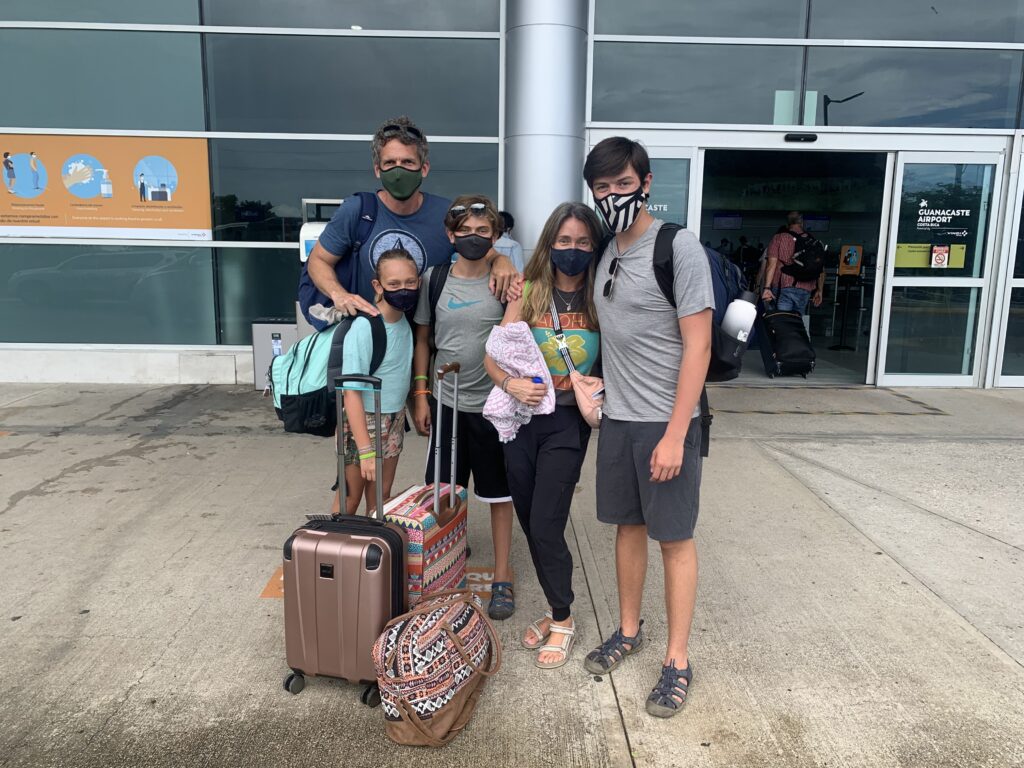 So there you have it.
Our essentials for the perfect trip to Costa Rica.
Everywhere you go in Costa Rica you'll hear the well-known phrase: Pura Vida. Although it literally translates to "pure life" it's more than that. Pura Vida sums up the Costa Rican way of life: slow down, enjoy the little things, focus on what's important, don't sweat the small stuff.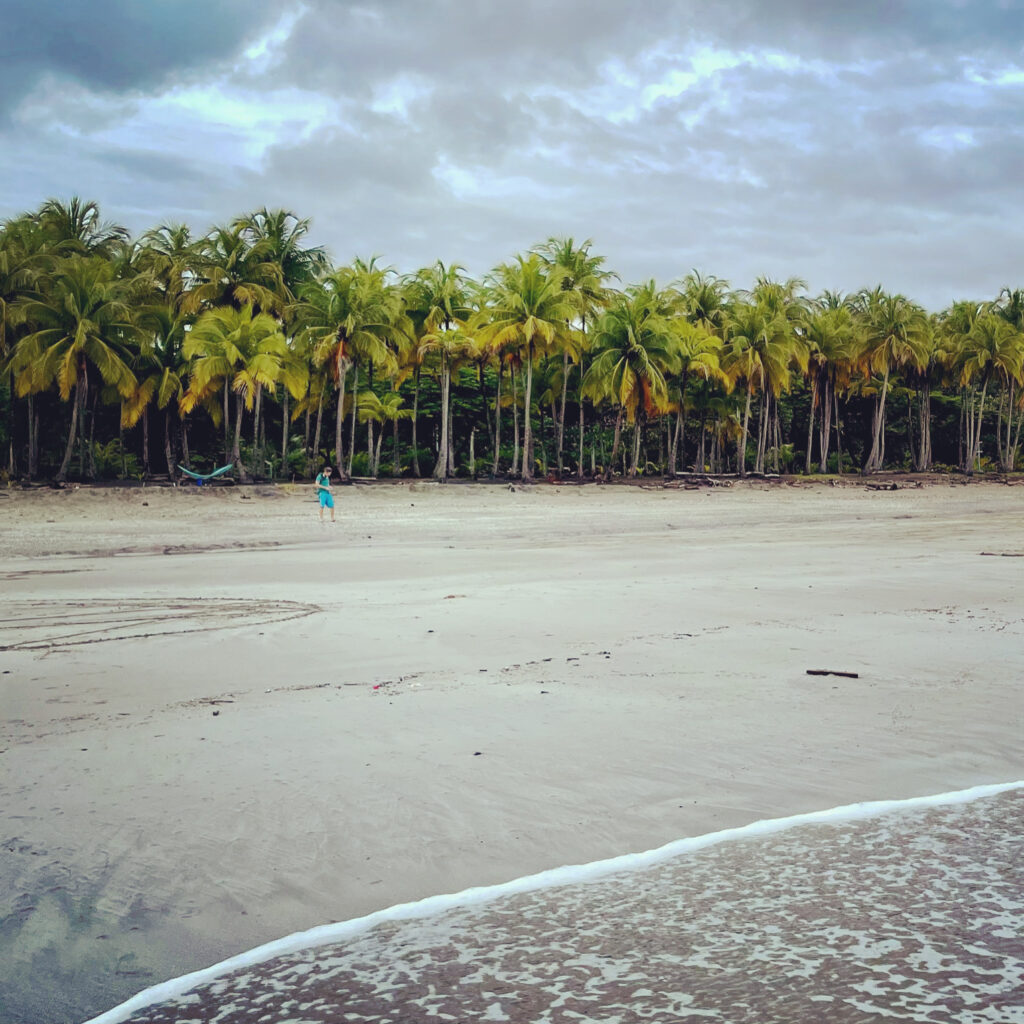 So when you're packing your bags (hopefully not too many!) pack like a Tico. Leave the excess behind and only bring what you truly need.
Pura Vida!
*These photos are featured on flickr!