Everyone dreams about taking their kids to the most magical place on earth. Who doesn't tear up at the thought of their little princess hugging Cinderella in front of the castle, or their family zooming down Splash Mountain together?
Let me first say, we love Disney; our 14-year-old has been there 10 times. We love eating Dole Whips while waiting for the afternoon parade. We love competing against each other on Toy Story Mania and riding Seven Dwarfs Mine Train.
We've even gone to Disneyland (where we had a once-in-a-lifetime experience on a VIP tour.)
Let's face it. Disney is crazy expensive! The price of a few nights in an overwater bungalow at the Polynesian Resort is double the cost of an actual over-water bungalow in Bora Bora. I'm not joking.
And even if you're staying at a value resort, or (gasp!) off-property, tickets to the parks will cost you a lot of money. (more on that later!)
But I get it. There really is something appealing and alluring about that Disney magic.
This year we decided to stick it to the man. We decided to challenge ourselves and see if we could capture the magic of a Disney vacation without stepping foot into one of the parks. And guess what? It was a total success! Who knew there were so many free things to do at Disney World?
Read on for 6 ways to experience Disney without paying Disney prices.
---
1. Spend an evening (or a whole day) in Disney Springs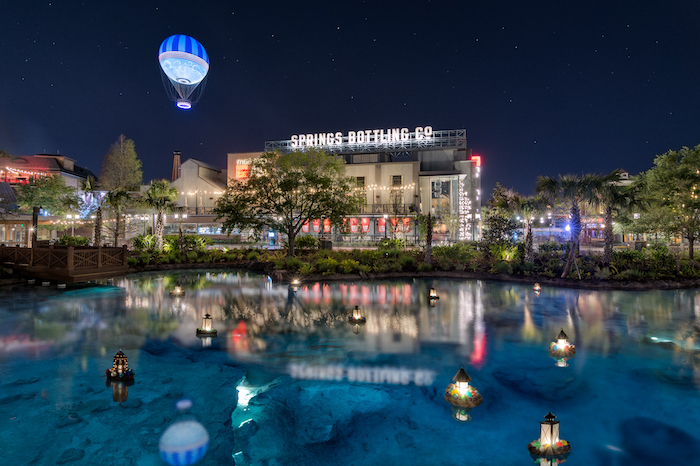 The recently rebranded Downtown Disney is now a sprawling shopping and dining complex. You can go bowling at Splitsville, participate in the NBA Experience, watch a dine-in movie at AMC, catch a live show at The House of Blues. Best of all? Admission to Disney Springs is free. And so is parking!
There are also a ton of free things to do at Disney Springs. Build original creations or test out a robot at the Lego Store, play and cool off in the dancing fountains, catch a show at the Marketplace Stage and watch roaming street performers.
Disney Springs has over 60 dining options– from quick service to food trucks to gourmet.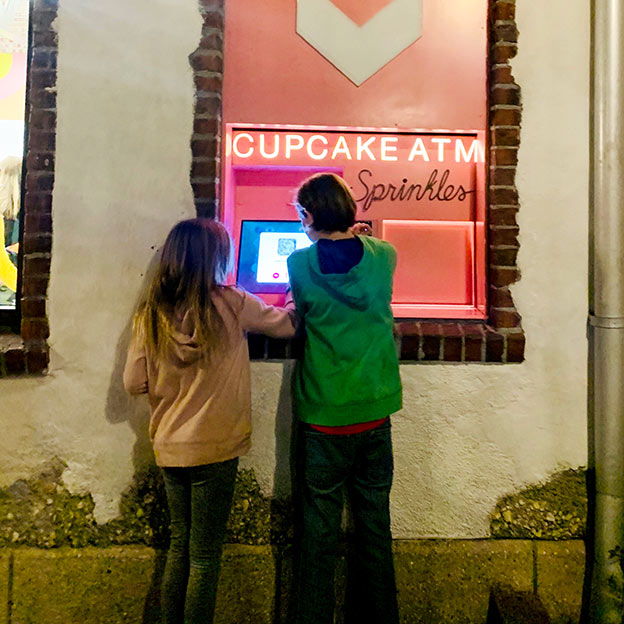 If your crew is into shopping, they'll love the enormous World of Disney store in addition to over 100 shops like Under Armour, Anthropologie and Kate Spade.
The kids can get their faces painted, get dolled up at the Bibbidi Bobbidi Boutique, trade pins, check out Goofy's Candy Company and build a customized Droid or Lightsaber at the Star Wars Trading Post.

TIP: Everything you would normally buy at the gift shops inside of the parks can be found at stores throughout Disney Springs.
---
2. Ride the Free Transportation
You know that old saying, it's not the destination, it's the journey?
Well nowhere is that truer than at Disney!
Kids love riding the Monorail. You can pick it up at the transportation center and ride it around the Magic Kingdom Resorts or take a little trip to Epcot.
The newly opened Skyliner is another great way to spend a morning or an afternoon. This intricate gondola system links Epcot, Hollywood Studios, the Caribbean Beach Resort, Pop Century, Art of Animation Resort and the new Riviera Resort. Each time our family rode on it we had our own Gondola. The kids loved it and it gave a great aerial view of the resorts.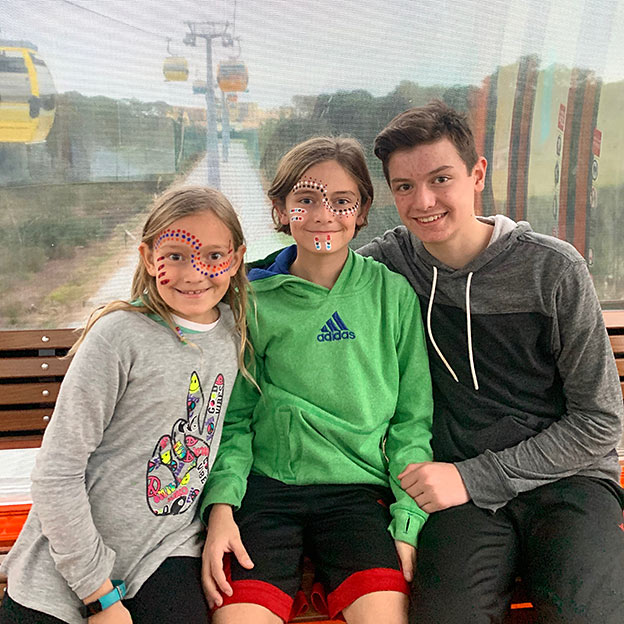 If you prefer to stay on the ground, Disney has a great system of boats and buses that will take you anywhere you want to go.
Tip: Use the free transportation to check out the beautiful Disney Resorts.
---
3. Go Resort-Hopping
If you're spending an afternoon riding the monorail or the Skyliner, be sure to get off at the various resorts. Only resort guests can use the pools; however, anyone can lounge on the beach, relax in a hammock or enjoy the grounds.
And each lobby is uniquely themed- they even have their own scents!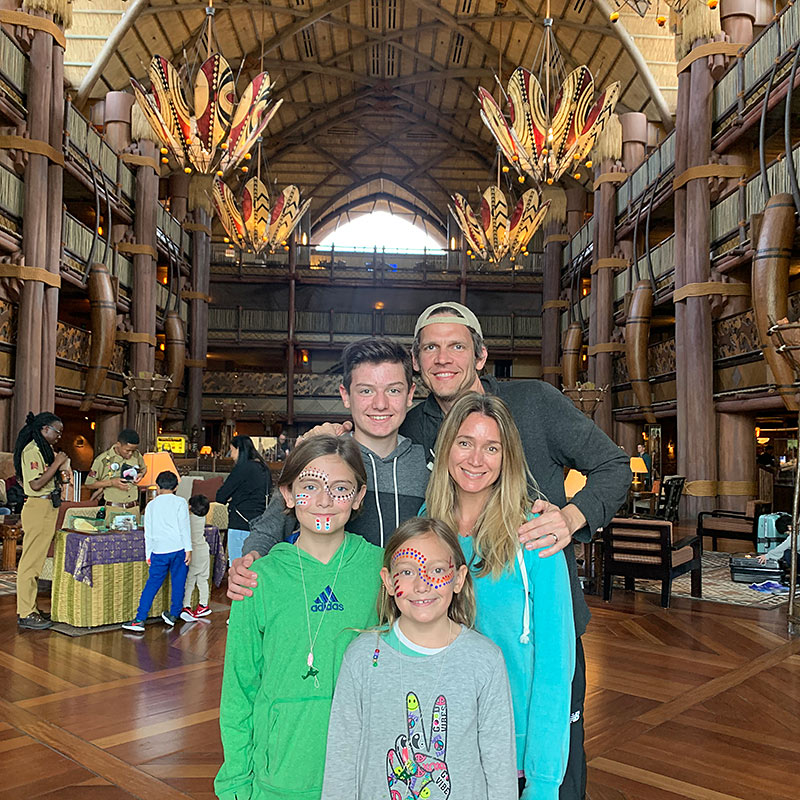 The resorts host many complimentary activities open to everyone.
Take a Hula Dancing lesson or watch the torch lighting at the Polynesian Resort.
Take an art class at the Art of Animation Resort
Earn African beads by participating in various Animal Kingdom Lodge activities.
At Animal Kingdom Lodge you can even view animals like Wildebeests, Giraffes, and Zebras, or take advantage of complimentary face painting, cookie decorating and a culinary tour of two of their restaurants.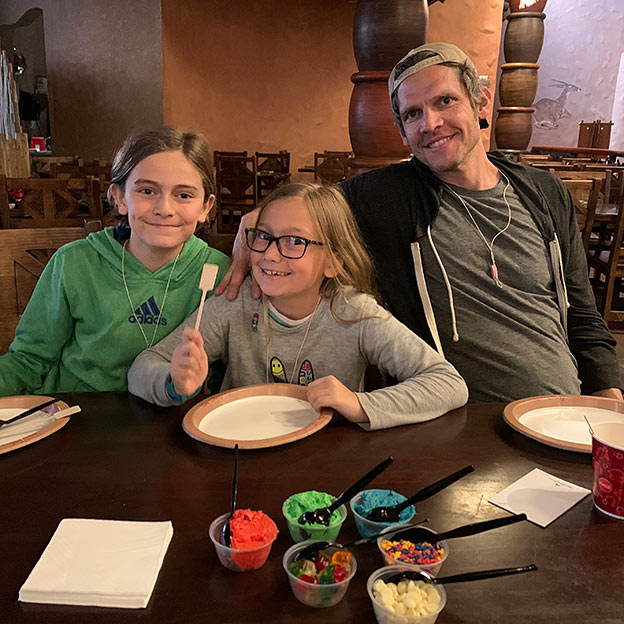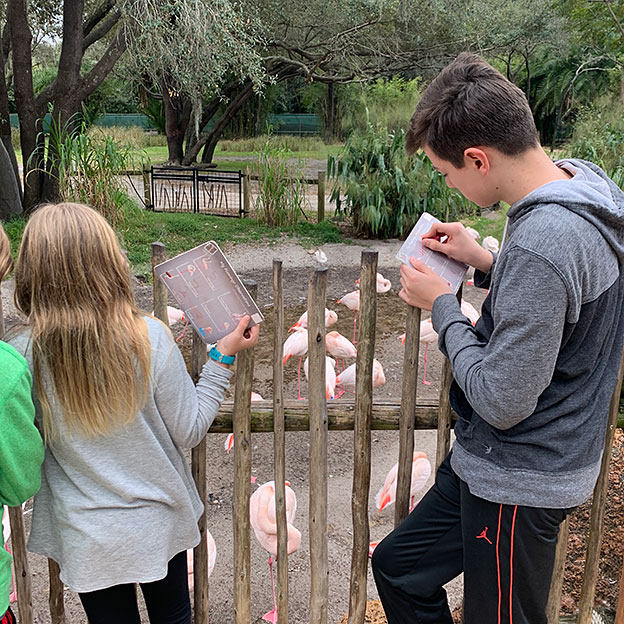 4. Rent Boats & Bikes, go Fishing & Horseback Riding, or Play Mini-golf
While these activities aren't free, they're a fun way to experience all that Walt Disney World has to offer. You can rent surreys (covered 4 person bikes) at the Boardwalk Inn, or head over to the Seven Seas Lagoon and rent a Sea Raycer, Whaler or Pontoon. Canoe and Kayak rentals are one of the many Fort Wilderness Campground activities.
Did you know you can go fishing at Disney World? Kids will love trying to catch the big one at the Port Orleans Resort. Or if they prefer their animal encounters on land, check out the horseback riding at Fort Wilderness.
Looking for on-property mini-golf? Head over to Fantasia Gardens and Fairways golf course, located near the Yacht and Beach Club Resorts.

5. Enjoy a Character Meal
Ok. Character dining is far from free, but if your kids are desperate to get a picture with Snow White, or have Mickey sign their autograph books, then consider making a reservation at one of the Character meals offered at the hotels. It's a great way to meet the characters without paying for park admission. Bonus: you won't have to wait in any lines!
1900 Park Fare at the Grand Floridian Resort has Mary Poppins, Tigger, Alice in Wonderland and Winnie the Pooh at Breakfast. At dinner, you'll meet Cinderella, Prince Charming, and the Step Mother and Step Sisters.
At the Wilderness Lodge, you can dine with Snow White, the Evil Queen and a few of the Dwarfs.
Breakfast at The Beach Club's Cape May Cafe gets you facetime with Minnie, Goofy, Donald, and Daisy.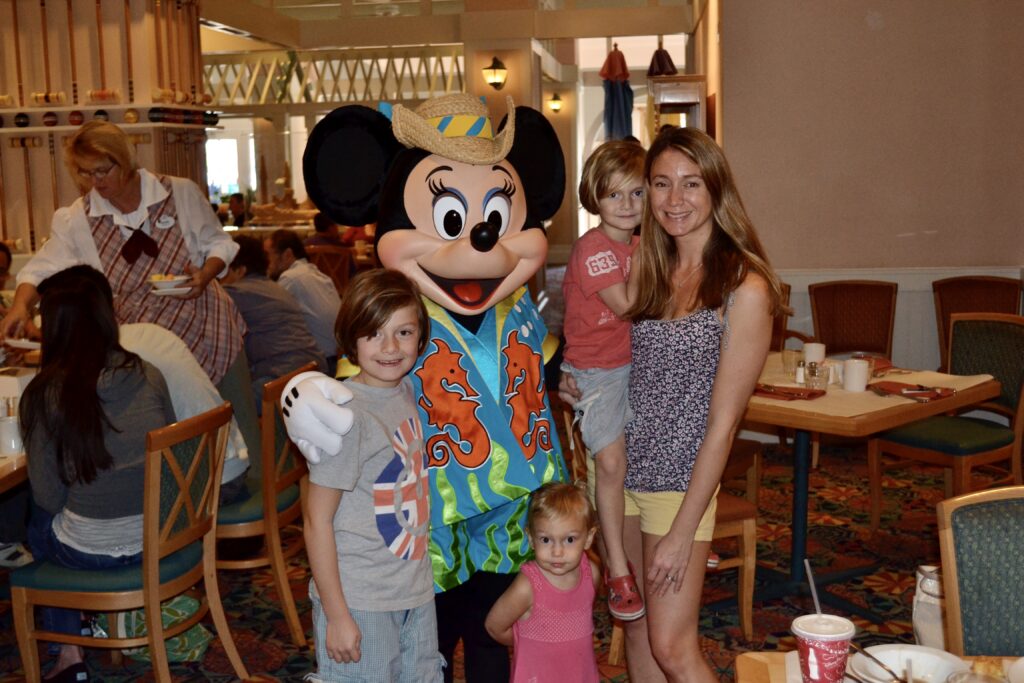 Offering Breakfast, Lunch, and Dinner, Chef Micky's (at the Contemporary) is the place to be if you want to meet "The Big 5." Mickey, Minnie, Donald, Goofy, and Pluto all make the rounds.
At Best Friends Breakfast at 'Ohana (inside the Polynesian), you can start your day with Lilo, Stitch, Pluto, and Mickey.
Head to the Bon Voyage Adventure Breakfast at Disney's Boardwalk hotel and dine with Ariel, Eric, Rapunzel, and Flynn Ryder.
Topolino's Terrace at the Riviera Resort offers breakfast with Mickey, Minnie, Donald, and Daisy.
There are even a number of 'off property' hotels that offer Character Dining. The Four Seasons, Hilton Orlando Lake Buena Vista, Hilton Lake Buena Vista Palace, Wyndham Lake Buena Vista, and the Swan all offer Character meals.
Tip: Be sure to make your reservations early! Disney Dining reservations open 180 days in advance.
---
6. Enjoy Evening Entertainment and Fireworks
Heading to one of the resorts for nighttime magic is another way to save money at Disney World. Most of the resorts have nightly campfires, complete with complimentary marshmallows for roasting.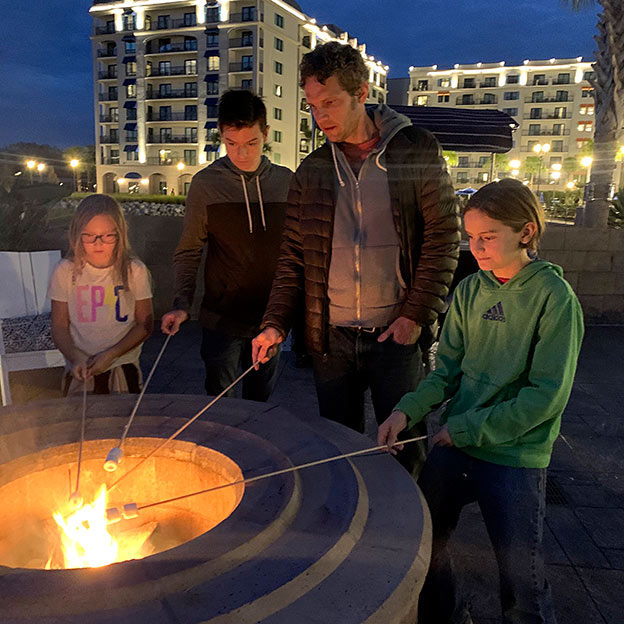 The Fort. Wilderness Campground steps it up with a nightly campfire sing-a-long with Chip and Dale
Weather permitting, the resorts also show nightly outdoor movies; the movies are on a monthly rotating schedule, which you can check before your arrival.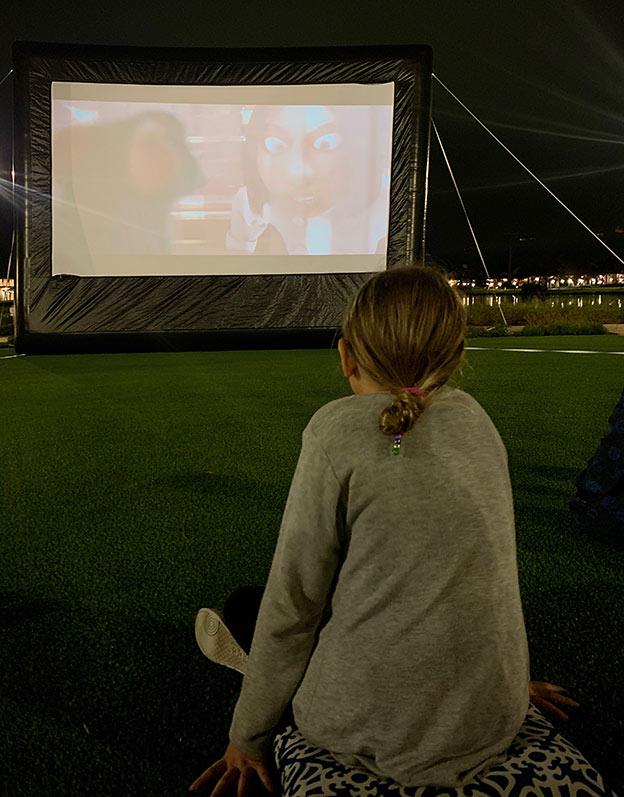 Did you know you can watch fireworks from outside of the park?
The Grand Floridian and the Polynesian offer spectacular views of the Magic Kingdom fireworks show from their beaches, complete with speakers so you can hear the music from inside the park.
And the 4th-floor deck of The Contemporary offers an amazing view of the fireworks and the castle.
The Magic Kingdom resorts are also a perfect spot to catch the Electrical Water Pageant.
If you find yourself over at the Boardwalk or the Yacht and Beach Club, the bridge connecting the two resorts, or the Skyliner station at the International Gateway, both offer a prime spot to check out the Epcot Fireworks.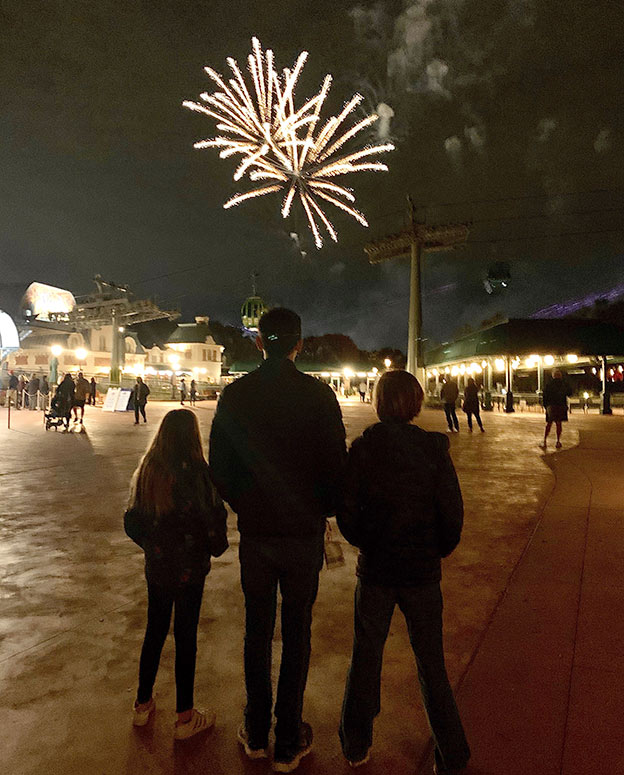 TIP: If you time it right, riding the Skyliner gives you an amazing view of the Epcot Fireworks.
---
Bottom Line…
Disney is smart. They tap into the part of your brain that harbors nostalgia.
When we picture walking down Main Street or watching the fireworks over the castle, we're conjuring up memories of a simpler time in our own lives; this feeling of simplicity and familiarity is comforting and we want to pass it onto our own families.
And it was a simpler time.
And a cheaper time.
In November of 1985, a one-day adult ticket to either Magic Kingdom or Epcot cost $21.00; kids were just 18.50.
In 1995, just 10 years later, an adult could enter Magic Kingdom, Epcot or Disney's MGM Studios (now Hollywood Studios) for $37 or get a 4-day pass for $120.
Looking at current inflation rates (67%), that 4-day ticket in 1995, would, in theory, cost $201 today. And a one day ticket would set you back $62.
Which is perfectly reasonable for a day (or days) of family fun.
But Disney hasn't abided by the rules of inflation.
Today, in 2020, that one-day ticket costs anywhere from $109-159.
Want a 4 park ticket?
You're looking at $356-413. Per person.
For our family of 5, it would cost around $2000 for 4 days at the park. And that's before airfare, hotel, and food. (Although on this trip we managed to score some amazing airfare!)
That's a crapload of money.
Yes, the parks are incredible, especially Star Wars: Galaxy's Edge and Pandora.
However, if you spend all of your time at the parks, then you miss out on all of the other fun (and free!) family activities that Disney has to offer.
If you're not a family who travels a lot, or you know you'll probably only make a trip to the Happiest Place on Earth once or twice, then by all means- go for broke!
But, maybe you've been to Disney so many times, that you're a master at booking Fastpasses, or your kids have ridden on Expedition Everest 100 times.
Or maybe you're like us, and you know that this will be just one of many vacations you'll be taking this year; which means this visit is just serving as a quick getaway.
Regardless, from boat parades and dining with Mickey to Fireworks and roasting marshmallows, thinking outside the box can save you a ton of money.
And these Disney World money-saving tips might just even save you enough to pay for another visit next year!