Traveling with your family is one of the best ways to bond with your kids. Seeing new places and creating shared memories are priceless.
Well, not really.
Those memories can actually be really expensive, but they don't have to be. We've been able to travel on Frontier Airlines as a family of five to places like Chicago, Memphis, Austin, Atlanta, Alabama, and Florida for under $500. Roundtrip. For all of us. Crazy, right?
Now, discount airlines tend to get a bad rap. Plus, sometimes you get screwed on a cheap flight with high baggage fees. But if you go into the booking process with a little knowledge, your budget airline travel experience can be really successful.
Check out these 6 travel hacks for saving money on your next Frontier Airlines flight.

---
Hack #1. Join Frontier "Discount Den"
Discount Den is Frontier's loyalty program. It's $59.99 for the year and is worth every penny! As a member, you have access to the lowest prices and special offers. The biggest perk to joining is taking advantage of their Kids Fly Free program; on certain flights 1 kid under 15 fly free with every adult Discount Den fare purchased. Discount Den should pay for itself in one trip!
Tip: Have a large family? You can purchase up to 6 Discount Den fares on your reservation as long as you are traveling with the group.
---
Hack #2. Skip the Add-Ons. Stat.
Like most low-cost airlines, Frontier is full of hidden fees and surcharges. After selecting your bargain fare and feeling like a trip-booking superhero, you're quickly bombarded with add-ons.
Want to choose your seat? That'll cost you anywhere from $12-$40. Bringing a suitcase? That will be around $35 for each checked bag and carry-on; each way! Bags cost even more if you wait and pay at the airport!
But take a breath and click the "Skip" button.
Tip: Don't pay to choose your own seats! You can also avoid the bag fees by packing light in backpacks. More on that next…
---
Hack #3. Use Backpacks & Packing Cubes to Avoid Frontier Baggage Fees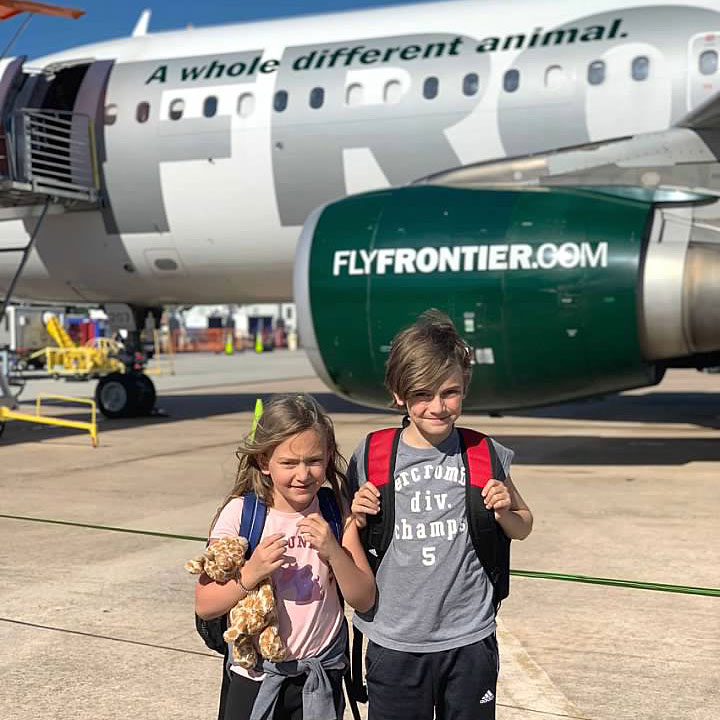 Ok. This hack is a bit harder to do if your kids are little, or if you're going on a longer trip. But if your crew is around age 5 and up, and you're only going away for 4 or 5 days, avoiding buying bags can save you tons of money. Frontier Airlines baggage fees can be more than the price of your tickets!
But here's the thing…
Each passenger is allowed one "personal item."
That means each person can bring one small bag that fits under the seat in front of them.
Tip: How big are personal items? Frontier Airlines personal items must be no larger than 14″ tall x 8″ wide x 18″ long.
So, how do you fit all your stuff into one small personal item?
The easiest hack is to pack everyone's clothes in packing cubes. Packing cubes also make it super easy to unpack when you arrive at your destination. Not only will this help you streamline your packing, but you'll avoid baggage claims when you arrive at your destination. Win!

Tip: Assign two packing cubes (1 large and 1 small) to each member of your family. If it doesn't fit in the cube, it doesn't come. Stick the cubes into backpacks and they'll fit right under the seat in front of you; this will count as your "personal item." Or, have the kids do this, and just pay for one carry-on for the adults to share.

OK, here's the next way to save when booking a Frontier Airlines flight.
---
Hack #4. Bring Your Own Snacks and Drinks
Listen, I know it's exciting when the flight attendants come around with mini bags of pretzels and peanuts. But you just scored a round-trip ticket for $50, so that's not happening on this flight! Don't forget to pack whatever food/snacks you and your crew might need.
Tip: Flight attendants on Frontier will give you water if you ask, but do the planet a favor and bring (empty) reusable water bottles. You can fill them at the airport before boarding, but after you pass through TSA.
---
Hack #5. Bring Your Own (Charged) Devices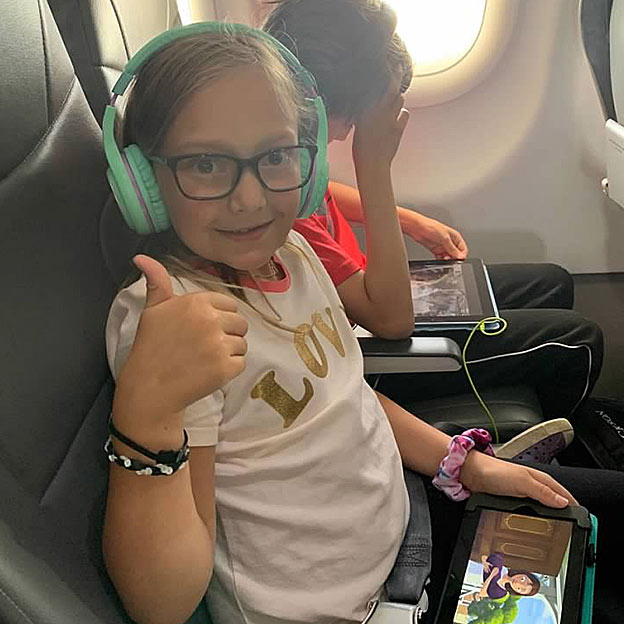 Frontier planes are very nice. But they're not luxury. This is why your entire family is flying to Florida for under $400! This being said, as with most low-cost airlines, you're not going to find outlets or seatback entertainment. So download whatever you need from Netflix and Disney+, make sure your batteries are charged, and don't forget your headphones!

---
Hack #6. Use the Frontier App to Check-In for Your Flight
Like most airlines, you can check in for your flight 24 hours ahead of time either online or through the app. The app is a quick way to get your seat assignments.
Tip: Frontier will try to get you to buy your seats at check-in. Just click "skip" and you'll have your seats assigned for free. We always opt to have our seats assigned, and our family has never been separated!
---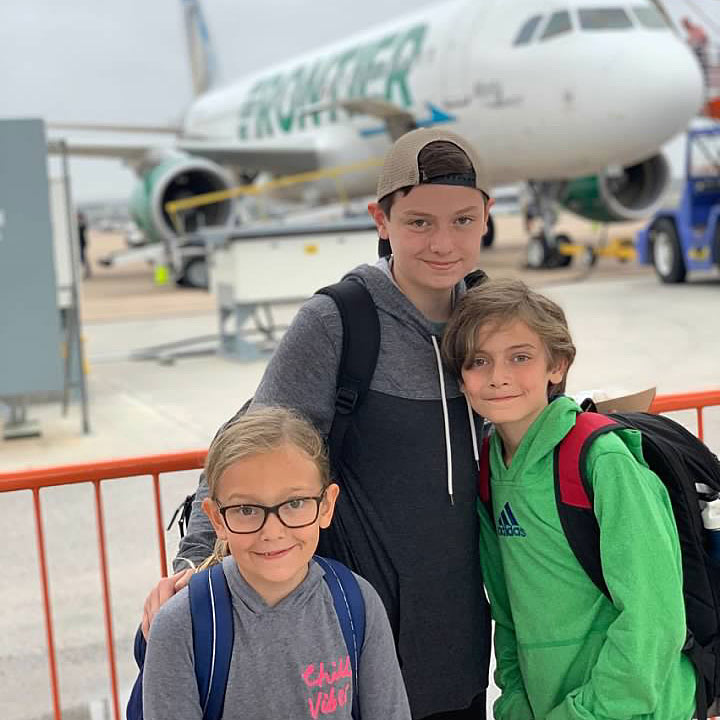 So, there you have it. If you keep these tips in mind when booking your flights on Frontier Airlines, you'll be able to save money and have a smooth booking experience. Frontier has crazy deals, and your family really luck out with some cheap tickets. But your savings can dry up after all the (avoidable!) extra fees.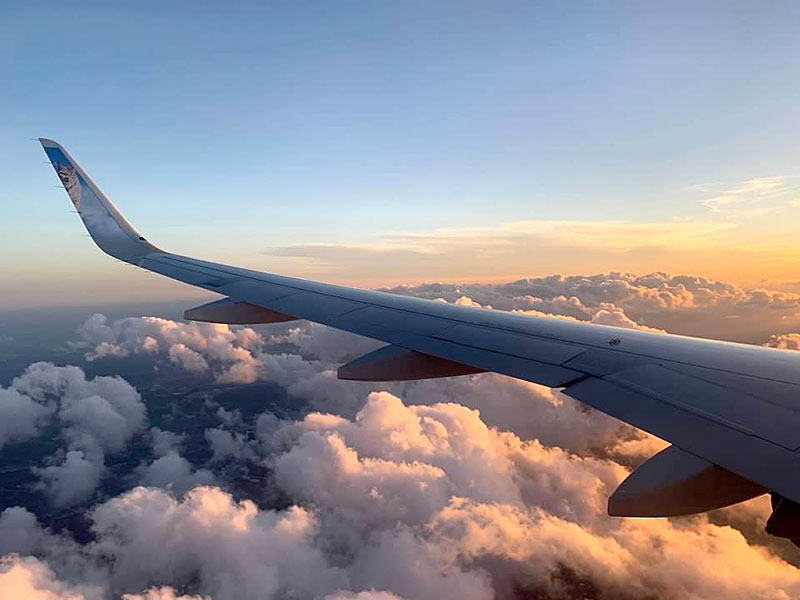 If you follow these tips and money-saving hacks, you can use the money you save towards exploring even more new places with your family. So, what are you waiting for?