I remember when The National Memorial for Peace and Justice first opened. I was driving home from work and NPR was doing a story about a new museum and memorial for victims of lynchings and racial violence, located in Montgomery, Alabama.
We had visited the National Civil Rights Museum in Memphis, and it was a powerful, meaningful way for our kids to see first hand what life was like during the Civil Rights Movement.
So, we knew that our trip to Alabama would also center on important Civil Rights landmarks. However, we also knew that visiting this particular Memorial would inevitably bring up some hard to answer questions from our 3 kids. Here's our review:
Why Build a Lynching Memorial?
The National Memorial for Peace and Justice is the first of its kind in the nation. The inspiration to build it came from sites like the Holocaust Museum in Berlin and the Apartheid Museum in Johannesburg, which remind those countries of dark chapters in their own history.
"More than 4400 African American men, women, and children were hanged, burned alive, shot, drowned, and beaten to death by white mobs between 1877 and 1950… On a six-acre site atop a rise overlooking Montgomery, the national lynching memorial is a sacred space for truth-telling and reflection about racial terror in America and its legacy."
---
Visiting the Memorial:
We arrived at the Memorial just before closing time, having spent the afternoon visiting the Freedom Rides Museum and the Dexter Avenue King Memorial Baptist Church.
The National Memorial for Peace and Justice and the Legacy Museum are two different sites; about a 15-minute walk apart.
As you arrive at the lynching Memorial, visitors pass through a security check before heading up the path. Large, marble walls contain the stories of enslaved Africans crossing the ocean to America. The engraved stories continue; spanning the years of slavery and continuing with Jim Crowe and segregation until the path arrives at the memorial structure.
Along the way, there are sculptures; our kids were moved by the realistic expressions on a sculpture depicting a family being torn apart at a slave auction.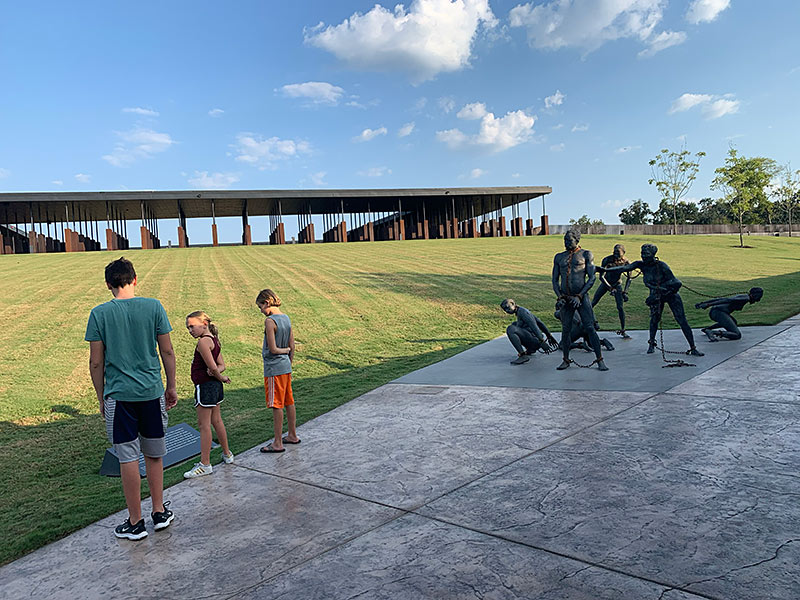 Walking Through the Memorial:
Entering the lynching Memorial, you stand face to face with 6 ft. tall steel pillars suspended like human bodies, from the ceiling. Each one is engraved with the name of a county and the names of the victims who were killed in that county.
We went at our own pace, weaving around these massive steel columns, reading the names of people whose lives were so horrifically stolen.
Making our way through the Memorial, the ground sloped downward; by the time we reached the end, the pillars were no longer eye level. Now, suspended high above our heads, we had to strain our necks to look at them.
The Victims' Stories
Towards the end of the Memorial, there are plaques on the wall documenting some of the stories, or "reasons," for the lynchings. We all stood there, trying to make sense of what we were reading:
Anthony Crawford was lynched in Abbeville, South Carolina, in 1916 for rejecting a white merchant's bid for cottonseed
General Lee was lynched in Reevesville South Carolina in 1904, for knocking on a white woman's front door.
A black man was lynched in Millersburg, Ohio in 1892, for "standing around" in a white neighborhood.
Elizabeth Lawrence was lynched in Birmingham, Alabama, in 1933 for reprimanding white children who threw rocks at her.
And so many more…
The plaques list scores of similar brief accounts of lynchings, which seem unfathomable today.
Our daughter was particularly struck by the story of an entire family, including two little girls, who were lynched.
A guard approached me and asked if I had any questions. I explained that I felt so ignorant about this murky chapter of American history. I had no idea that there were so many victims of lynchings. His reply?
"Oh, yes… But these are just the people whose deaths were documented."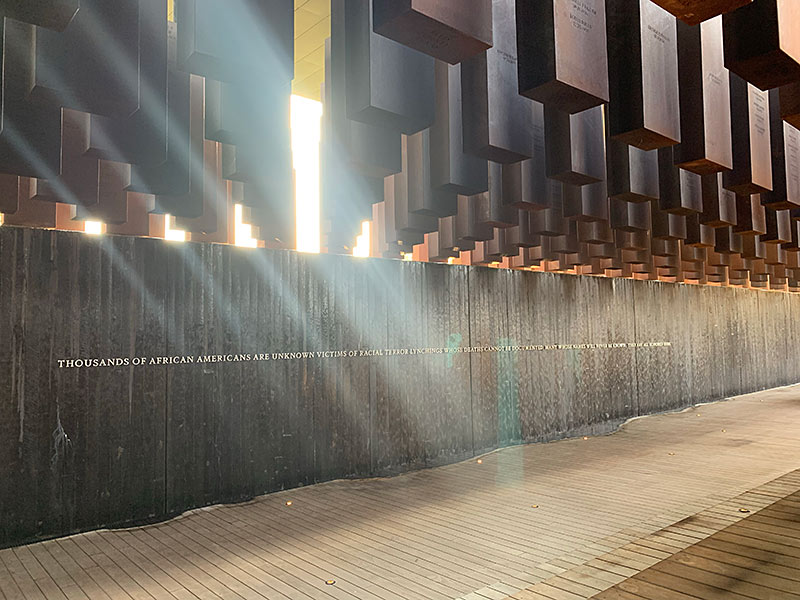 At the end of the monument, there is a wall of water honoring those whose names we will never know. Across from the wall, stands a glass table filled with soil collected from a number of documented lynching sites.
Making our way to the exit, we paused to read quotes by Toni Morrison and Martin Luther King Jr.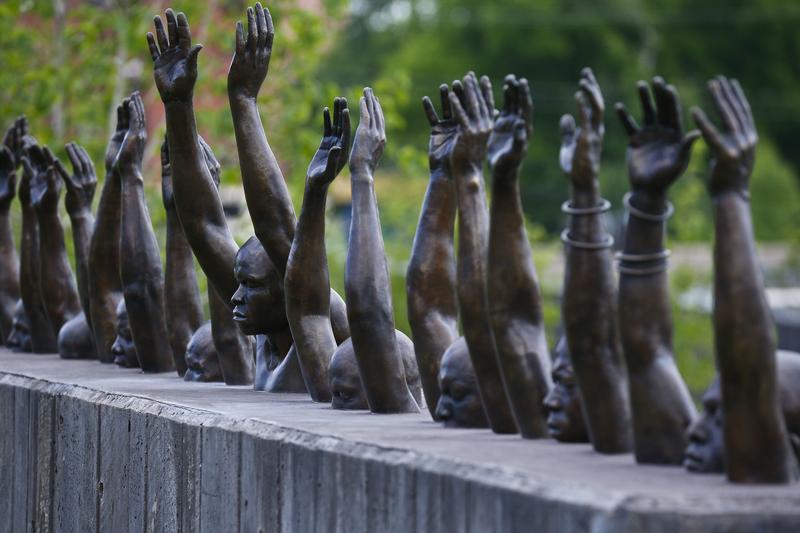 And then there were more steel pillars laying in rows, like coffins. Each one identical to a pillar hanging in the monument. The hope is that each county will claim its pillar and display it publicly so that our history is accurately depicted across the country.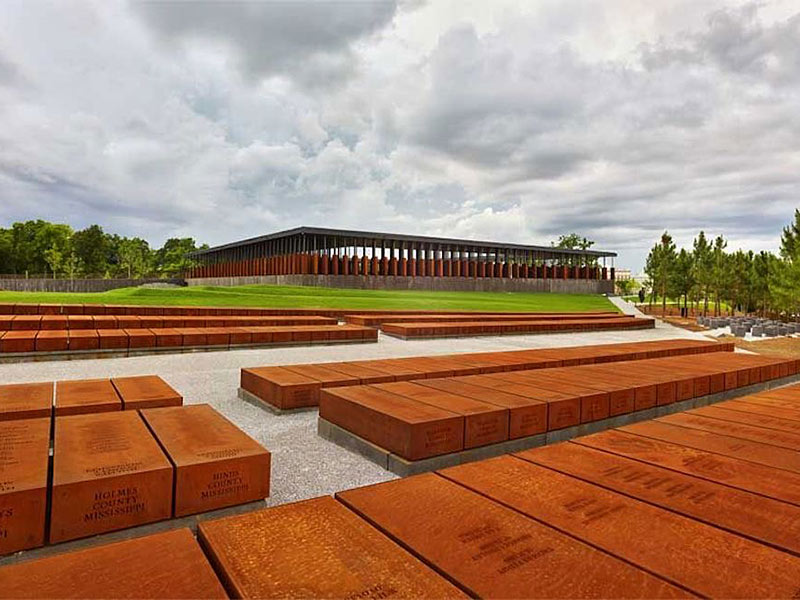 Visiting the Lynching Memorial With Kids
The Memorial for Peace and Justice is a place that everyone should visit. Our kids, ages 8, 10 and 13, were all able to process it at their own developmental level; it led to some important conversations on the drive up to Birmingham.
Not only did we talk about these events that took place in the past, but we also talked about how events like lynchings and other racial terror crimes impact our society today. Have we really changed? Is our society in a better place now than we were then?
In some ways we are. In some ways, we're not.
By visiting places like The National Memorial for Peace and Justice with our families, we can start these important conversations earlier. Hopefully, this will encourage our children to grow up with more empathy, and a desire to treat others with kindness and respect.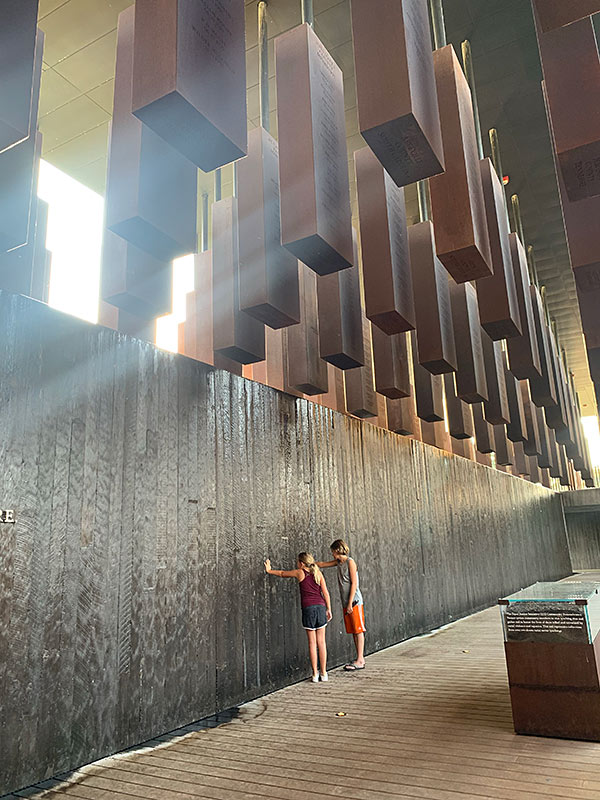 Review: Location, Tickets, and Hours
Location: The National Memorial for Peace and Justice is located at 417 Caroline St. Montgomery, AL.
Tickets: The cost of admission to The National Memorial for Peace and Justice is $5 for adults, seniors, and students. Children 6 and under are free. You can also purchase combination tickets that include admission to The Legacy Museum for $10 each.
Hours: The Memorial is open daily from, 9am-6pm, except Tuesday. It is closed on Thanksgiving, Christmas Day, and New Year's Day. Learn more