Best Vistaprint business cards promo? For years Vistaprint offered 100 or 250 free economy business cards, but that popular freebie is now gone.
However, the good news is that they now offer a deal that's actually better for most of us, which is their 500 business cards for $9.99 (+ shipping) promo!
Well, I never liked the quality of Vistaprint's free "economy" business cards anyway! They felt cheap, and that doesn't make a good impression with potential clients. Here are new Vistaprint coupons for their better quality, Standard (review) and Premium, business cards:
*Update: Vistaprint has replaced the "500 for $9.99 + shipping" deal with, "free shipping on all business cards" this month!
Vistaprint: Best Business Card Deals | Free Business Cards? | 500 for $9.99
Free Business Card Samples
Best Vistaprint Business Card Deals: (Better Than "Free!")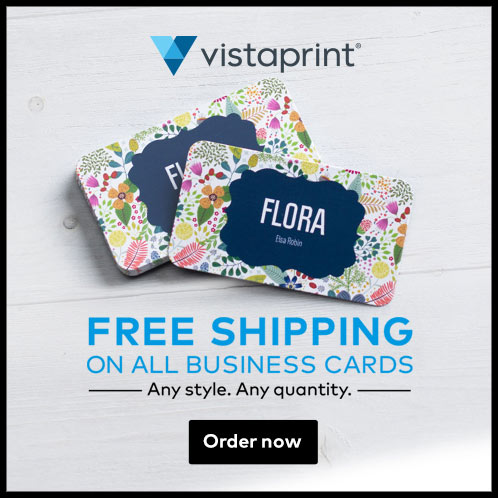 Want premium business cards? Apply promo code:

Free delivery for NEW customers. Apply code:

Click to see today's featured offers for business cards:

Vistaprint Canada: Business cards sale!
*View all Vistaprint coupons here
Even if they did offer the 250 free business cards promo, I'd still recommend the Vistaprint 500 business cards $9.99 promotion instead. Here's why:
---
Vistaprint's Free Business Card Promo: (Ended)
During Vistaprint's early years, the company's most popular promo was the, "250 free business cards" offer. In fact, I printed the "free" cards above for my online t-shirt shop.
So, how do you give business cards away for free and stay in business?
These two ways:
The money lost on free business cards was an investment in repeat customers, which is a similar strategy as companies that sell printer ink and razor blades.
The business cards were never really free, as Vistaprint charged an inflated shipping price to recoup most of their losses
Did you ever hear the expression, "if something seems too good to be true, it probably is?"
Or, how about the quote from Charles Hall, "There is no such thing as a free lunch. If you want to enjoy something you have to pay for it."
Ah, well said, Charles and such is the case with Vistaprint's free business cards promo.
Tip: When things are free, the quality usually suffers. If you don't believe me, try going to the "free" admission day at the Baltimore Aquarium, (a crush of humanity) or try using match.com's free membership. It's usually a bad experience!
It seems that a lot of customers weren't very satisfied with the quality of the free business cards, and they expressed their complaints in negative reviews. Specifically, people complained about the inferior quality of the product, including the thinner paper.
Bad reviews can really hurt an online company, and cheap business cards don't reflect well on the person who is using them!
Who wants cheap-looking business cards, anyway? Unless, of course, you're just dropping them into fishbowls at pizza restaurants, trying to win a free lunch. (free lunch? Oh, that's ironic!)
The general sentiment was that people would rather pay a bit more to get better quality business cards, and that seemed to be just fine with Vistaprint.
---
Forget 250 for Free! – About the 500 Business Cards for $9.99 Promo:
OK, so paying a few dollars more for a better product seemed to work for both Vistaprint and their customers. Therefore, they replaced the "free" offer with this promotion for "500 business cards for $9.99."
The 500 for $9.99 business cards are full-color, but only one-sided. If you need printing on the back, or any premium options like heavy paper, rounded corners, you'll have to upgrade.
Tip: The 500 business cards for $9.99 deal does not include shipping, which costs an extra $4.99. Even so, that's a pretty sweet deal!
---
The 500 Business Cards for $9.99 Promotion Has a Good Selection of Design Templates: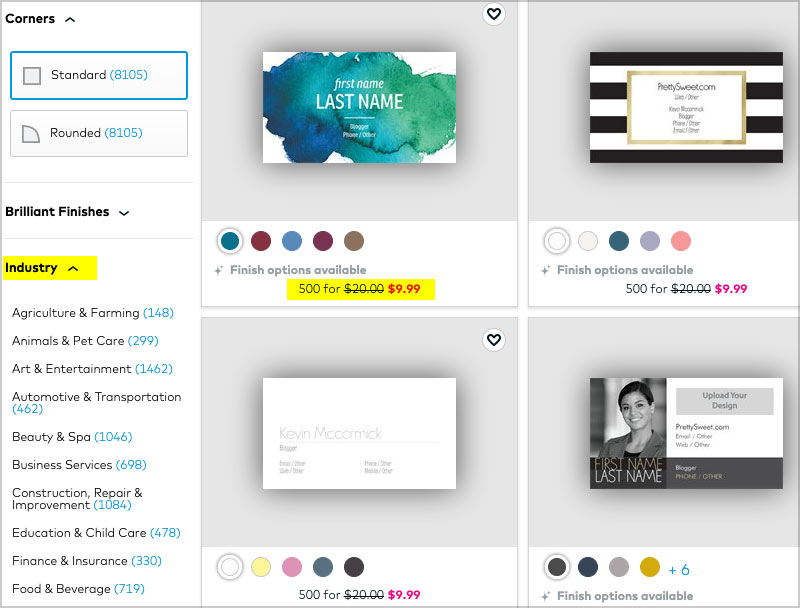 One other problem with the Vistaprint free business cards promo was that there was a very limited selection of design templates. That's not the case with the 500 for $9.99 promotion.
In fact, as of today, there are over 5000 templates that can be sorted by industries like food & beverage, real estate, construction & home improvement, sports, retail & sales, travel, art & entertainment, and many more.
There are also 700+ square business card templates to choose from at the $9.99 price.
*Related coupon: WSJ 6 Month Subscription for $99
---
Need More Than 500 Business Cards? How About Rounded Corners, or Premium Upgrades?
No problem, because you can use that same promo code for a discount on premium business cards. Just enter the code (above) at checkout, and you'll get 40% off!
Even with an upgrade or two, (like printing on the back) you can still get 500 business cards for under $25. including the $5 shipping charge. That's less than 5¢ each!
Need fewer than 500 business cards? You can choose 250 for $8.99 instead: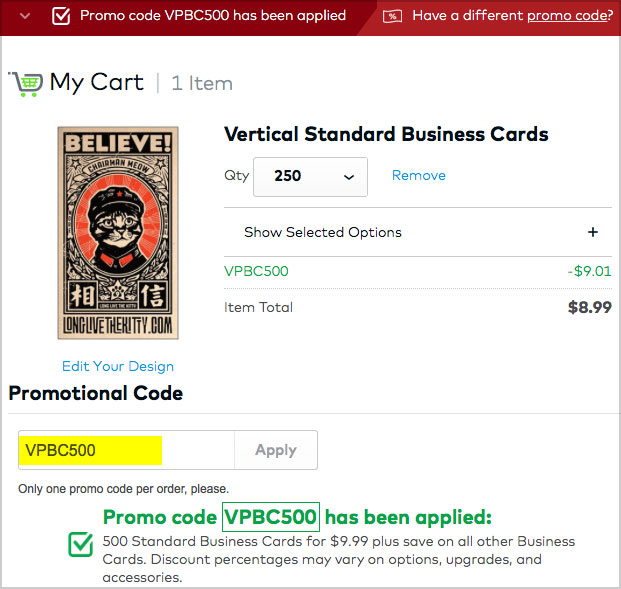 Still looking for a way to get free business cards from Vistaprint? (And, Is TurboTax really free?)
There is one way…
---
Vistaprint Does Offer Free Sample Business Card Samples:
Yes, there is still one way to get free business cards from Vistaprint.
If you are in no rush, you can request a free sample kit from their website that includes 10 free business card samples. There's also no charge for delivery, so this seems to be Vistaprint's only, "free business cards" option.
Their free business card sample kit includes:
Various paper stocks like linen, ultra-thick, and soft-touch
Metallic and spot UV finishes
Rounded corners
square business card
You aren't able to design or personalize these free business card samples; it's just a way of showing you the paper and print quality firsthand. It's not a bad idea if you have the time!
View / request free business cards
*You can also get a couple of free business cards as part of their free business sample kit!
---
Conclusion: No one (Including Vistaprint) gives away 250 free business cards anymore!
I just searched for free business cards online, and it seems there are no longer any printing companies offering them.
Not even with a promo code.
Apparently the general public reached the same conclusion as Vistaprint, PrintingForLess, and their customers: people don't want business cards that look and feel cheap at any price!
However, I do encourage you to try out the 500 for 9.99 deal, as I've used it several times myself over the last few years. Whether you frequently give out business cards as a networking tool or just want to drop one into every shipment from your inline store, you really can't go wrong at the $9.99 (plus shipping) price!
*Related coupons: WSJ $99 Subscription | Byte Aligners | Easy Canvas Prints | Checks Unlimited | Shutterfly free delivery
Thanks for stopping by PrettySweet.com!