Are you looking to print those photos on your phone as 4×6, 4×4, or 5×7 prints? If so, I highly recommend Shutterfly! They print millions of prints every year, and I've found that the quality is unrivaled.
Actually, I made the mistake of having my 4×6 photos printed at my local pharmacy or Snapfish for years until comparing them to the superior quality of Shutterfly printing. As you can imagine, Shutterfly is now my go-to site for photo printing of all kinds.
So, what's better than high-quality photo prints at a good price?
Why, free prints, of course! That's exactly what Shutterfly advertises, but are the prints really free? Kind of, but remember the saying, "there's no such thing as a free lunch?"
With Shutterfly, you'll have to pay for shipping to actually get those free prints to your door, unless you want to drive to where they are printed in Fort Mill, South Carolina!
Here are 3 ways to get free prints from Shutterfly:
---
1. Use a Promo Code for Free Prints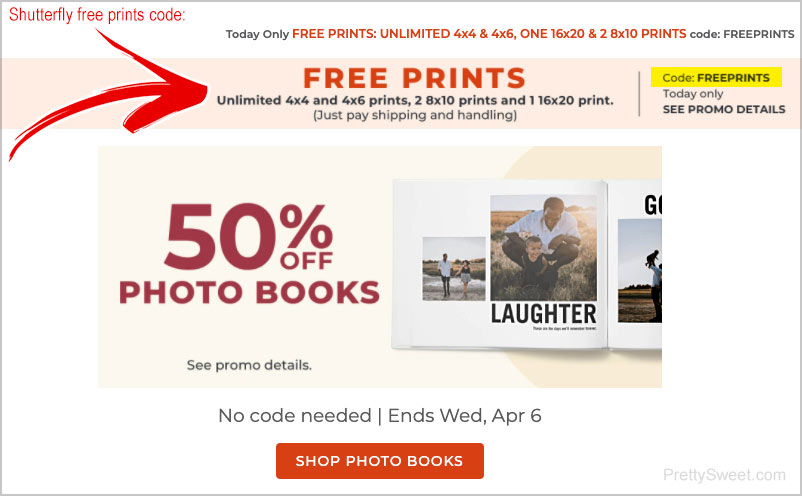 Every day there are several promo codes available for Shutterfly, and sometimes you'll find a code for free prints. The print sizes in the promotion usually include 4×4, 4×6, 5×7, and 8×10.
Tip: The shipping & handling cost for free 4×6 prints is $1.88 + 9¢ for each additional print. That means 100 free prints will cost about $10.75 to ship! To avoid paying for shipping, you can choose to pick up 4×6 prints for free at your local CVS or Walgreens.
To see if there's a Shutterfly free prints code available here, check their on-site offers here!
---
2. New Customers Can Get 101 Free Prints!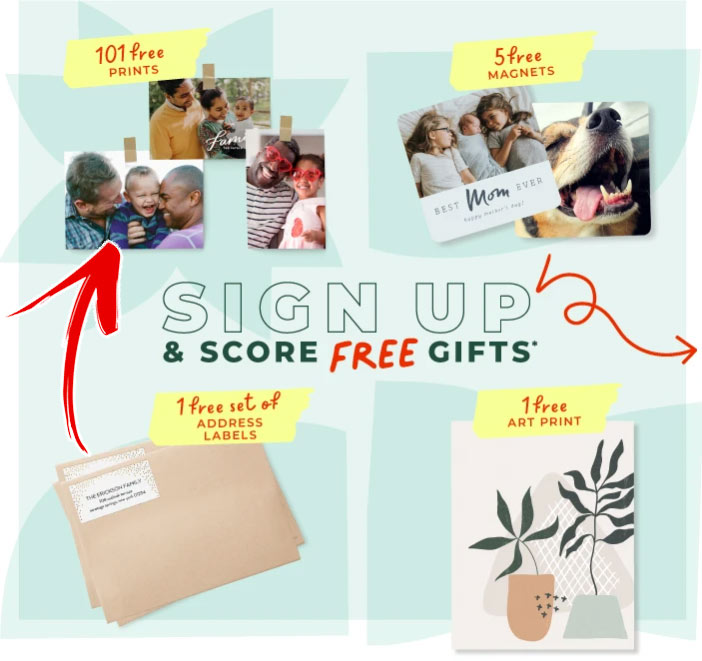 If you are a new customer or are thinking of signing up with a new account, you can get several free gifts at signup including 100+ free 4×4 or 4×6 prints (Glossy or matte). The prints are free, but as with all Shutterfly freebie promotions, you'll have to pay for shipping. (how much?)
Tip: Matte 4×4 square prints are perfect for printing Instagram photos! Just make sure you use high-resolution photos.
Sign up with Shutterfly and get your free prints and gifts here!
---
3. Shutterfly App: Unlimited Free Prints: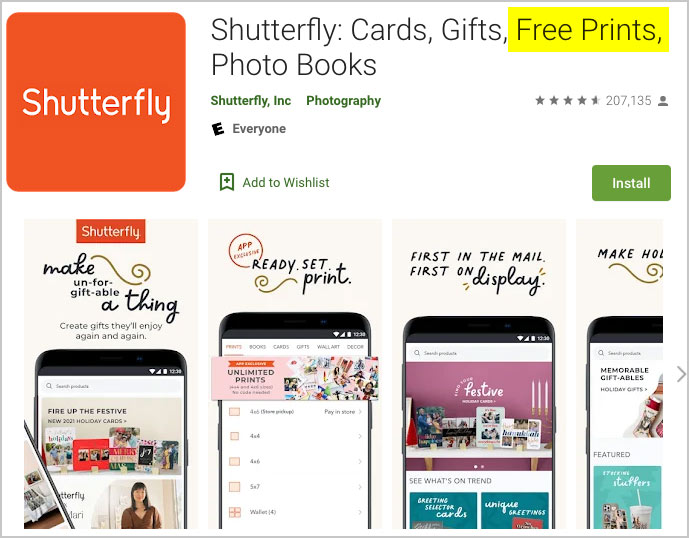 Do you have the Shutterfly app? If so, you can get unlimited free 4×4 or 4×6 prints at any time. Just open the app and under "Special Offers" you'll see the free prints promotion: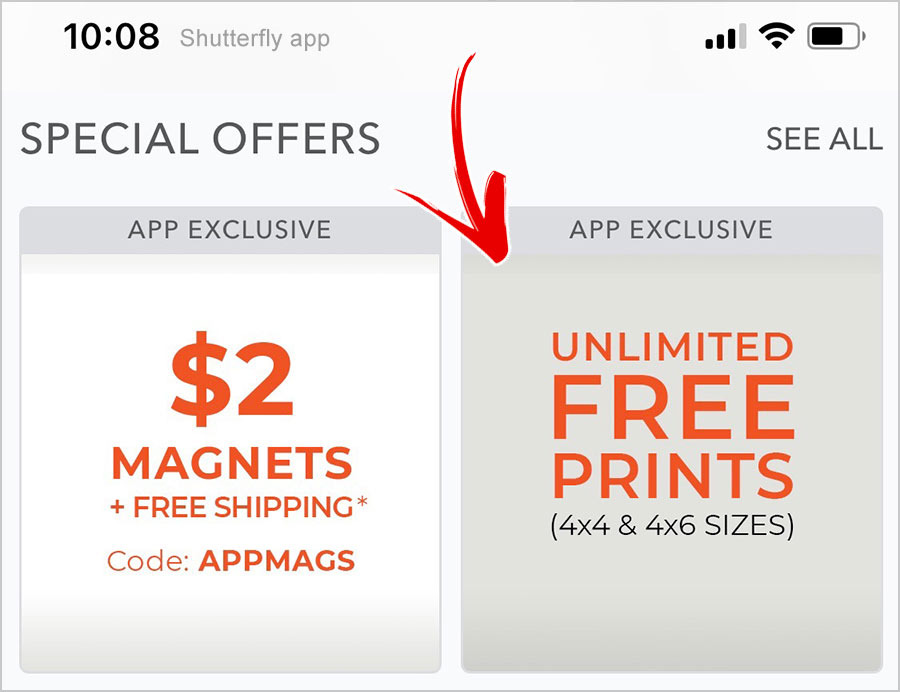 So, how can Shutterfly offer free unlimited prints? They get their money back on shipping costs which average about 10¢ per print for economy shipping.
It's still a great deal, but Shutterfly still has to keep the lights on, so they can't really give prints away at zero cost!
---
How to Order Free Prints on Shutterfly.com:
Uploading your photos to shutterfly.com and ordering them as prints is simple. Here's how:
Do you have a code for free prints? Check their on-site promotions then get started at shutterfly.com/prints!
---
(Almost) Free 4×6 Prints From Shutterfly!
Even though there's no such thing as a free lunch and nothing is certain except death and taxes, you have to love getting free prints at shutterfly.com.
If you are ordering online you might not be able to combine promo codes, so if you're limited to just one code, compare a couple of today's codes at checkout to see if the one for free prints is really the best savings for your order.
Good luck, and thanks for stopping by Pretty Sweet!