The Wall Street Journal does a lot of advertising, but their pricing can be a bit confusing. So, how much does a WSJ subscription cost?, and what's the best deal?
We compare the actual cost over 3, 6, and 12 months so you can choose the best coupon or promotion. (Better than Amazon!) Here's the latest pricing for WSJ subscriptions, plus today's coupons for the best deal on Print and Digital subscriptions:
WSJ: Best Deals Now | Subscription Cost | $99 Deal? | $1 Per Week
WSJ Subscription Deals, Coupons:
Print / Digital. Best price for 2-5 months. Apply coupon: 

Choose a 6 or 12 month subscription. Cancel anytime. 

*Click, then scroll down the page. View offer: 

From $15.60/mo. WSJ Digital, Print delivery, or both. View offer:

Barron's Magazine; print and/or Digital. Apply coupon: 
---
What's the Best WSJ Subscription Deal?
The best offer to look for is the Wall Street Journal's, "60% off 12 months of WSJ All-Access Digital" deal:

When available, the 50-60% off promotion allows you to get WSJ Digital at an incredible $15.60 per month for 12 months! That's less than $4 per week, making it the lowest price online.
If that promotion isn't available, look for "50% off any WSJ subscription for 12 months," or their "6 months of WSJ Digital for $99 offer."
If you only want a WSJ subscription for a short time, also consider the, "12 weeks for $12" ($1 per week) offer. Because all subscriptions renew at the regular price after the promotional period, this is only a good promotion short-term.
Tip: The 6 and 12 month WSJ subscriptions are a lower monthly price than the 1-3 month offers. Because the Wall Street Journal allows you to cancel at any time for a prorated refund, they are always the best deal long-term!
---
Wall Street Journal Subscription Cost?
Kofi Anon once said that, "knowledge is power." That's true in life, and also when you are trying to decide which WSJ subscription deal to signup with.
The cost of a Wall Street Journal subscription depends on a few things: the promotion you sign up with, plus the type (Print and/or Digital) and length of subscription. Here's how it works:
Choose a promotion or coupon, and click the link
You'll have the option of a Digital, Classic Print, or Print + Digital subscription
You can then pay for either 2, 6, or 12 months upfront at the promotional rate
Tip: You can take advantage of promotional pricing of up to 60% off for the first 12 months, but the subscription will renew at regular price after the promotion ends.
Here's the regular pricing for WSJ subscriptions:
WSJ Digital: $39 per month
Classic Print: $42.99 per month
Print & Digital: $44.99 per month
As you can see, bundling both digital and print is about the same cost as buying Print or Digital alone! To get the best price, you'll want to signup with the best promotion. So, which one is best? Let's compare their promotions and subscription options to decide.
---
WSJ Subscription Cost Comparison:
You might be deciding between 2-3 popular signup promotions like, "$12 for 12 weeks," 6 Months for $99," and, "50% off 6 Months." Unless you have a calculator handy, it's hard to know which one is the best deal. For that reason, let's look at what a "WSJ All Access Digital" subscription really costs after 6 and 12 months for each of these promotions.
• WSJ Digital Deals: Total Cost for 6 Months:
"12 Weeks for $12″ deal: $129 ($21.50/mo.)
"6 months for $99" offer: $99 ($16.50/mo.)
"50% off 6 months" deal: $117 ($19.50/mo.)
"50% off 12 Months" deal: $117 ($19.50/mo.)
As you can see, over the course of 6 months the "50% off" coupon yields a better price; saving you an extra $12 over the "$1 per week" deal. Now, let's look at a full year's subscription for an even bigger price difference:
• WSJ Digital Deals: Total Cost for 12 Months:
"12 Weeks for $12" deal: $363 ($30.25/mo.)
"6 months for $99" offer: $333 ($27.75/mo.)
"50% off 6 Months" deal: $351 ($29.25/mo.)
"50% off 12 months" deal: $234 ($19.50/mo.)
So, while the short offers initially bill you less, they are actually more expensive over time. This cost-savings is really significant after the first year!
Tip: If you are a college student or teacher, you may qualify for a WSJ student subscription at a big discount. However, there are no special discounts for seniors or military.
You might also notice that the "WSJ $99 offer" is great for the first 6 months, if available. Here's more about that offer:
---
What About the WSJ $99 Offer?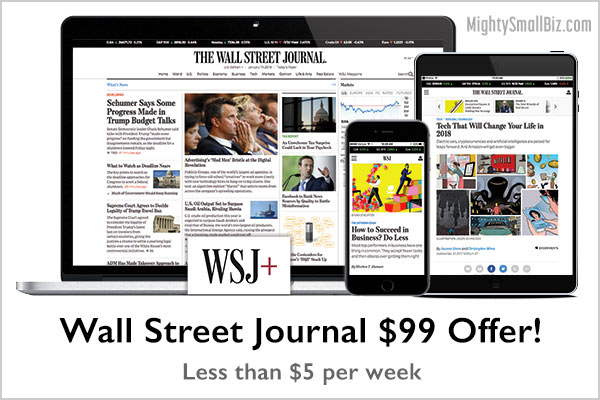 Occasionally the Wall Street Journal runs a subscription deal for, "6-months for $99." You might see this offer on Black Friday or before popular holidays, but is it really the best deal?
Actually, the $99 offer is the best deal for the first six months only. If you do the math (we did!), it's more expensive than the "50% off 12 months WSJ Digital" promotion long-term. See above for a cost comparison of the two WSJ Digital promotions over the first 12 months.
As you can see, the 50% off promotion is much better long-term than the WSJ $99 subscription offer! The only coupon or promotion that can beat the "50% off 12-months" coupon is the "60% off 12-months" deal, if available!
---
WSJ $1 Per Week Subscription Deal (12 Weeks for $12)
$1 per week offer: If you'd only like to commit to 3 month subscription, then the $12 for 12 weeks subscription is the cheapest way to do so.
To view that deal, just click today's promotion and then select either "Digital," "Print," or "Digital + Print" on the offer page. You'll then see the "$1 per week option like this: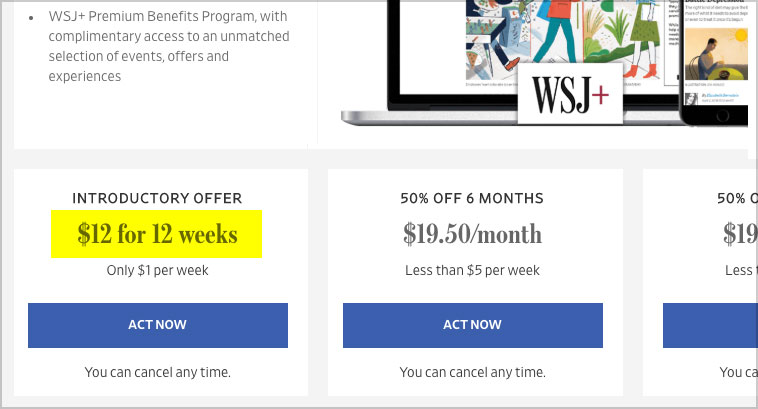 Click, "Act Now," and you can purchase a 3-month subscription for only $12!
After that promotional period ends, you'll be charged the regular subscription rate unless you choose to cancel.
---
Conclusion: The 50% Off Coupon Is Best Deal for Both Print Delivery & Digital Subscriptions!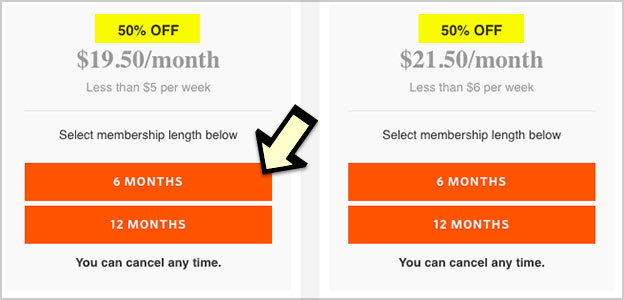 If you plan to cancel your WSJ subscription before the 6th month, then the shorter promotions are a very good deal. However, if you plan to subscribe for 6 months or more, then the "50% off deals are much better, as they lock-in the lower subscription rate for either 6 or 12 months.
The WSJ Digital + Print promotions are a great deal, as adding Print or Digital to your subscription only costs a few dollars more per month! Related: How Much Does Noom Cost?
---
Wall Street Journal Subscription Discount Amazon?
From time to time you can find a discount WSJ subscription at Amazon.com. It seems that the Amazon discount hasn't been available for some time.
Tip: You can find the same promotion for 50% off here; although it's not directly from Amazon.
Being that Jeff Bezos owns the Washington Post, I assume there is a conflict of political, and business interest in promoting Wall Street Journal subscriptions?
---
Wall Street Journal $99 Subscription Offer Highlights:
(Sample amazing WSJ video content above) Founded in 1889, the WSJ is the world's leading business publication, read by more business leaders than any other media. WSJ.com is a 24/7 365 day a year guide to the top business news world-wide, giving you access to news as soon as it breaks.
A subscription to the Wall Street Journal print (paper delivery) edition puts the day's top stories in your hands every morning, offering the best reporting and business news in print; the reason why The Wall Street Journal has earned the appellation of being the #1 business publication worldwide.
WSJ Print offers 6-day a week newspaper delivery as well as full digital access
Online tools to track investments in your WSJ portfolio
Every subscription Includes 11 issues of WSJ Magazine
Incredible exclusive video content
Unrivaled reporting with over 1800 journalists in 45 countries
More business leaders read the WSJ than any other media according to a recent study by Erdos & Morgan
More subscription features
Related coupons: Vistaprint | TurboTax
When using a coupon or promotional link from above, you can save up to 60% on a Wall Street Journal subscription for up to 12 months. That's a pretty sweet deal!