You've seen the pictures. Old Faithful erupting, bison herds crossing in front of cars, steaming hot springs, and bubbling mud pots. But planning a trip to Yellowstone can be completely overwhelming! Considering its the size of Rhode Island and Delaware combined, and spans 3 states, it's no wonder you're not sure where to start.
But fear not. I'm here to tell you all you need to know to plan the ultimate family trip to Yellowstone National Park.
1. Do spend at least 3 nights INSIDE the park
Yes, I know. Lodging in the park is crazy-expensive. And yes, you'll have to book your in-park lodging 9-12 months in advance. Which seems nuts.
But here's the thing. Yellowstone is huge. And it's one of the most visited parks in the country. And no matter what, you're going to be spending a lot of time in your car. Combine the sheer number of people with the inevitable traffic jams because of wildlife (more on that later!). Trust me. You're not going to want to waste time getting into the actual park.
I must have googled "how many nights in Yellowstone?" a million times. And while there are endless things to see and do here, our stopover was part of a longer, 2-week road trip; 3 nights gave us a significant amount of time to see everything we wanted to see.
Tip: Staying inside the park not only puts you in the middle of all the action, but it offers you the flexibility to head to the most popular sites well after everyone else has headed back to their out-of-park lodging.
2. Don't spend the whole time in one location.
So you've decided to take my advice and stay inside of the park.
Smart move.
But remember what I said? Yellowstone is massive, so break up your time there between at least two locations.
If you're staying for more than three nights, then you can probably swing three different lodging sites. However, you should do fine with splitting your time between two places.
We entered from the North, so it made sense for our first hotel to be somewhat close to that end of the park. We chose to base out of Canyon Village for the first two nights. By entering from the north, we were able to see Mammoth Hot Springs and Tower Roosevelt on our way from the North Entrance to Canyon Village. This put us smack in the middle of everything. We were close to the Grand Canyon of the Yellowstone, Yellowstone Lake, and Norris Geyser Basin. Staying in Canyon Village also gave us easy access to wildlife viewing at Lamar and Hayden Valley.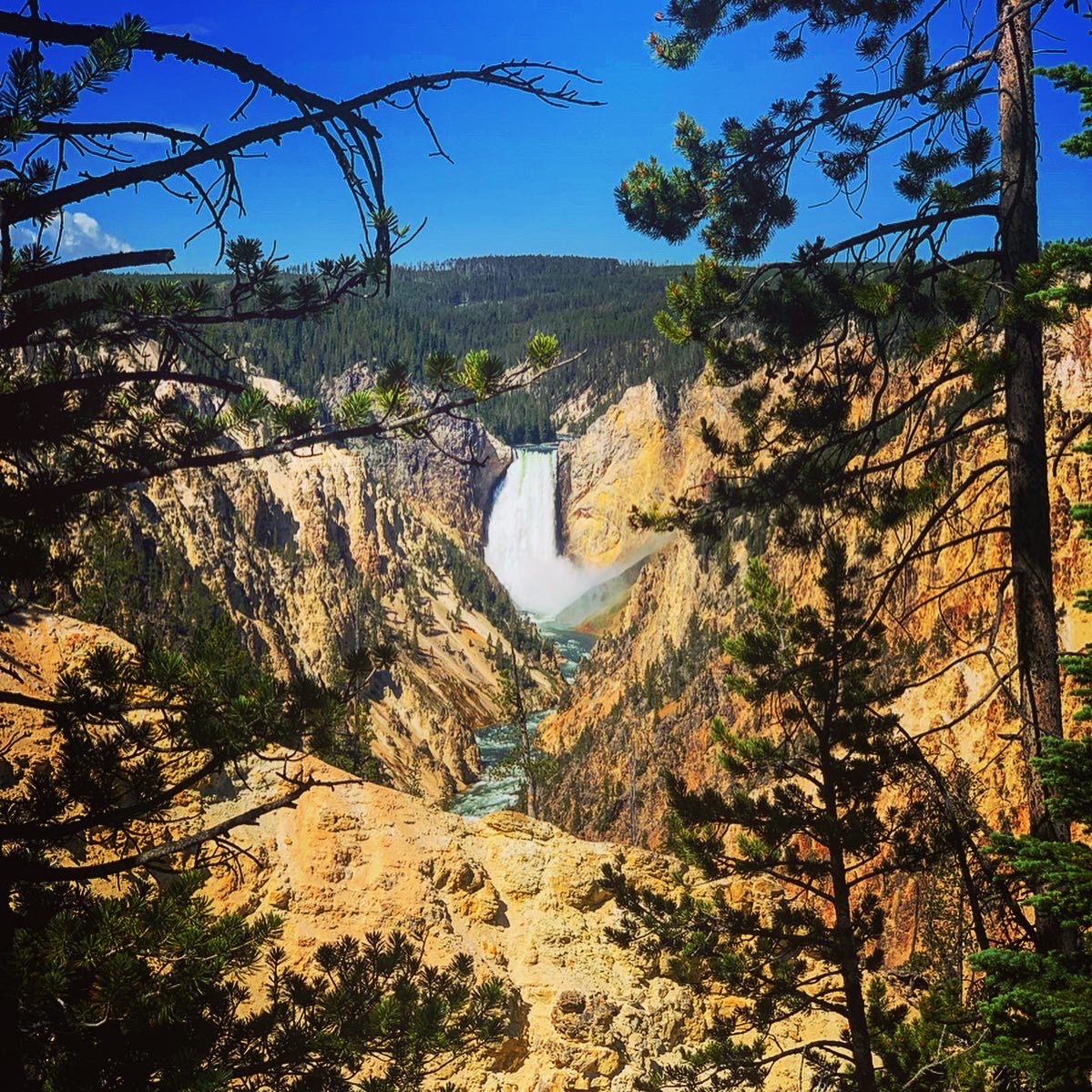 We then drove south to the Old Faithful Snow Lodge. Heading this way for our last night put us in the perfect spot to explore sites including Upper and Midway Geyser Basin, Grand Prismatic Spring, and of course, Old Faithful. This also put us closer to the South Entrance, which we then left through on our way to Grand Teton.
Tip: By splitting your time between two different sections of the park, you can avoid backtracking or excess driving.
3. Do download the Yellowstone NPS App before you arrive
The app gives you access to maps, real time lodging info, and most importantly, eruption predictions for the 6 most popular geysers.
Tip: Cell service is pretty spotty in the park, so make sure you download the app before you arrive and select "Download Offline Content"
4. Do wake your kids up crazy early to see the Wildlife.
So let me be honest with you. We are not early risers. My kids would sleep forever if we didn't drag them out of bed.
But you're in Yellowstone. Now is not the time to sleep in. If you want prime viewing for Bison, Wolves, and Bears, then drag those kids (and yourself!) out of bed and get on the road.
Were the kids zombies in the car? Yep.
Did we wrap them in blankets for the drive? Most Definitely.
Did we see incredible wildlife with hardly anyone else on the road? Yes. Yes we did.
Tip: Remember when I told you you want to stay in the park to cut down on drive times? This is why. We woke everyone up at 5:30 in the morning and drove 1 hour from Canyon Village to Lamar Valley.
On our first morning, we drove through Hayden Valley.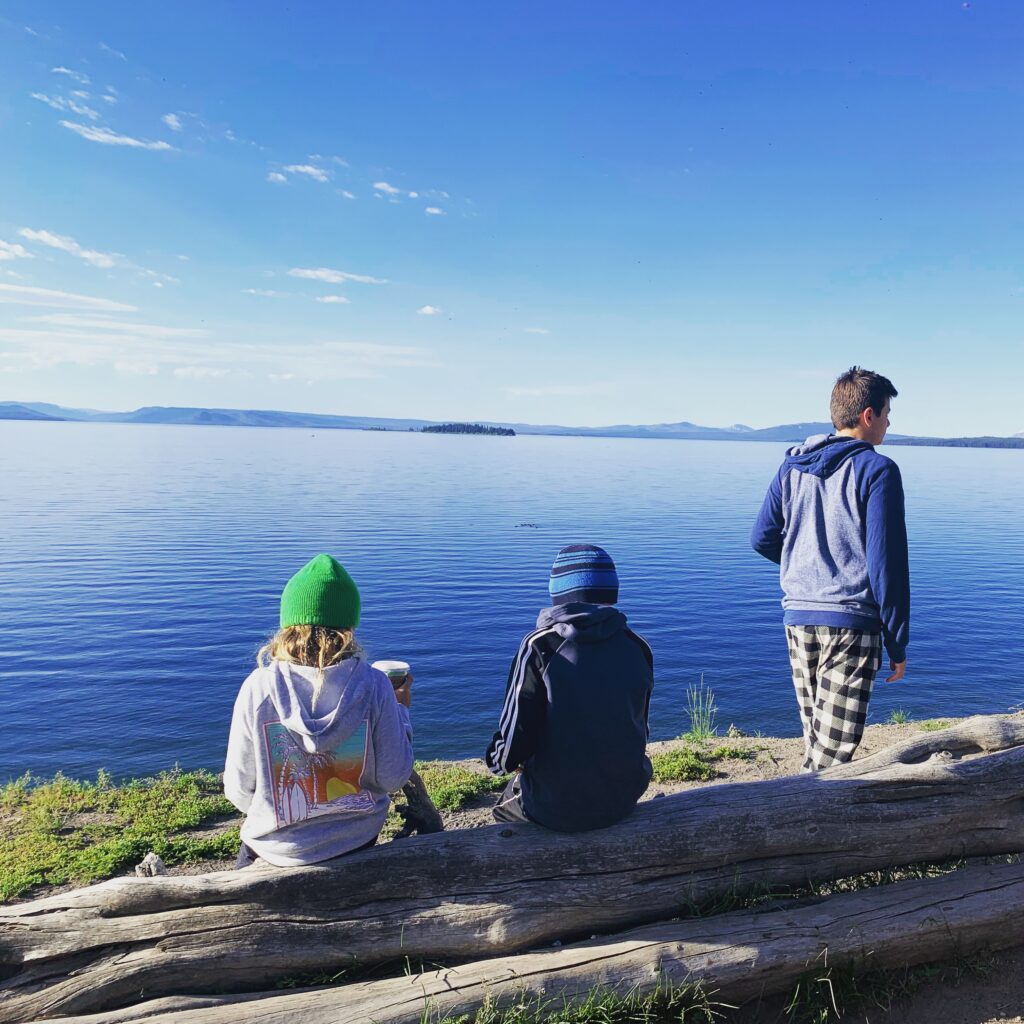 Tip: If you do this, make sure to hit up the general store at the Lake Yellowstone Hotel. The kids can get hot chocolate and you can fuel up on coffee. Bonus? You can drink your rewards lakeside with hardly another soul in sight.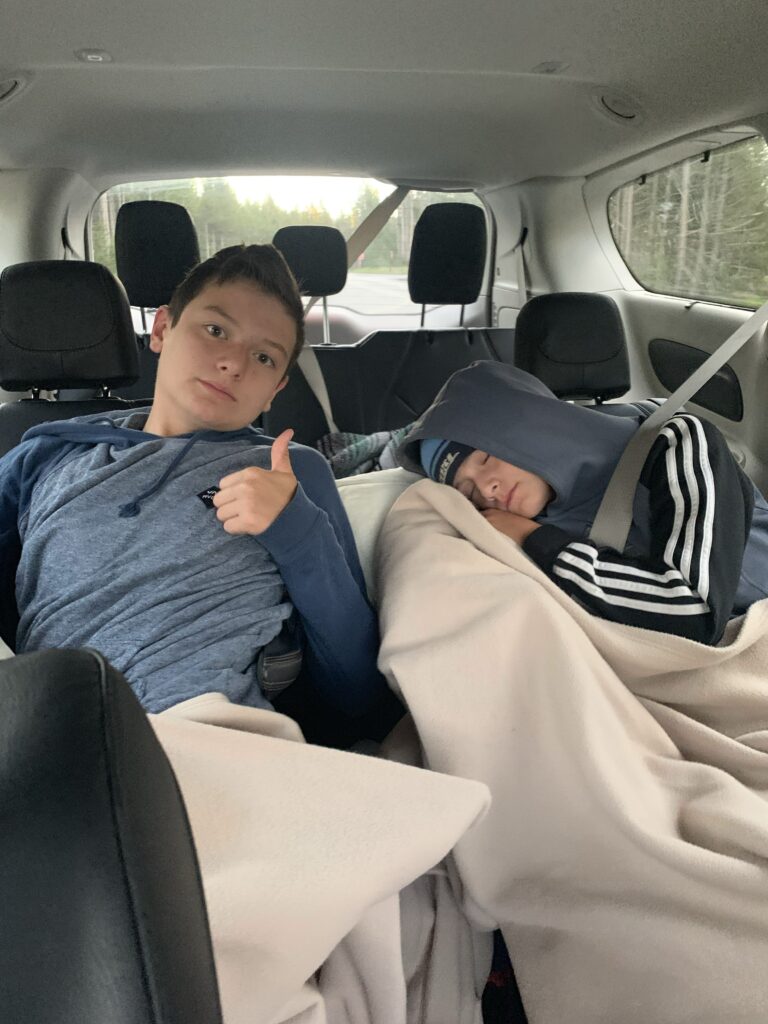 The next morning we drove an hour to Lamar Valley. And it was completely worth it. We saw herd after herd of bison and a pack of wolves.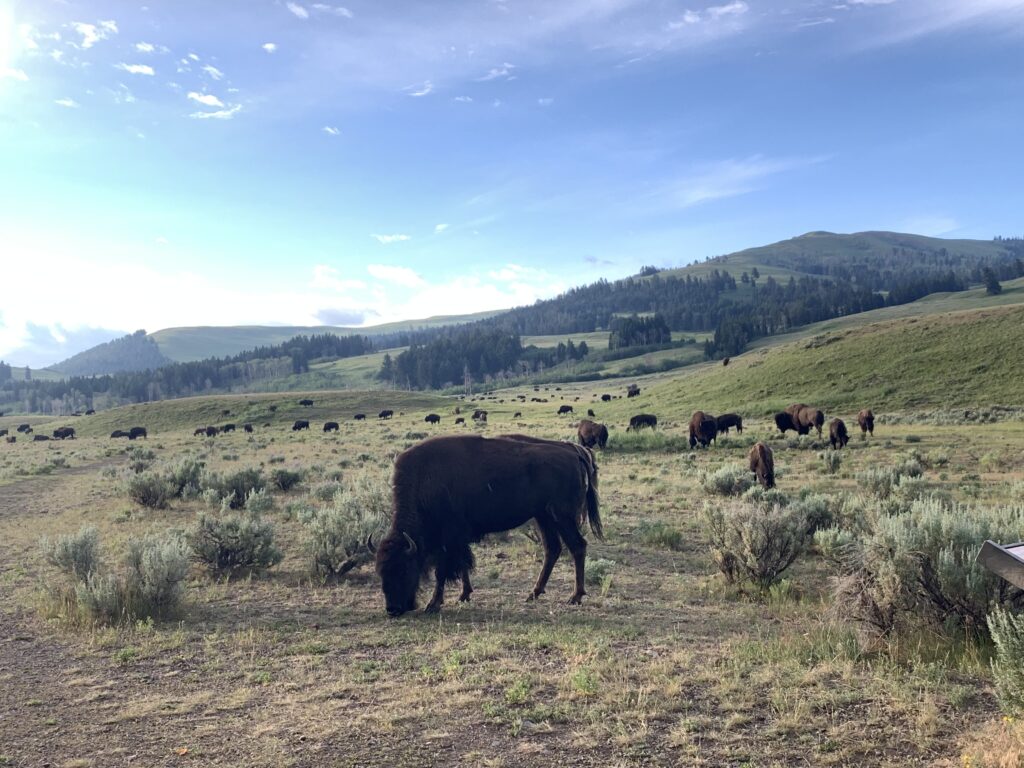 5. Don't go to the most popular places during the day
Yellowstone has around 4 million visitors a year. Around half of them come in the summer. That's a lot of people.
But remember, you're staying inside of the park (right?!) so you have the flexibility to see things whenever you want. In the summer it doesn't get dark until after 9:00; we found that by heading out early, chilling in our Canyon Cabin for the afternoon, and heading back out around 6, we were able to avoid most of the crowds.
Tip: Our favorite no-crowd experiences include walking the boardwalks at Norris Geyser basin with hardly anyone in sight, and watching Old Faithful erupt after 9:00 with around 20 other people.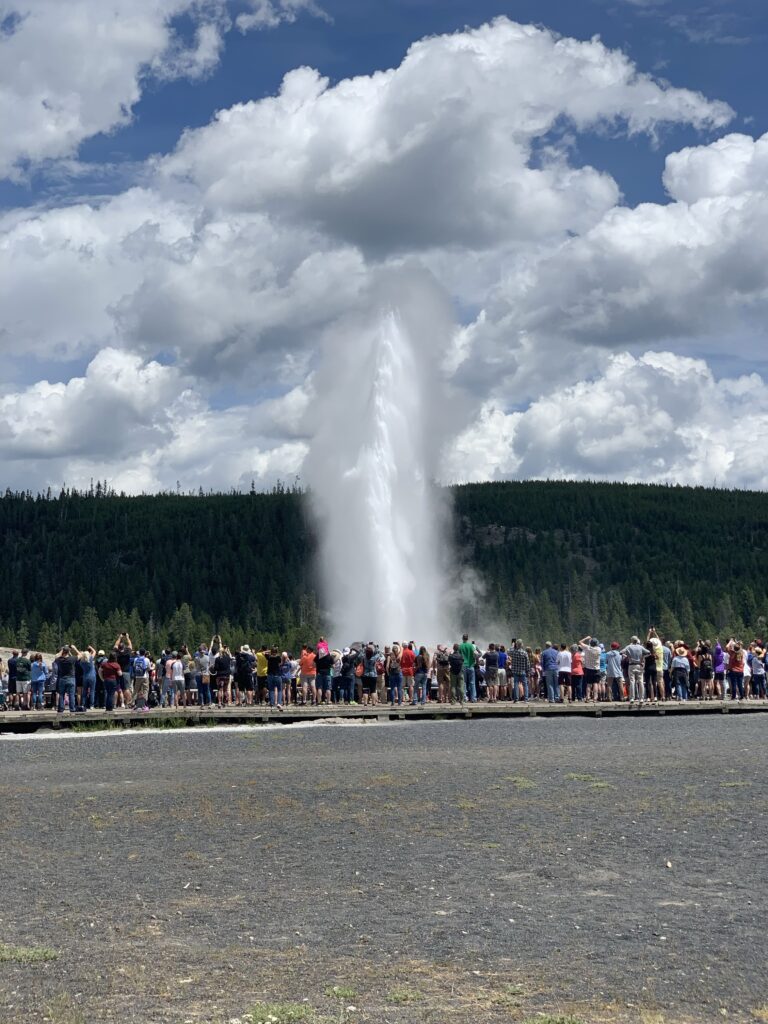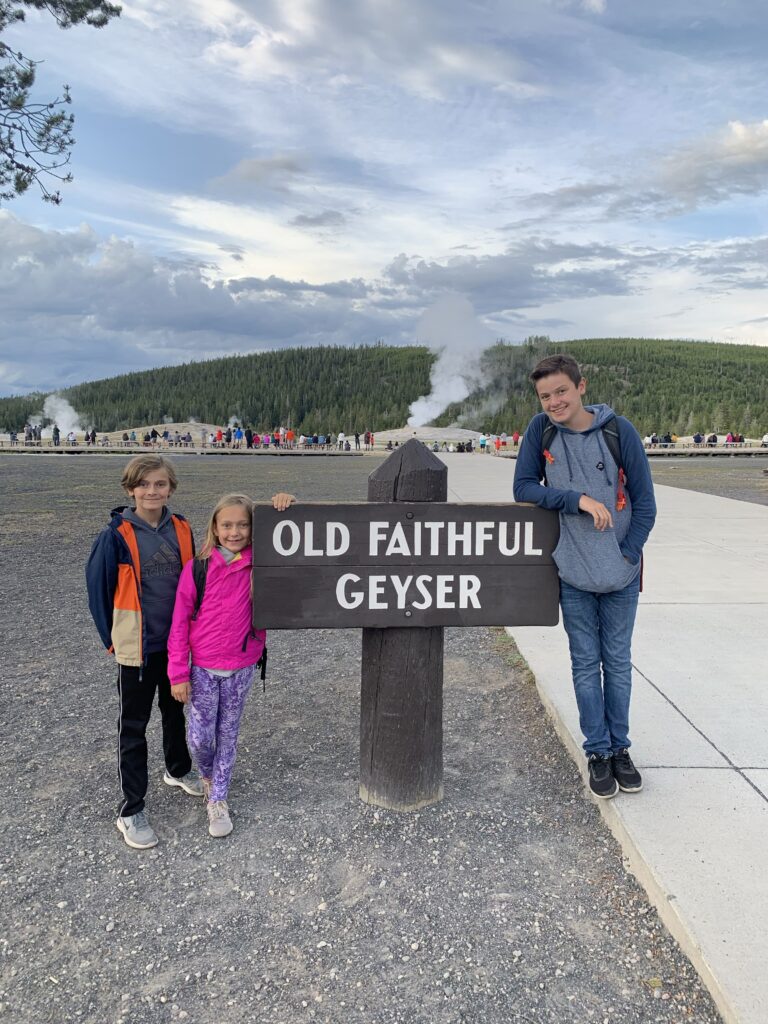 6. Do pack for all seasons- even if you're visiting in the summer
In the morning you'll need a light jacket and a beanie hat. In the afternoon you'll be in shorts and a baseball hat. And don't trust the forecast. See those happy kids?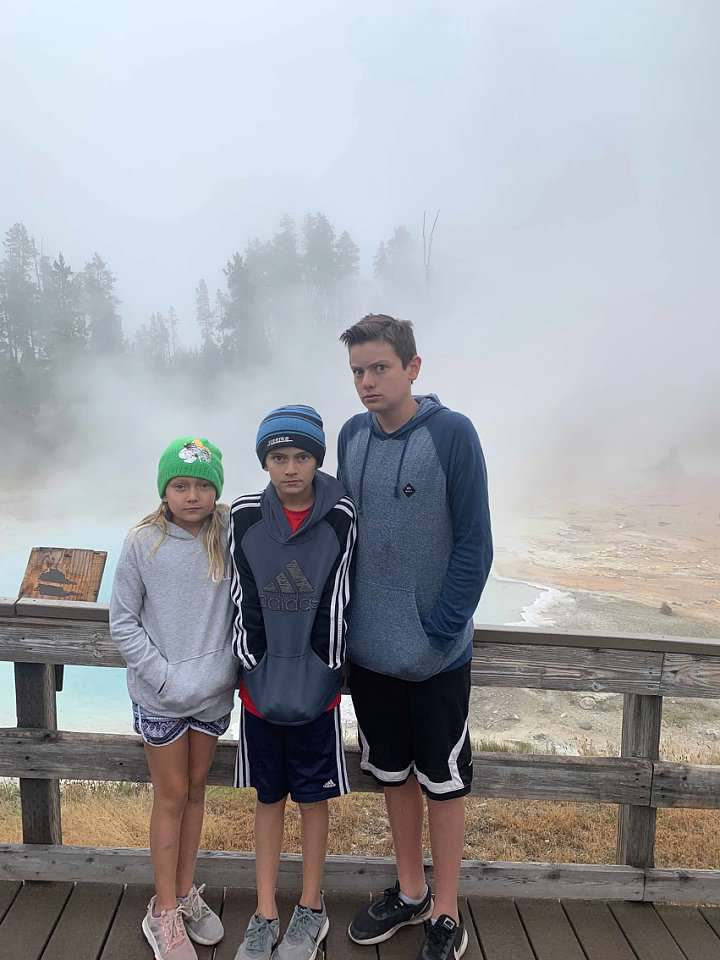 Do yourself a favor and bring layers!
7. Don't be a jerk
Listen, I feel like I shouldn't have to say this. But…
Don't throw things into the thermal pools
Stay on the boardwalks
Don't touch the geothermal features
Keep your food stored tightly and either in your room or in your car
Don't get too close to wildlife
Apparently people suck and can't follow basic directions.
8. Do Spend time at the Old Faithful Inn
The Old Faithful Inn is an iconic National Park Lodge; it was built in 1903, and it's nearly impossible to get a reservation! But that doesn't mean you can't experience this national landmark.
It's totally worth checking out the incredible lobby, including the massive stone fireplace. And anyone can chill out in the rocking chairs on the porch- which has a great view of Old Faithful.
Tip: Make sure you get some Huckleberry ice cream while you're there.
9. Do make sure you give yourself plenty of time to visit Grand Teton National Park
Yes, Yellowstone is absolutely incredible. My kids didn't want to leave.
However, Grand Teton is one of the most beautiful places we've ever been. We were there for 2 nights after our stay in Yellowstone, and I wish we could have stayed longer.
All of the Details
We spent 3 nights and 3 1/2 days in Yellowstone, and it was completely doable. By staying inside the park we were able to cut down on drive times, see the key sites without backtracking, and avoid the crowds.
Interested in our lodging and itinerary? Read on!
Where we stayed:
We booked our lodging through Xanterra, which handles lodging for many of the National Parks
2 nights in the cabins at Canyon Lodge
We loved our cabin. It had a minifridge, two queen beds, a bathroom and a little backyard. The kids loved hanging out back there and spent an entire afternoon making a teepee.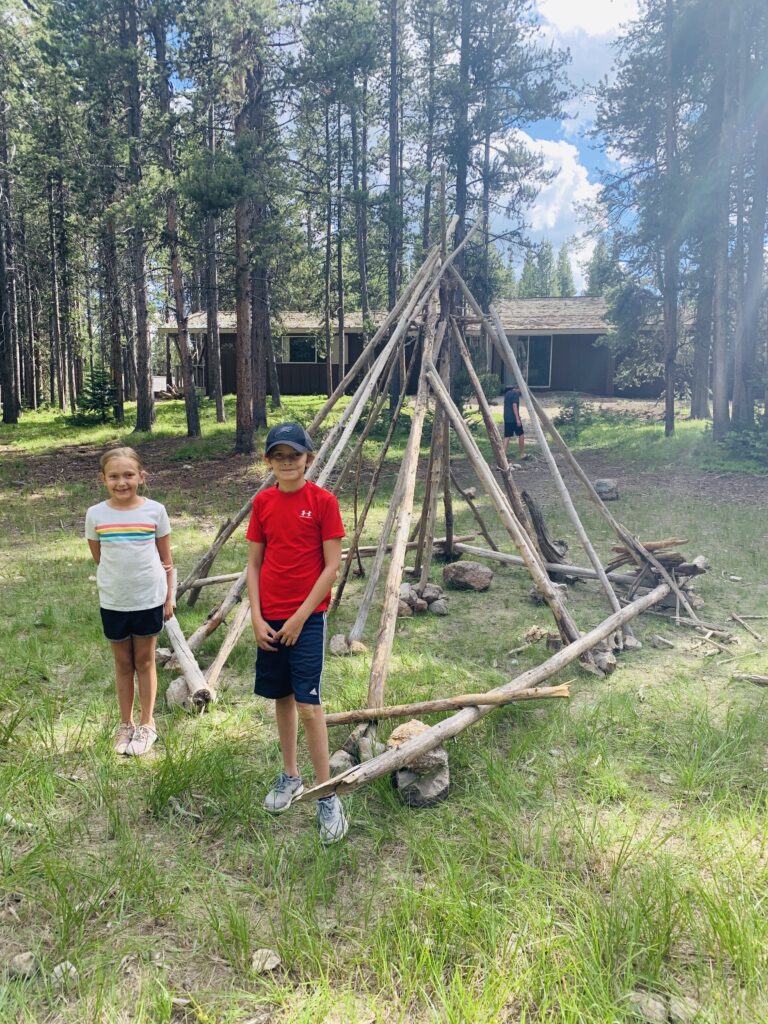 1 night at the Old Faithful Snow Lodge
The Snow Lodge was the perfect base for checking out the southern part of the park. While this area definitely feels more touristy and crowded than Canyon Village, we loved the proximity to Old Faithful.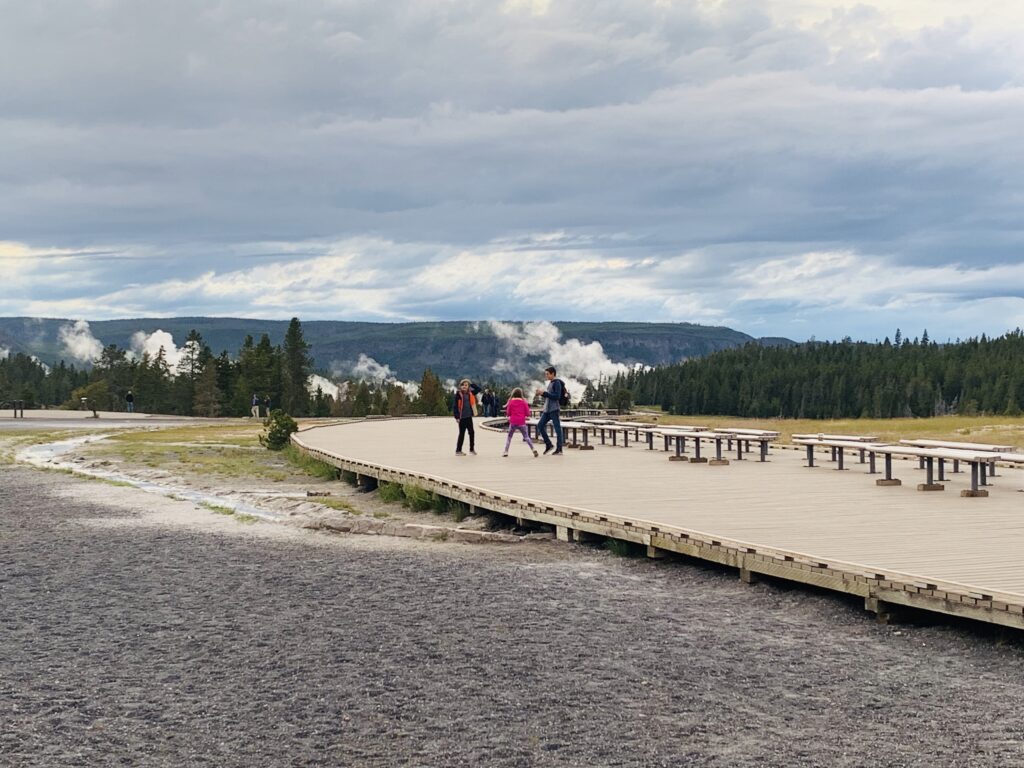 Our Itinerary:
Day 1:
Enter from the North Entrance, which tends to be less crowded than the south and west. We came in from Bozeman, and went whitewater rafting in Gardner (which was amazing!). We headed into the park after lunch.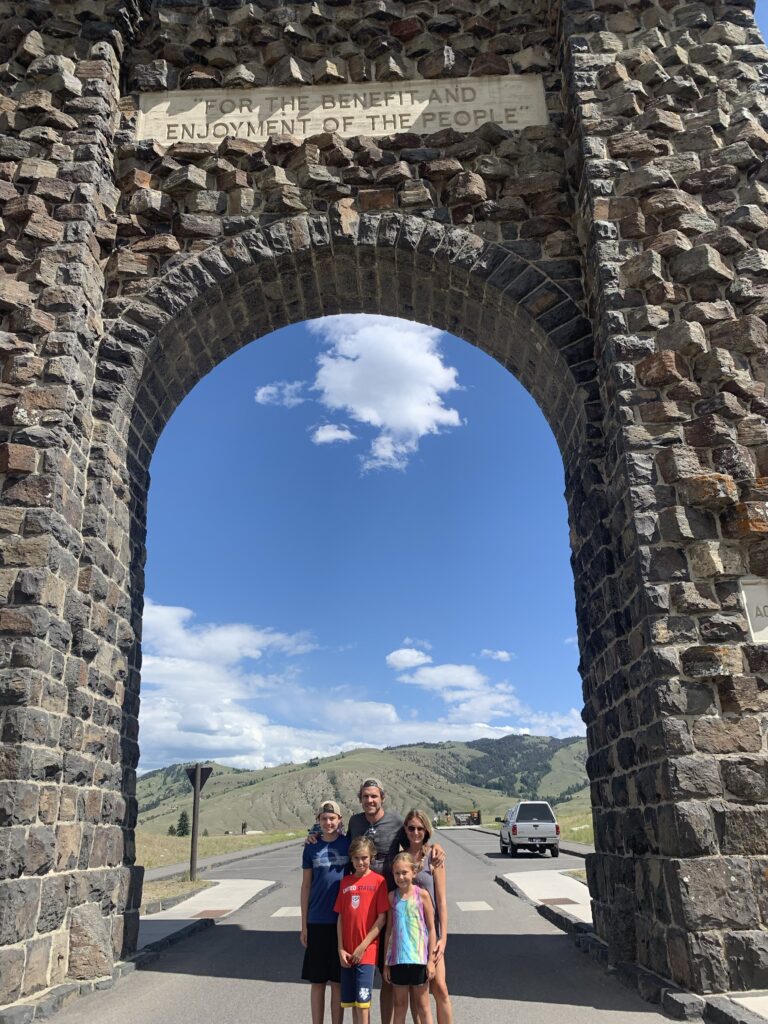 Tip: Take a pic at the Roosevelt Arch on your way in.
Stop at Mammoth Hot Springs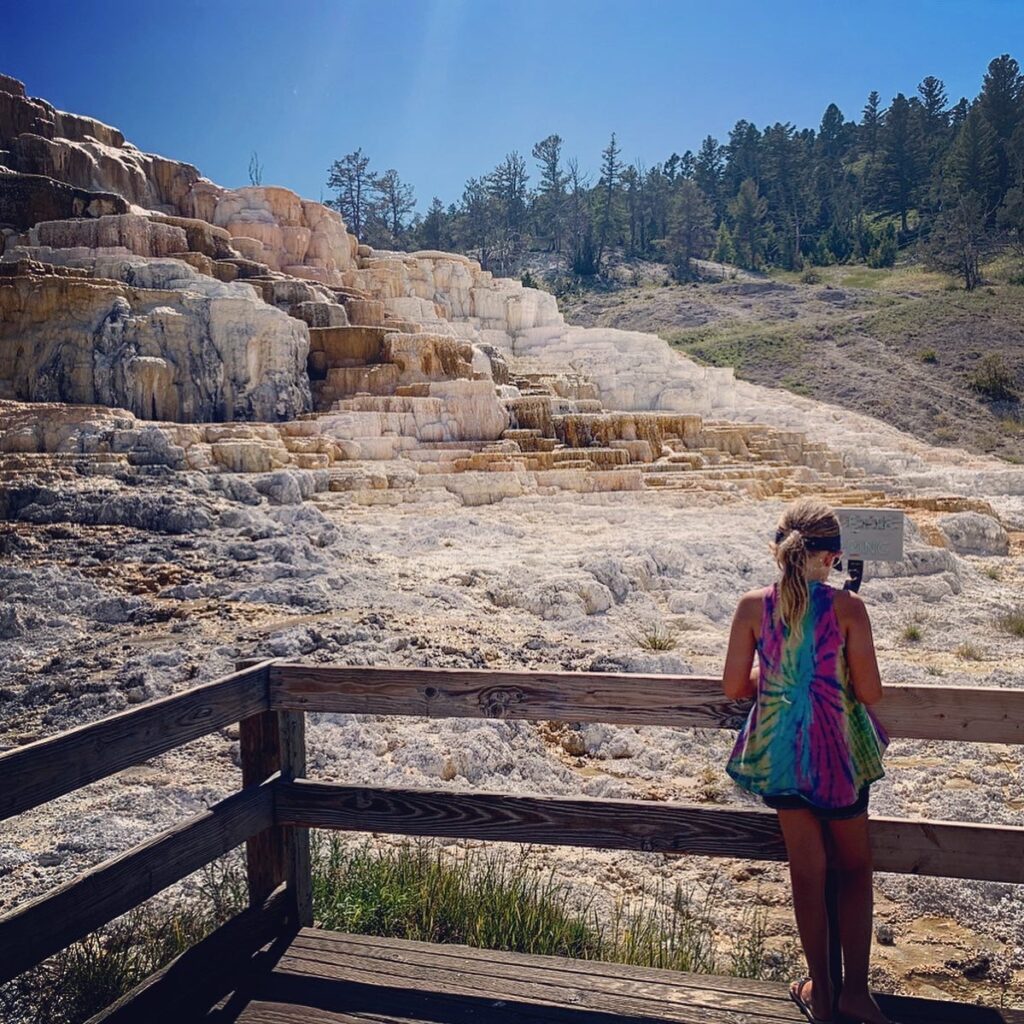 3. Drive towards Tower Roosevelt and stop at Tower Falls.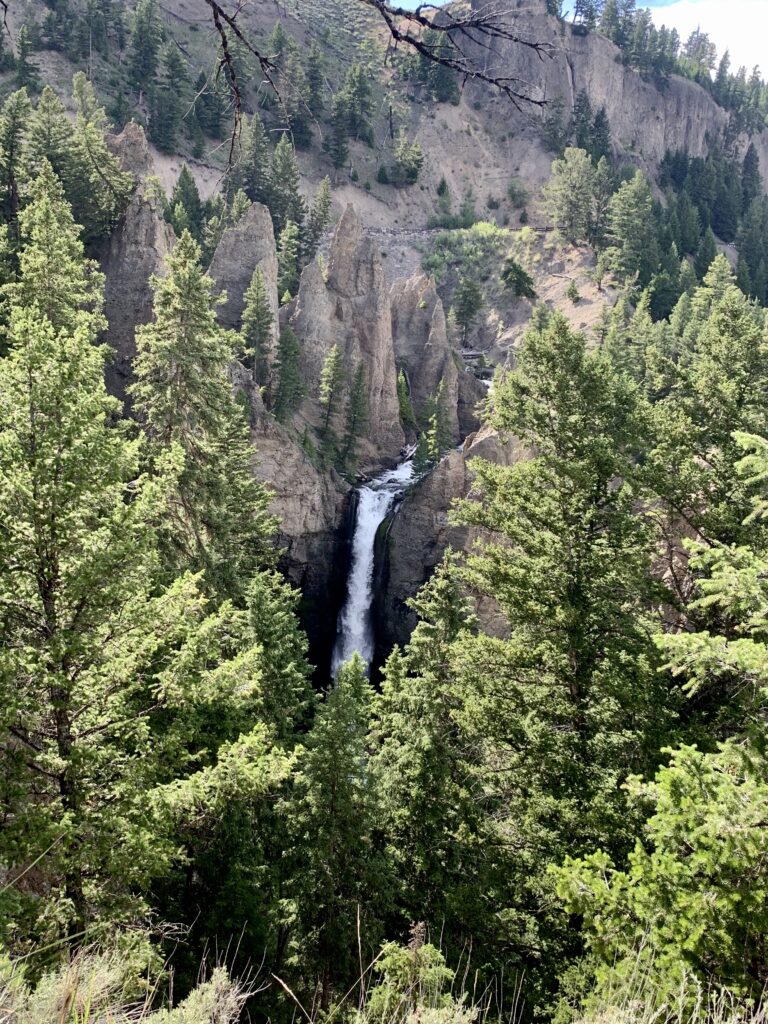 4. Check into the cabins at Canyon Village.
5. Make sandwiches in the room and drive to Mud Volcano. Be prepared for the horrific sulphur smell!
Day 2:
Drag your kids out of bed and drive south through Hayden Valley
2. Stop and get Hot Chocolate at Lake Yellowstone Hotel
3. Check out the Upper and Lower Falls at Grand Canyon of Yellowstone- hike around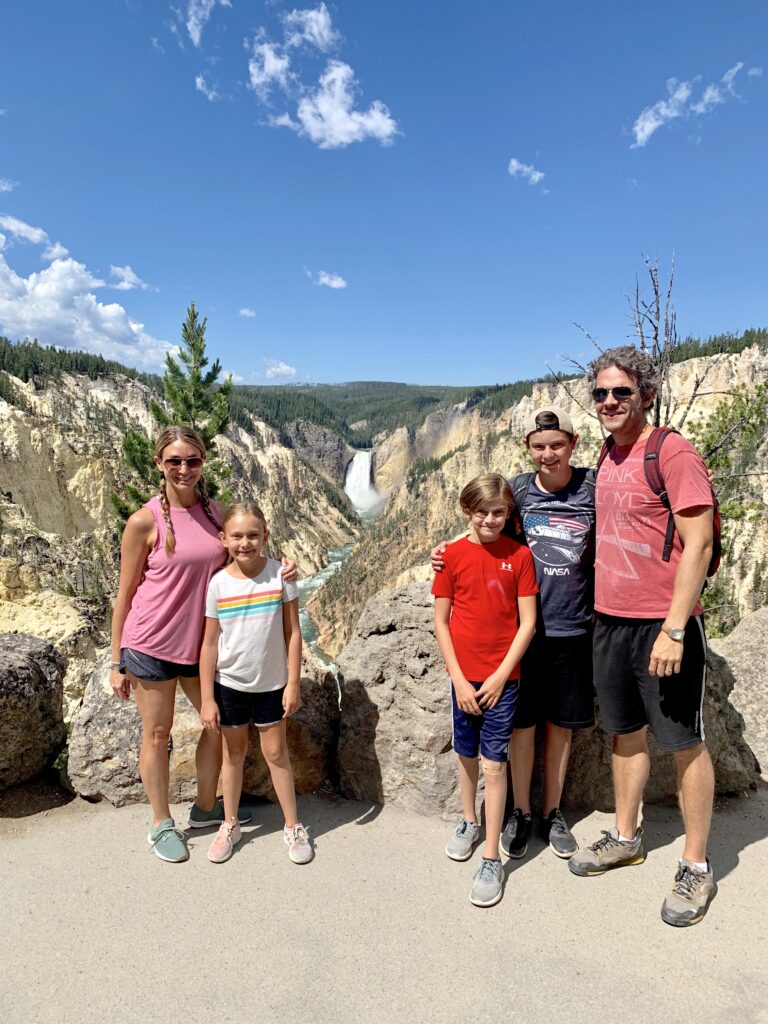 4. The visitors center at Canyon Village has a great movie
5. Chill back at the cabin during the heat of the day
6. Get an early dinner at the food court in Canyon Village, then drive west on Grand Loop Road to Norris Geyser Basin
Tip: Be prepared to spend a few hours at Norris Geyser Basin- in the evening, the crowds are gone and the weather is perfect
Day 3:
Drag the kids out of bed (again) and head to Lamar Valley. It's a long drive, but totally worth it!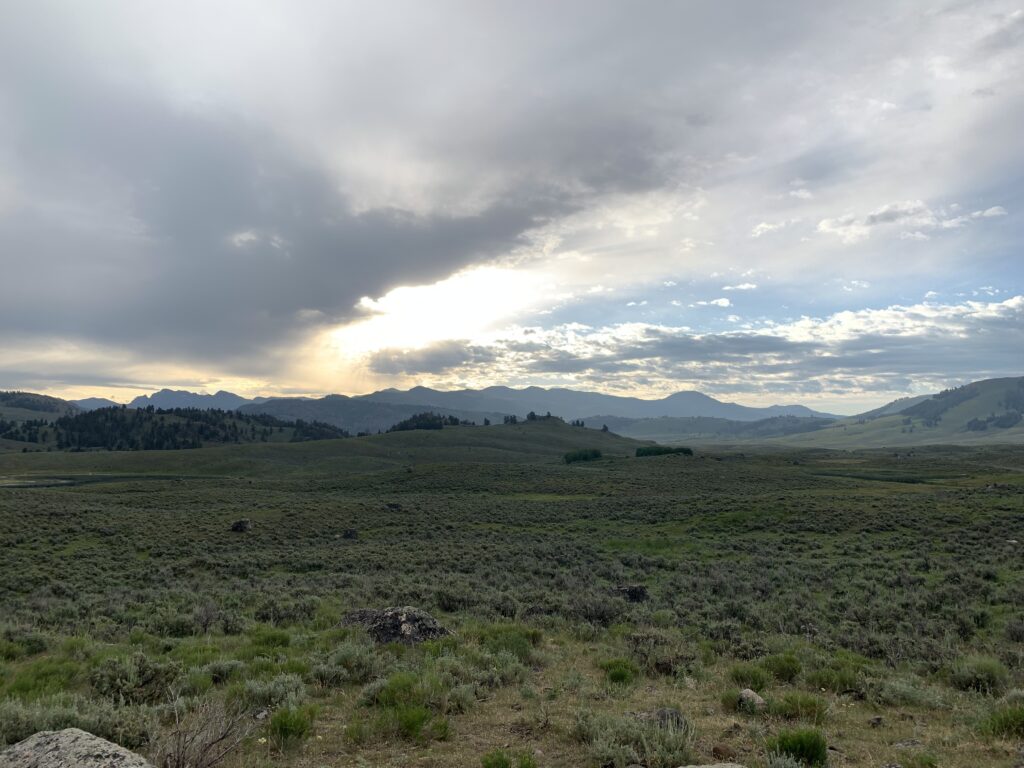 2. Once you're back at the cabin, pack up and drive west on the Grand Loop road. Make sure to stop at Gibbon Falls on your way to Old Faithful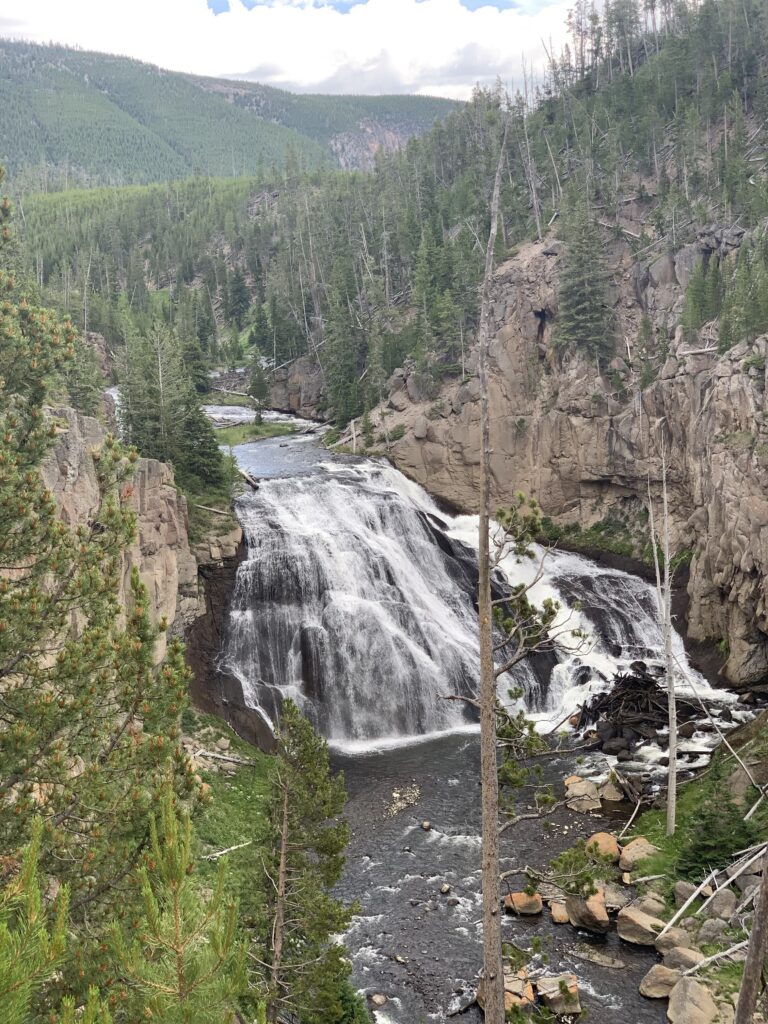 3. Hit up the Old Faithful visitor's center and settle in on the deck of the Old Faithful Inn.
4. After checking in to Old Faithful Snow Lodge, grab dinner and head to the Upper Geyser Basin.
Tip: Remember to check the app for when Old Faithful will erupt, and head there as late as you can!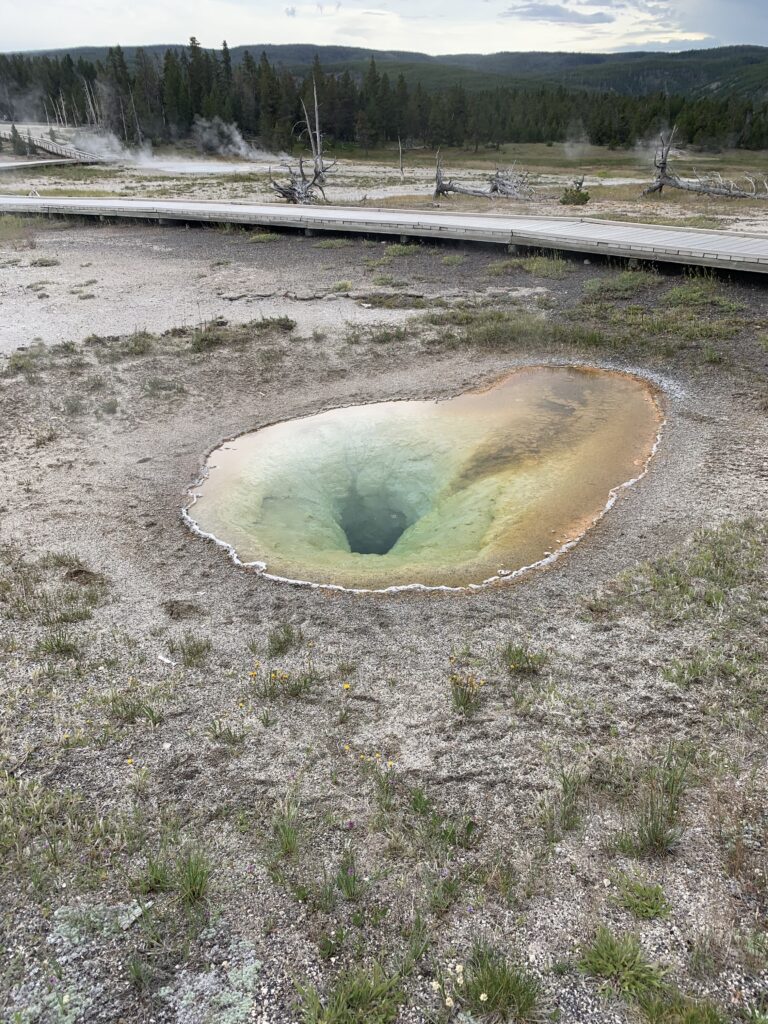 Day 4:
Head to Middle and Lower Geyser Basins and hike to the overlook to see Grand Prismatic Spring from above.
2. Grab some Huckleberry ice cream at the Old Faithful General Store
3. Drive towards the South Entrance- stop for a pic at the Continental Divide Sign. (If you have time, you can check out Grant Village)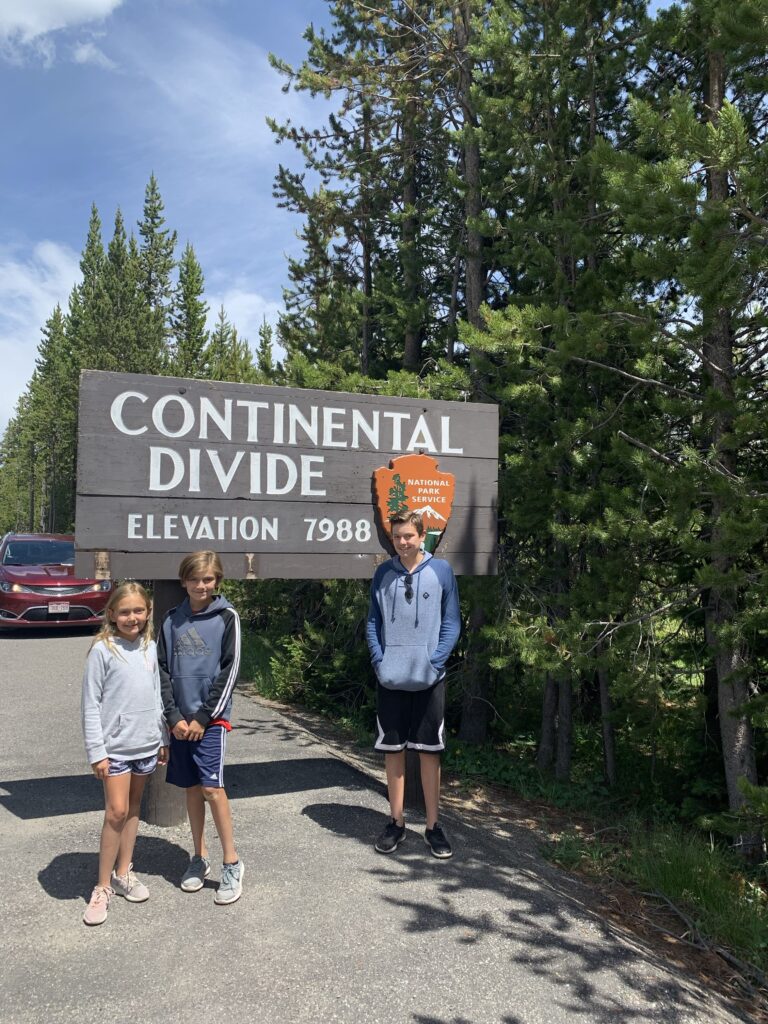 Bottom Line
No matter how long you have to explore Yellowstone, and regardless of where you choose to stay, your visit to America's first National Park will be an experience you and your family will never forget.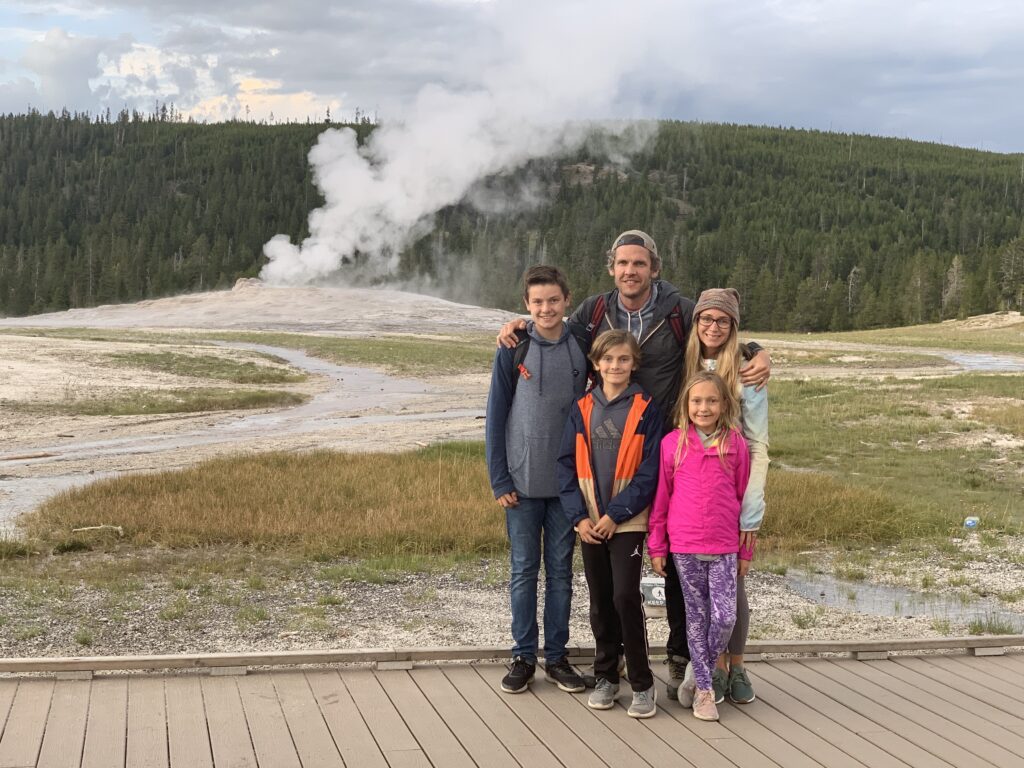 Heading back towards Salt Lake City and looking for a way to break up the drive? Check out our review of The Conestoga Ranch