Two of Nutrisystem's most popular deals include their 50% off sale, (nutrisystem/sale 50 off) and the widely-available $50 off coupon codes. While these promotions initially seem like a good deal, neither of them are the best signup deal long-term. Here's why you should skip 50 off, and use the 40% off sale instead.
---
Why You Should Skip the "50% Off" Deal: (Including Nutrisystem for Men/50)
You've probably seen the ads for 50% off Nutrisystem online and on TV, including the Nutrisystem for Men/50 promotion. However, did you read the fine print? Most of the time the Nutrisystem 50% deal ends after the first month or two, and as soon as two weeks.
Check out the fine print on their ads: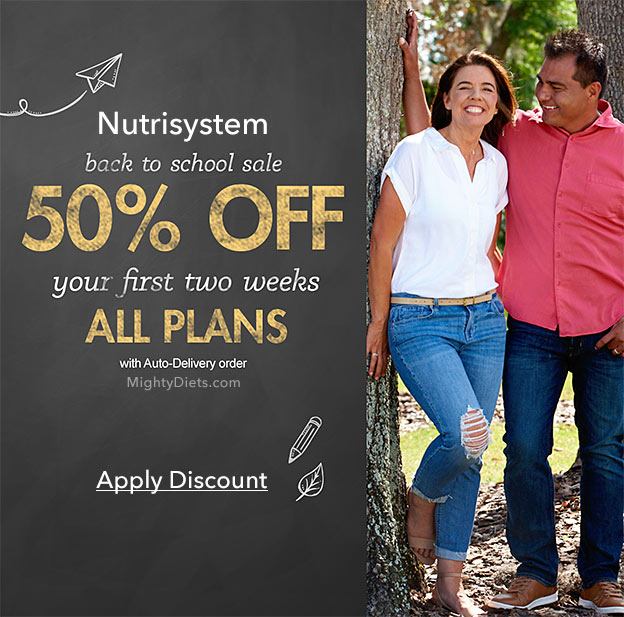 Here's the Nutrisystem 50 off commercial from TV:
View nutrisystem.com/sale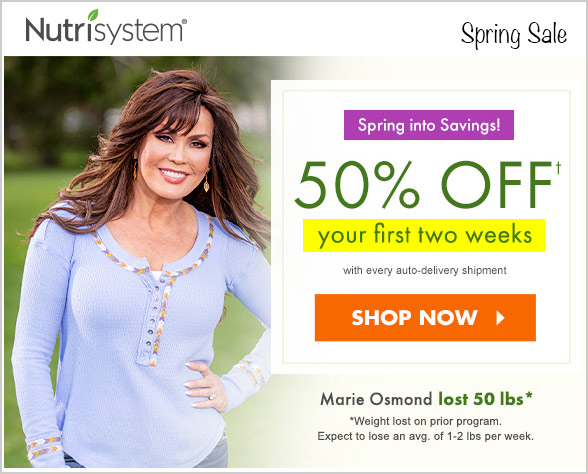 Do you see how the sale is for 50% off the "regular one-time rate" and "your first two weeks?"
Now, if you are talking about a one-time purchase, then 50% would obviously be a great deal. However, most people join Nutrisystem for at least several months, so the "50% off one month" special isn't a big total savings.
The 50% off deal is like an adjustable rate mortgage, with your future payments being a bit of a mystery, so skip it unless it specifically states that the price is locked-in.
That's probably why one of the biggest customer complaints about Nutrisystem is about this unexpected price increase.
---
Skip the $50 Off Coupon Codes, Too!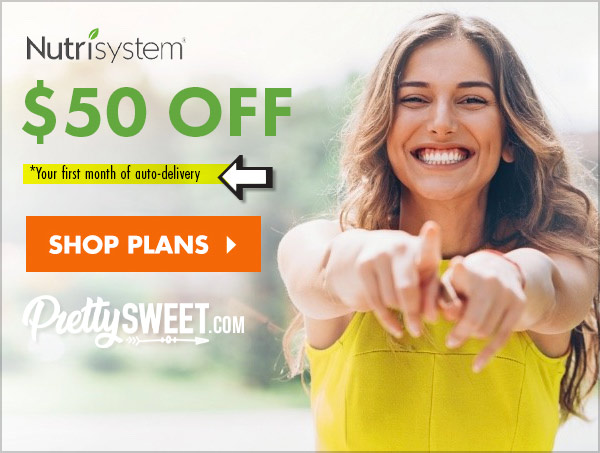 Hey, look! A pretty, thin woman is selling me something! I'm almost too flattered to look at the fine print.
You already know that the 50% off deal might not be good, so let's talk about why you should also pass on the $50 off promo codes.
*Related: Is Nutrisystem Food Really Healthy?
It's $50 off a higher price!
At our grocery store they run a lot of "half-off" sales. However, what most people don't notice is that they raise the price on the product before advertising that sale.
In other words, a bag of chips that was selling for $3 last week is now marked up to $4.29 for the 50% off sale. That means it's not really as good of a sale as you'd think.
That's kind of what happens when you use a $50 coupon code, like SAVE50, towards the price of Nutrisystem, too. Let me explain:
$50 off discount codes don't work on the sale price (Spring sale, etc.)
While $50 is a nice chunk of change, it's not as much as you think. That's because those $50 off codes are only good for a discount on the higher, regular price of Nutrisystem.
If you arrive at Nutrisystem.com from a promotional ad, (like their two for one sale) you'll probably have a discount applied to their pricing. This is a good thing, but it also means that any additional discounts, like promo codes, won't work as a double-discount on your order: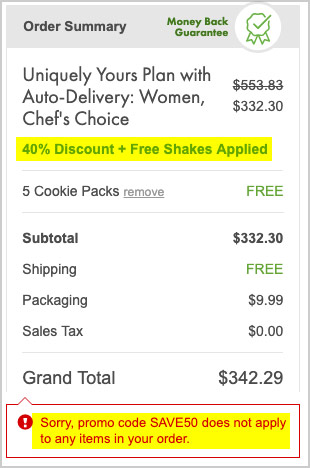 Oh, and that $50 discount only works towards your first order!
If you read the fine print you'll see what I mean: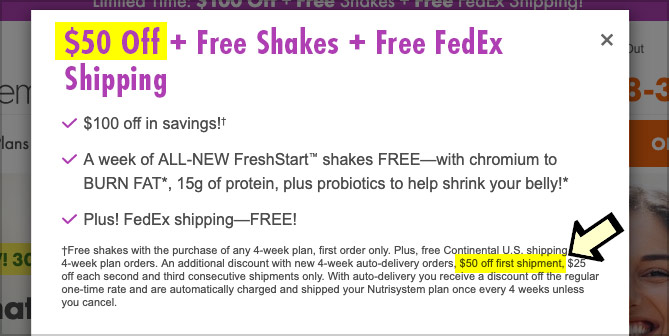 So, what is a better long-term discount than "50% off" or "$50 off?"
---
Use this Sale (Instead of Nutrisystem/sale 50 off)
OK, we told you which Nutrisystem promotions NOT to sign up with, so let's talk about which one you should use.
Their current "40% off" sale isn't the lowest price for the first month, but unlike the others, it locks in the initial price. That means you should have no unwelcome surprises on your credit card bill after a month or two of staying on Nutrisystem.
It also means that over time you'll save more money compared to simply getting 50% off your first month, as the discount is applied every month. Here's the deal: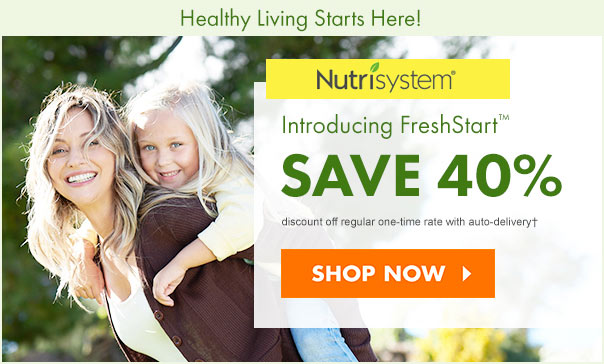 Also, be sure to check today's promo codes for free food, including cookie packs and shakes, when you sign up!
So, even though the deal above is best, here's the (seasonal) email offer for the 50% off promotion:
*Related post: Is South Beach's 50% Off Deal Best?
---
The 50% Off Deal – Spring Sale (When Active)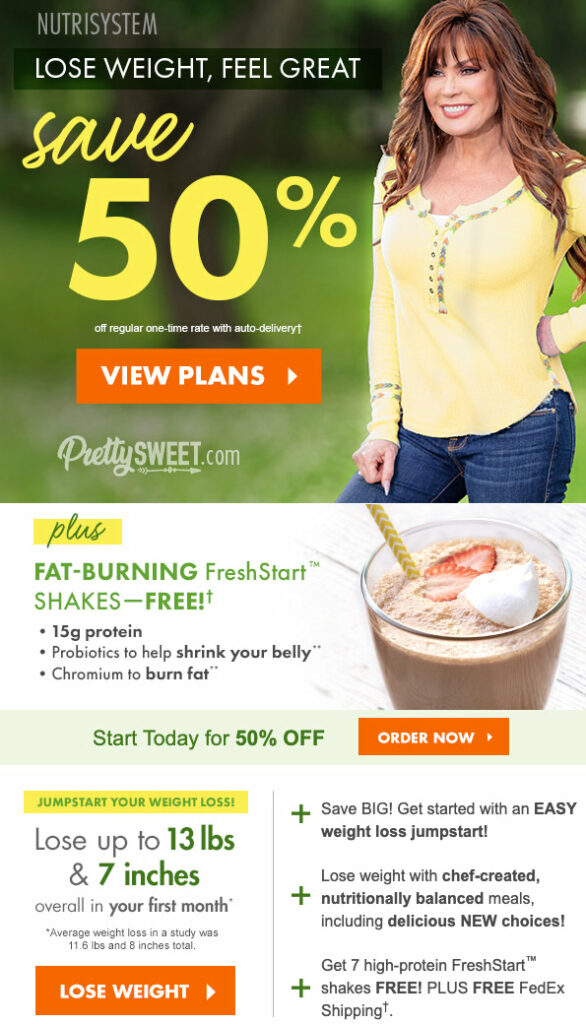 *Related: 50% Off 6-Month WSJ Subscription!
---
50% Off Nutrisystem a la Carte / Shakes?
The same fine print also applies to sales on their a la carte food including shakes. Notice that you get a 50% discount on your first order, but subsequent auto-delivery orders that include a la carte food will be at regular price: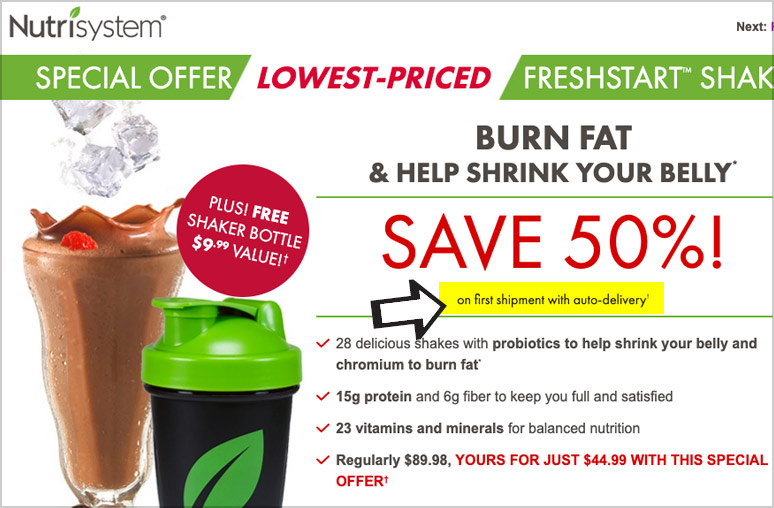 If you are just starting Nutrisystem, I recommend passing on the extra a la carte foods at checkout. You can always add them onto a later order, or just buy similar (and cheaper!) protein shakes and probiotic vitamins at your local GNC or super market.
---
Conclusion:
Finding the best deal or discount code for Nutrisystem reminds me of those scientific tests they used to do about instant gratification. While deals like 50% off, Nutrisystem/sale 50 off, half off, $300 off, and $249 for Uniquely Yours sound great, they lose their luster when you read the fine print.
In fact, the only time I've ever seen a real sale for 50% off Nutrisystem is their Spring sale here.
Not sold on Nutrisystem?
Most diets fail because they aren't compatible with the unique needs of the person, and don't address the psychological component of weight loss.
The South Beach Diet (reviews, coupons) is very similar to Nutrisystem, and now includes a keto friendly option. Or, if you are more the do-it-yourself type, consider WW (coupons) or the hot new Noom app (review, cost, free trial).
Either way, be sure to check with your doctor before starting any new diet. Thanks for stopping by PrettySweet.com!