If you are on Nutrisystem or thinking of joining, you've probably noticed that all of their promo codes are for your first order only. So, is there a way for existing customers to get a discount on your second order, or towards a la carte food?
The good news is that we've found a hack that works for existing customers towards their second and subsequent orders, but you have to be a Costco member.
The Secret is buying Nutrisystem Gift Cards at Costco.com at up to a 40% discount!
Are you a member of Costco? Perhaps you have a family member or close friend who has a Costco membership? If so, you are eligible to buy discounted Nutrisystem gift cards in-store or at Costco.com.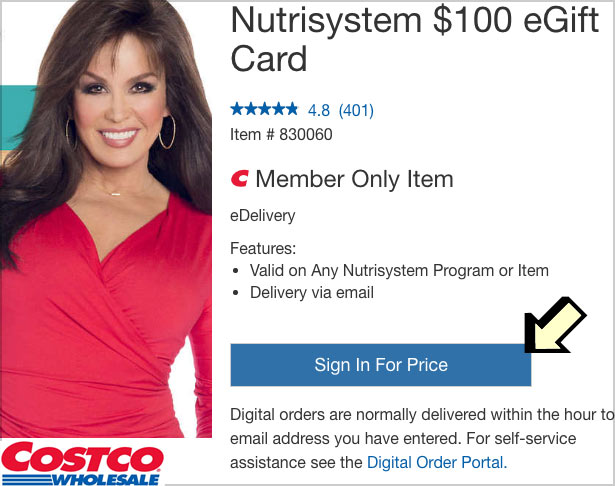 These $100 gift cards cost only $59-79 each, and can be used towards your first order, or a la carte food thereafter. Here's how:
---
First Order
If you are joining Nutrisystem, (does it work?) there are promo codes available to save big at signup.
However, you can also buy multiple discount $100 gift cards to use towards your first order to save even more. So, if your first order is $350, you can buy up to 4 discounted Costco gift cards to use towards the total.
Just enter the code at checkout just like a promo code where it says, "enter gift card." It's a great way to save big when you join!
But, you may notice that you can't enter a promo code for your second order. Here's a hack to get a discount as an existing customer:
---
Second Order:
So, you've already completed the first part of Nutrisystem (FreshStart®) and are ready for more?
While there are no promo codes out there for existing Nutrisystem customers, you can use the balance of a gift card just like a promo code at checkout.
Example: If your first order total is $350 and you use 4 x $100 gift cards, you are left with a balance of $50.
The good news is that you can use that balance towards your second order! Just be sure to save the gift card with a remaining balance, as you will have to enter the code again towards your second order, including a la carte Nutrisystem food anytime.
---
A la Carte Food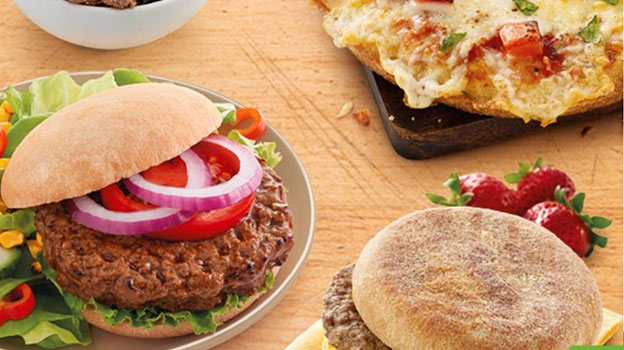 Want to keep using these discounted Nutrisystem gift cards towards every order? Here's where it's a bit tricky, because when you signup for Nutrisystem, they put you on auto-payment. If you cancel before your second month, you'll owe a $125 cancellation fee.
So, what can do you save money and beat the system?
Once again it comes back to the discount Nutrisystem gift cards. Here's what you can do:
After your first two orders, you can log into your account and choose to delay your shipments.
Instead of receiving your third (or later) shipment, you can order food a la carte through your account at Nutrisystem.com, using the discount Costco Nutrisystem gift cards.
*Related: South Beach Diet Costco Gift Cards: 25-40% Discount!
---
Existing Customers Can Still Save!
So, while by definition this isn't a promo code for your second order, it's a hack to get Nutrisystem food through your account at up to a 40% discount!
From this point on you can resume your auto-delivery shipments at any time, or continue ordering Nutrisystem food a la carte at a big discount; it's up to you!
If you aren't loving Nutrisystem, you can even quit after the second month without fear of a cancellation fee.
To get the most out of this hack, watch the price of Nutrisystem gift cards at Costco. While the regular price for these $100 cards is $79, you can find them on sale for as cheap as $59 each. That's like finding a promo code for a 40% discount for existing customers!
Are you a Costco member? If so, check out today's price on Nutrisystem gift cards here.
---
Other Promo Codes & Coupons?
If you aren't a Nutrisystem member yet, we have exclusive coupons to get you the best price when you join. We recommend skipping the tempting 50 percent off sale, and going with the "
Not sold on Nutrisystem? We also have exclusive coupons for Weight Watchers (WW) and up to $100 off the cost of joining the South Beach Diet.
(Oh, and during tax season we can save you up to $25 on TurboTax with this coupon!)
Need inspiration? We just put together a list of our favorite weight loss quotes here.
Regardless of how you choose to strive towards your health and weight loss goals, good luck!
Related Posts