Coupons for REESE Brand Auto Parts: REESE has been a legendary brand in towing products for over 50 years. Best known for their trailer hitches including ball mounts, custom fit, gooseneck, & 5th wheel hitches their parts are incredibly strong and exceed all industry safety standards. Use a coupon below for up to a 20% discount site-wide including REESE brand parts:
---
AutoZone.com: REESE
View coupons – 20% off $100+ including REESE towing, trailer hitches, trailer lighting & accessories. Get free in-store pickup or free shipping with minimum purchase
Using one of our coupons? see all Reese parts at autozone.com plus today's featured on-site promotion.
---
Advance Auto Parts:
View promo codes – Up to a 25% discount site-wide, good towards REESE parts. Free same-day in-store pickup.
Advance Auto doesn't have a good selection of Reese tow products & hitches. They only currently have REESE Carry Power ratchet tie-downs & straps
---
Use a coupon for up to a 30% discount site-wide including Reese automotive parts, towing accessories, & trailer hitches!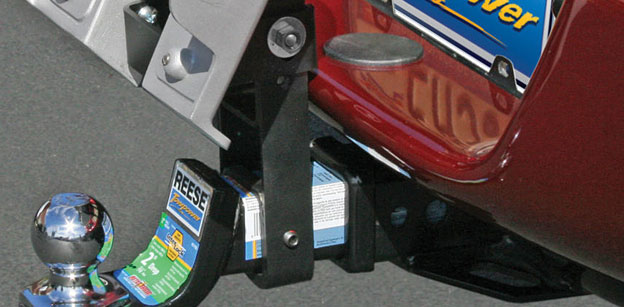 REESE Towpower: Towing Hitches for Any Size Job, For Sale at AutoZone: 5th Wheel & More
Whether you are looking to haul supplies to a construction site, hitching a car to an RV, or towing a trailer carrying livestock, REESE has the receiver hitches and to meet all of your towing needs. REESE products are solid, all-welded construction for legendary strength, weight distribution, and safety that exceeds industry standards.
Their exclusive paint finishes fight corrosion and rust, and look pretty sleek too! Every REESE hitch comes with a lifetime guarantee. In fact, they've recently been honored for their fifth wheel hatch by Trailer Life Magazine.
Popular REESE Towpower products include:
Custom Fit Hitches – Receiver hitches built according to your car or trucks specific make, model, year, and weight specifications for a perfect fit
Multi-Fit Hitches – Universal fit for cars, SUVs, vans, and light trucks. Multi-fit receiver hitches are less expensive than custom-fit!
Front Mount Hitches – Attach a cargo carrier or bike to the front of your car or truck
Gooseneck & 5th Wheel hitches – For any heavy haul, a gooseneck of fifth wheel hitch is anchored through your truck bed, offering extra strength and a better turning radius than hitches that connect off the back.
Ball mounts including carbon forged, standard welded, heavy duty, & class V
Towing accessories
Trailer & hitch accessories
Trailer electrical & lighting
---
The Best Prices for REESE Hitch Parts & Ball Mounts Are at AutoZone When You Use a Coupon!
We've compared prices, and the best deals for REESE Towpower automotive products (including their legendary trailer hitches and tonneau covers) are at AutoZone.com.
Of course, that's when you use one of their featured coupons including their popular 20% off promo code with a minimum $100 order. Most of their popular trailer hitches start at about $120, so their products usually qualify for the discount.
---
How to Installing a Reese Trailer Hitch
Wondering how long it takes to install one of these hitches? See how to install a trailer hitch in under 2 minutes!
Free Shipping on Trailer Hitches Including REESE Brand!
All $75+ orders ship free at AutoZone.com, which includes their popular "Towpower" towing products and trailer hitches. For less expensive products, look for their "free shipping no minimum" coupons which are available about half of the time, and check out CURT trailer hitches at Advance Auto for even bigger discounts! We'll also be adding REESE products from AutoAnything soon, as well.