Looking to design a photo book as a gift or for yourself? I think Shutterfly is definitely your best bet! I'm certainly not alone as they print millions of books a year.
The good news is that there's always a coupon available, and sometimes you can even find a promo code for a free photobook.
So, is Shutterfly offering free photo books now?
Probably not. Shutterfly sometimes has a promotion or code for a free photo book available but it's pretty rare. If they do, it's usually only the 8×8″ size, only the first 20 pages are free, and you have to pay for shipping. (cost?) That means that even if Shutterfly has free photo book promotion going on now, it will save you $29.98 but might not be the best promotion available today for your order.
Instead, you might find that an offer for 50-70% off photo books (or store-wide?) is better and might even include extra pages or free shipping! (Check today's deals)
In any event, here are 5 potential ways to get a free photo book from Shutterfly.
Shutterfly free photo book: Refer a friend | Use a promo code | New customer freebies | App special offers
---
1. Refer a Friend: Get a Free 8×8 Photo Book!
The most dependable way to get a code for a free Shutterfly photo book is by referring a friend to Shutterfly.
Here's how: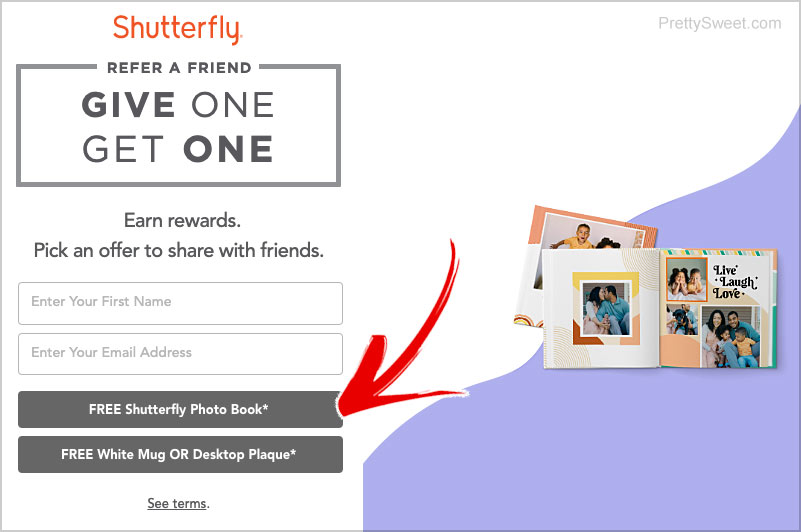 Type in your email address
Choose, "free Shutterfly photo book"
Enter up to 5 of your friends' email addresses
They will receive a unique code for a free 8×8 photo book
You'll be sent a code for a free photo book after each friend signs up
Pay only the shipping fee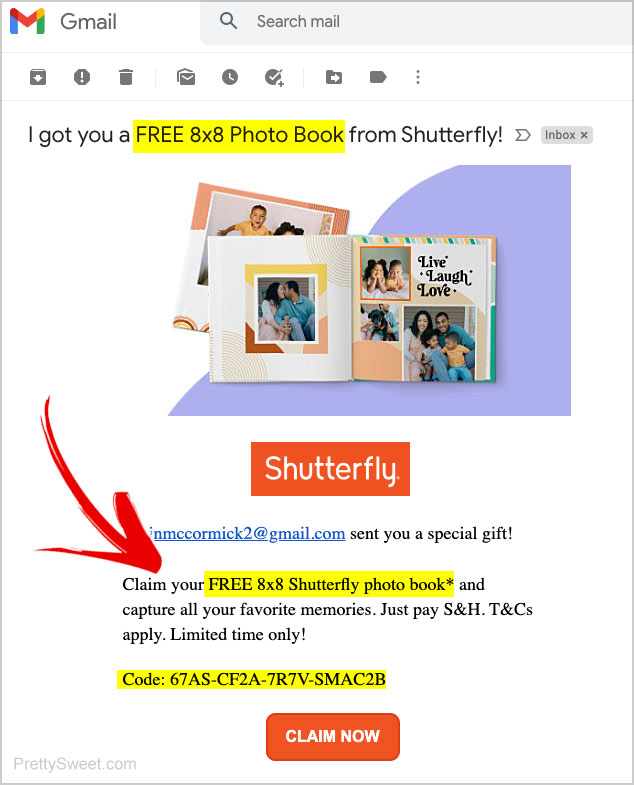 Click here to learn more and invite a friend to get your free photo book!
Tip: I've never seen a free photo book code that includes free shipping, so plan on paying $8.99 shipping on your free book!
---
2. Free Photo Book Code? Check the "Promotion Details" Page at Shutterfly.com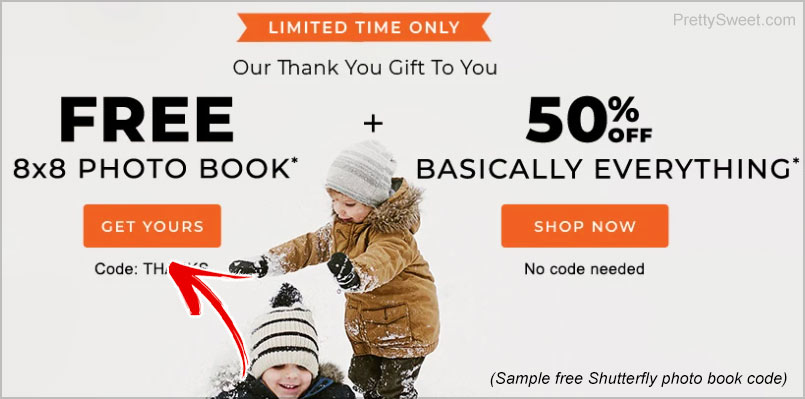 Shutterfly promo codes change every day, and coupon sites can't always keep up. However, there is a "promotion details" page at shutterfly.com that lists the terms of all the codes that they publicly advertise on their coupon page.
The free photo book codes can pop up unexpectedly but are good for a couple of days and then disappear. So, it's worth checking often if you aren't in a rush to print your book.
Tip: Look for great freebies like a free 8×8 photo book between Thanksgiving and Christmas, Cyber Monday, and before other popular holidays.
If they are currently offering a code for a free 8×8 photo book or 6×6 Instant Book it will be on this page. You also might find an even better code for your photo book order for up to 50% off and free shipping that includes popular 8×11, 12×12, and lay-flat photo books!
*Coupon: 25% off Walgreens Contacts!
---
3. Free 8×8 Photo Book for NEW Customers?
Shutterfly offers new customers 4 free gifts at signup which may include a free 8×8 photo book plus other popular items like free prints and free address labels.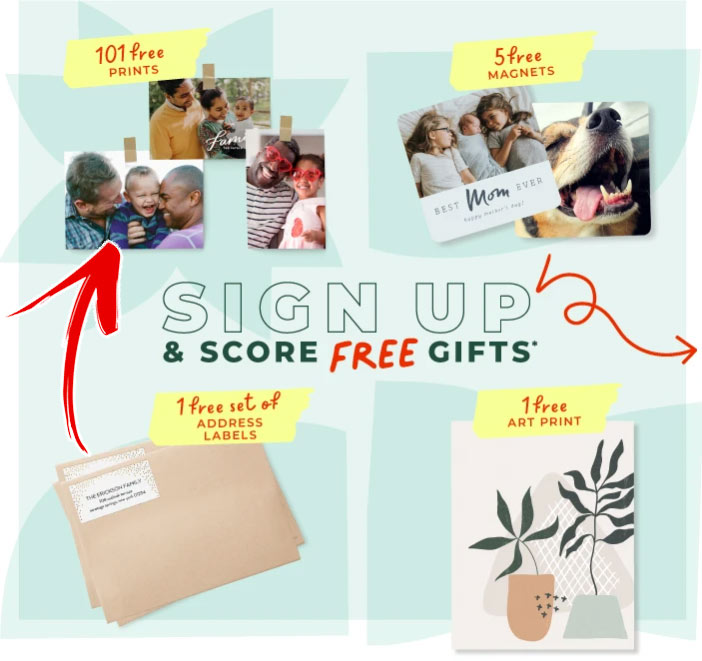 To get any or all of these free gifts, Just create a new account on Shutterfly from this page and they will add the promotion to your account. You'll just have to pay for shipping. (How much?)
A free photo book is not always an option, but it's worth checking. Plus, you might want the other free gifts anyway!
Tip: This promotion for Shutterfly freebies is good for 30 days from when you create your account, so don't let it expire!
---
4. Check the Shutterfly App "Special Offers"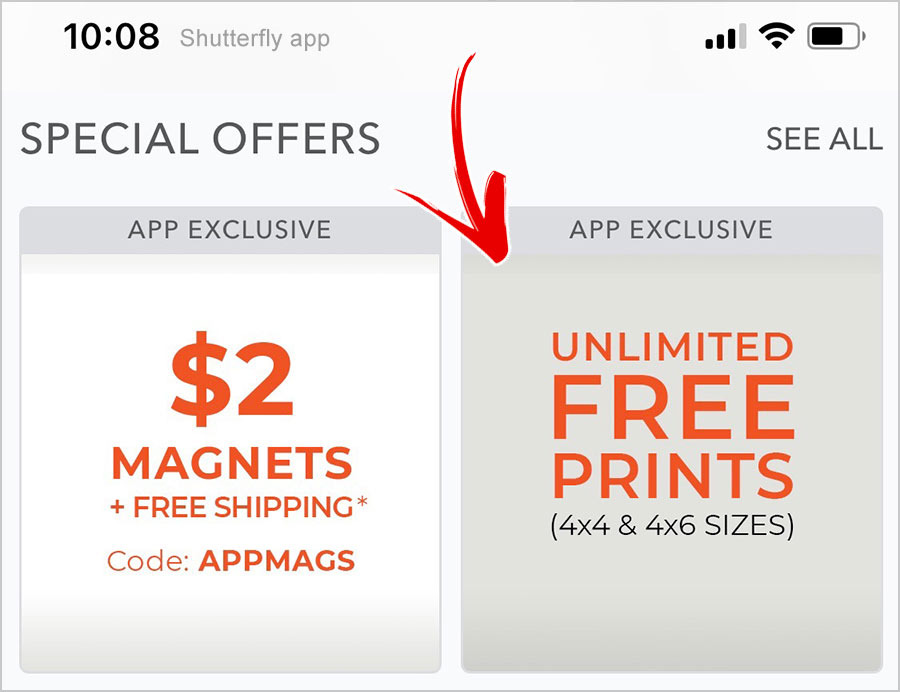 Have you downloaded the free Shutterfly app? You can easily do so from Google Play or the App Store on your phone.
If so, log in and you'll see exclusive app-only offers each day. One of them might be for a free photo book!
---
5. Free Shutterfly Book Code With Previous Order?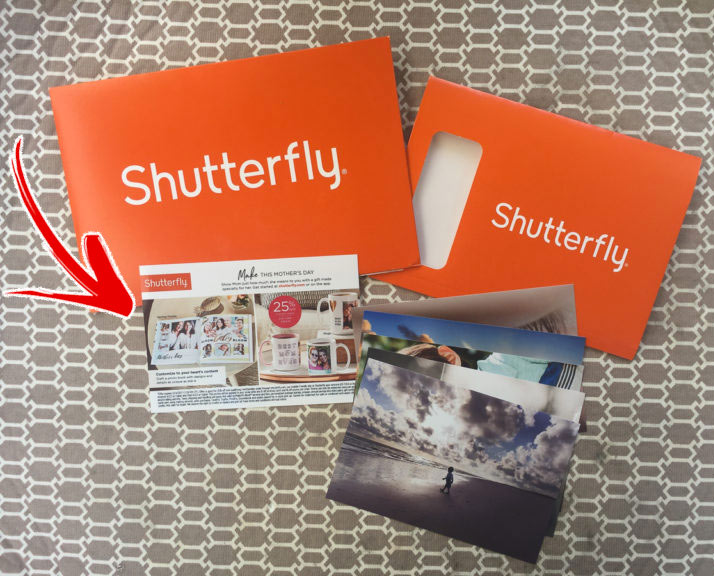 We've placed a ton of orders with Shutterfly over the years, and each one comes with one or more special offers with your receipt. So, if your purchase prints or anything else, check out the enclosed card that has at least one good promotion. It might be for a free photo book!
Shutterfly might also include one of these postcards with coupons with your order from a different brand. For example, meal kits, canvas orders, or even your child's school photo or yearbook order might come with a Shutterfly coupon for a free photo book.
---
Bonus: Shutterfly Free Photobook Designer Service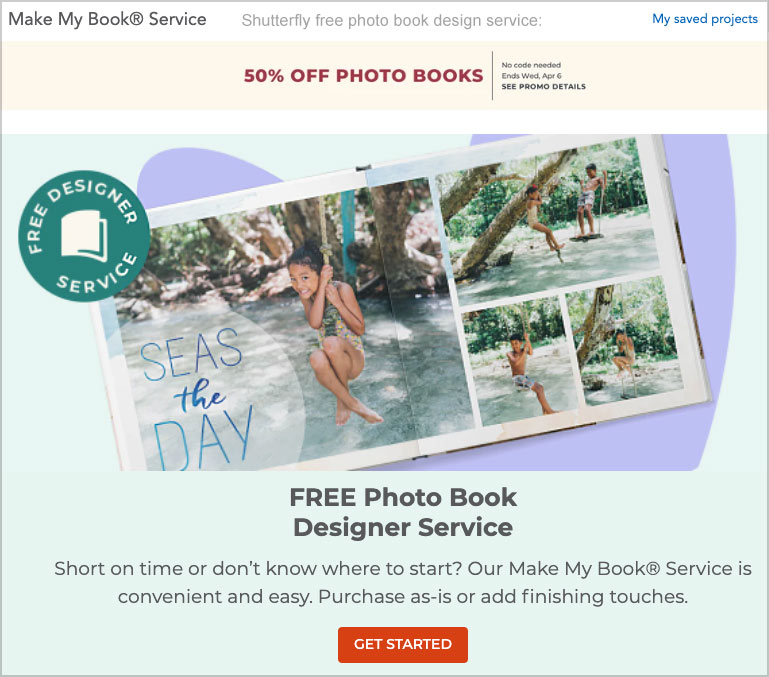 While talking about free Shutterfly photo books we'd be remiss to not mention their free photo book designer service.
Does the idea of designing your own photo book sound intimidating? Or, maybe you're just busy and don't have the time to do it yourself.
Either way, Shutterfly offers a free photo book design service!
Here's how the free photo book design service works:
Upload your photos
One of their designers will create a photo book for free in 3 days or less
Order as-is or put on your own finishing touches
It's a great service, and you can still use a coupon for up to 50% off your photo book. Learn more at shutterfly.com/photo-books/make-my-book/
---
Conclusion:
As you can see, there are a few potential ways to get a free photo book from Shutterfly. I've found that the best promo codes are available before the Winter holidays, but a code for a free photo book could spring up at any time online or through the app.
The most dependable way to get a code for a free Shutterfly book is to refer a friend, but they'll have to make a purchase before you are sent one.
Anyway, I hope one of these methods gets you a free photo book from Shutterfly. Thanks for stopping by Pretty Sweet!