South Beach Diet coupons: The South Beach Diet is based on more than just dropping pounds, and promises that you can "lose weight while getting in shape." In fact, they claim that you can lose 9 pounds in your first week with delivery of their high-protein, low-carb (prepared) meals combined with a healthier lifestyle.
If you're interested in this diet, you can read our review to learn more about how it works and the cost, or take advantage of the best South Beach Diet promo codes and coupons below for up to a 40% discount:
*Best Deal? Use the 40% off promotion to lock-in the lowest price, then use a promo code at checkout for free bars and shakes!
Best South Beach Diet Coupons Today:
7 Free Shakes + 7 Bars + Free FedEx shipping. Get promo code:

Free food + 7 free shakes. Apply coupon:

Stack this promo code with other freebies! Get code:

Use South Beach discount code at checkout:

Stack this promo code at checkout. Get code:

South Beach Diet Keto? Yes! Apply coupon & learn more:

7 Free shakes, free shipping. $25 off your first 2 orders.
---
1. What's the Best South Beach Diet Signup Deal?
We strongly recommend that you use their featured sale, South Beach Diet/Sale, which locks-in a 40% discount.
Why is that important? Because other sales and promo codes don't lock-in your initial discounted rate. This means they may only be a good deal for the first 1-3 months, before the monthly cost increases!
Here's more about our featured 40% off promotion:
Here's what you get:
40% off EVERY order (Not just your first!)
7 free South Beach Diet Complete shakes
Free FedEx Shipping
Free shaker bottle (with South Beach Diet promotion code above)
Free Bars and/or high protein pancake mix (use promo code)
Here's how to get it:
First, click on the 40% off coupon to apply the discount
On the second screen of checkout, use today's promo codes above for free food (bars, shakes, pancake mix) and a free shaker bottle
Make sure estimated shipping says, "free" like this:
Sweet! Well, keep doing your research, but if you decide to signup for the South Beach Diet, you'll know to use the South Beach Diet/Sale offer plus a coupon code for the best price!
*The South Beach Diet costs about the same as Nutrisystem. While there used to be a $200 plan, now all plans are $300+ per month. (See our review to compare!)
---
Don't forget: Use Promo Codes for Free Food!
Even though a discount is applied when you click over to SouthBeachDiet.com, don't forget to use a discount code for an extra freebie! The South Beach Diet includes shakes, so getting a free shaker bottle is a nice bonus valued at about $10.
---
Comparing Coupons: The "Renewal" Price Is the Key
If you linger on southbeachdiet.com as a new customer, you might get a popup window with their "best" coupon for $50 off like this:
If you activate the coupon (instead of clicking the snarky, "I don't want to save" link!) you'll get a seemingly unbeatable offer.
In fact, you'll notice that your first month of the South Beach Diet is less than any other promotions. Sounds great, right?
Actually, this is misleading, as you must look at what the coupon renews at after the first month: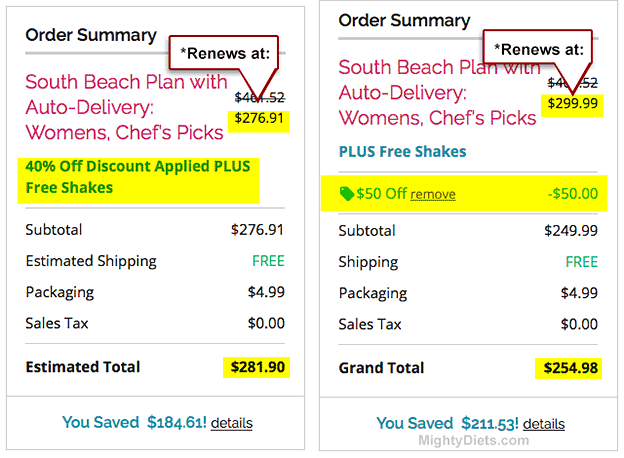 The $50 off coupon saves you $50 on the first month, but it will renew at a higher price
That makes the 40% off coupon (South Beach Diet/Sale) a better deal, as it locks in the discounted price for as long as you stay with the diet!
Over time this really adds up. In fact, after 12 months, the 40% off coupon saves you an extra $200!
---
A Healthier Life (You Don't Need a Coupon Code for That!)
So, if you do decide to signup, use a South Beach Diet promo code and you'll feel good about getting the best price online. However, no matter how much money you save at checkout, the feeling isn't as good as looking in the mirror and seeing positive, sustainable change in yourself.
The South Beach Diet offers monthly meal delivery of high-protein, low carb foods to help you reach your weight loss goals. Is it right for you? If you're not sure, you can read reviews to help decide. Either way, thanks for stopping by PrettySweet.com!
*Related: Weight Watchers: Join Free | Medifast: $35 Off | Nutrisystem: $100 Off
Related Posts