South Beach Diet coupons & deals: The South Beach Diet is a high protein, lower-carb meal delivery diet with monthly delivery of their nutritious prepared, pre-portioned meals. The program is endorsed by several celebrities (like Jessie James Decker and Audrina Patridge), and also has a new keto-friendly plan.
If you are thinking of joining, be sure to get the best deal! We recommend the 40% off promotion, as it locks-in a monthly discount and the low initial price that you sign up with won't ever go up.
You can also stack a couple of promo codes at checkout for free food or extra savings. Here are the best promotions and deals to save on the cost today:
South Beach Diet Sale + Coupons, Promo Codes:
7 Free Shakes + Free FedEx shipping. Get promo code:

Click to apply sale pricing and get promo code:

High-Protein! Stack promo code with other freebies! Get code:

Use South Beach discount code at checkout:

Stack this code w/ others at checkout. Get promo code:

South Beach Diet Keto? Yes! Learn more and view sale:

Free food + 7 free shakes. Apply this coupon:

7 Free shakes, free shipping. $25 off your first 2 orders.
---
1. Best Signup Promotion? The "40% Off" Sale! (South Beach Diet/Sale)
South Beach runs a couple of different promotions consecutively, and they all result in different pricing. So, which coupon or sale is the best today?
We recommend that you use their featured sale, South Beach Diet/Sale, because it locks-in a 40% discount every month.
This is important because other coupons and promo codes don't lock-in your initial discounted rate forever!
This means that after the 1-3 month South Beach Diet/Sale promotional period ends, your monthly bill might unexpectedly go up as much as $50 per month! Over time this can add up to a significant difference in savings, so check out the 40% off sale first:
---
What the "40% Off" South Beach Diet Sale Includes:
When you click here or visit SouthBeachDiet.com/Sale, the promotion is instantly applied to your order. To see exactly what you get, click on the "details" button at the top of the page: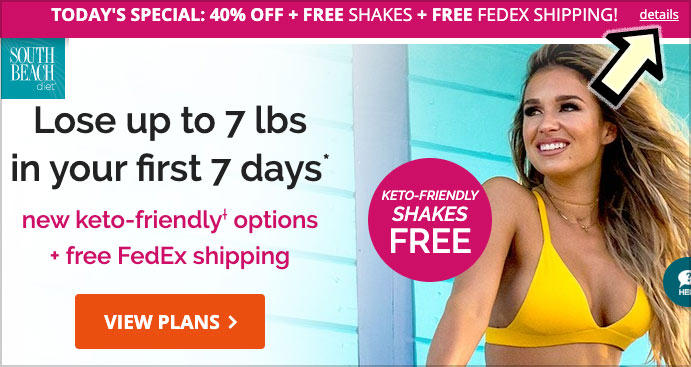 Then, you'll get a popup itemizing everything that is included, including a 40% discount on EVERY order: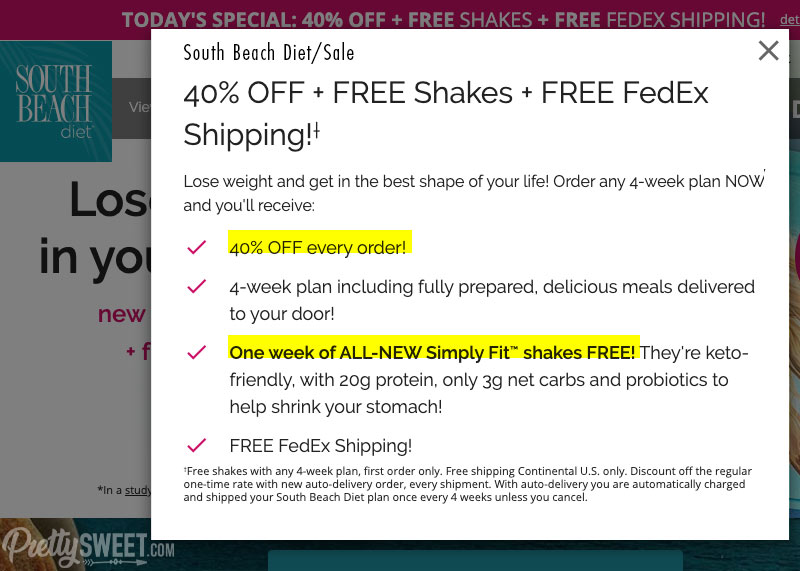 Here's what you get:
40% off EVERY order (Not just your first!)
7 free South Beach Diet SImply Fit™ shakes for Phase 1
Free shaker bottle (*with promo code)
7 Free Bars and/or High protein pancake mix (*with promo code)
Free FedEx Shipping (*all plans have this anyway)
You aren't done saving money yet, though. Now it's time to use a couple of promotional codes for free food and other freebies!
---
How to Stack 2+ Promo Codes:
Most people mistakenly think that they are only able to use one code, but you can actually stack up to 3 codes on one order!
These promotional codes work for free shakes, bars, pancake mix, and a free blender bottle when you sign up. Here's how to stack codes:
On the payment screen, click, "Apply promo code"
A prompt will appear to enter your code
Enter promo codes one at a time
If valid, the codes will be listed under "Order Summary" like this: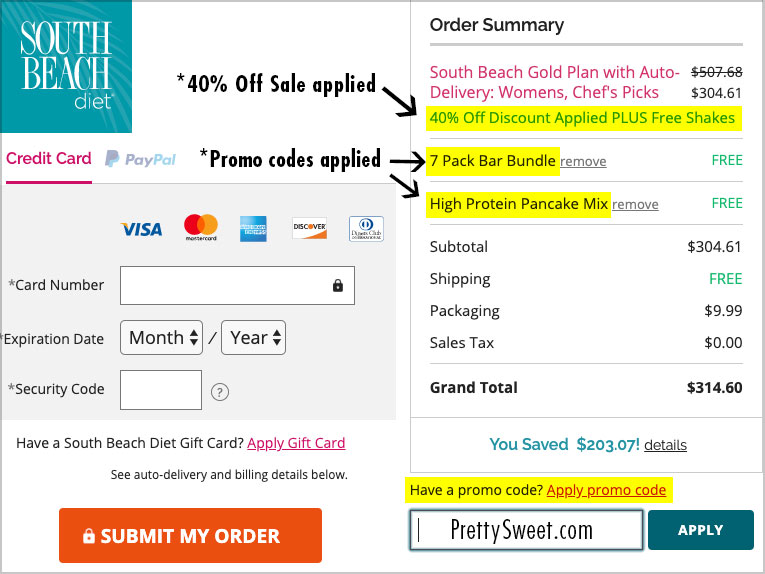 So, in summary, South Beach Diet/Sale is the best place to start, so just click to apply the 40% off sale. Then, at checkout enter up to 3 promo codes for free shakes and bars or an extra discount!
---
South Beach Diet Promo Code Not Working?
There are a number of codes available at one time, but they might not all work for your order.
While promo codes for freebies like food or a shaker bottle should work for all orders, "dollar-off" codes will not work on top of sale pricing.
For example, if you try to enter a $30 off code on top of the South Beach Diet Sale prices, you'll get a message like this: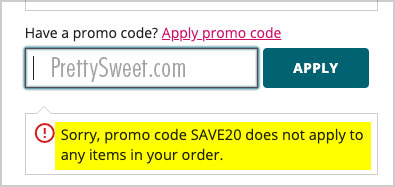 "Sorry, promo code SAVE20 does not apply to any items in your order."
This doesn't mean that the code is invalid; just that you already have a better discount applied, and the discount from the sale will be applied every month that you stay on the program.
---
Compare Coupons: Here's Why the 40% Off Sale is Best
There are several South Beach promotions out there at once, so you'll want to choose the best one. As we mentioned, the 40% off sale (South Beach Diet/Sale) is the best long-term, even though coupons promising $50-200 off sound great.
That's because the 40% off sale locks-in your initial discount pricing, while many coupons and promo codes only apply to your first 1-3 months.
To illustrate this point, let's look at the 40% Off Sale vs. the $100 off coupon: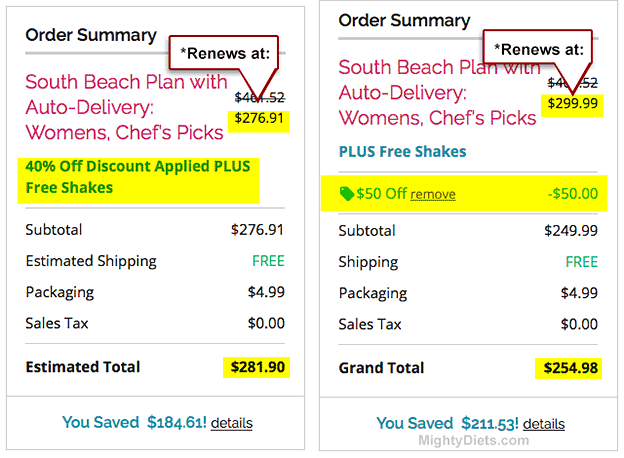 The $100 off coupon saves you $50 on the first month, and $25 in the second and third month, but it will renew at a higher price: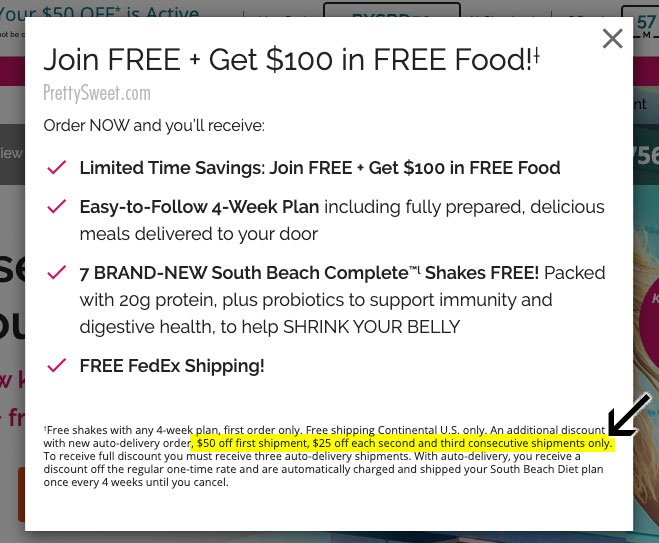 That makes the 40% off coupon (South Beach Diet/Sale) a better deal long-term, as it locks in the discounted price for as long as you stay with the diet!
Tip: Over time this difference really adds up. In fact, after 12 months, the 40% off coupon can save you an extra $100!
---
What About the South Beach $200 Off Sale?
During peak diet season you'll see a couple of different sales running, including the South Beach Diet $200 Off sale. However, like the $100 off coupon, it's probably not the best deal long-term.
That's because the "$200" discount is based on the inflated "regular" one-month price of South Beach, ($500+) which no one ever really pays.
It's probable that your $200 savings will only last a month or two, and then the price of your monthly membership may go up. So, unless the promotion clearly states a lower renewal rate, go with the 40 off deal!
---
Losing Weight (and Saving Money) Feels Good!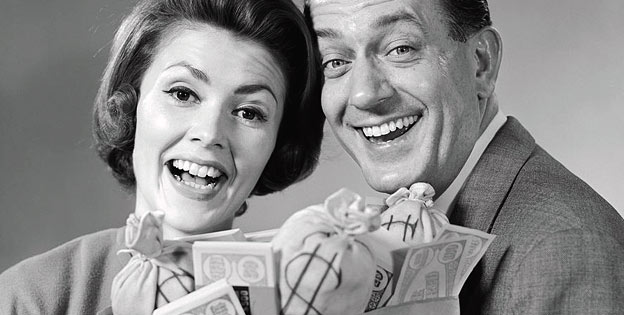 The South Beach Diet offers monthly meal delivery of high-protein, low carb foods to help you reach your weight loss goals. But, is it the right diet for you?
Ask your doctor, read reviews, and keep doing your homework to help decide.
*Tip: Nutrisystem is very similar to South Beach, and costs a bit less. We have several new coupons here
If you do signup, be sure to get the best deal by using our featured South Beach Diet sale for 40% off. Then, stack a couple of promo codes to get the best possible price and free food, because saving money feels good!
However, no matter how much money you save at checkout, it's not nearly as rewarding as a healthier lifestyle that results in positive change in yourself. However, to make that change sustainable, you must address the underlying psychological component of obesity.
Ask yourself why you became overweight in the first place, and then think about what behavioral changes you must make to keep the pounds off for good.
If you do that, then no diet will result in sustainable weight loss.
Good luck, and thanks for stopping by PrettySweet.com!
*Not sold on South Beach? Check out these other featured diet coupons:
WW: 40% Off Sale + Join Free | Noom Free Trial? | Medifast: $35 Off Code
Related Posts