Our review of Tasting Room Wine Club: Are you seeking a wine experience that's all about you? According to its website, Tasting Room is ready to offer wine aficionados and amateurs alike precisely this.
Like Winc, Tasting Room, by Lot 18, is an international winery collective that provides personalized wine shipments to members. (They have a promo so that you get the tasting kit for $7, including shipping!
Once they've sipped and savored a Tasting Kit of six whites and reds, Tasting Room members craft profiles based on their likes and dislikes, tailoring future wine shipments. Members can also easily purchase full bottles of any of the wines they love for as little as $13.
Given my own proclivity for a rich pinot, and given Tasting Room's international sourcing, I decided to try this wine-tasting service. I must say, my Tasting Room trial run proved to be no small delight!
Here's my comprehensive review of this wine provider: how Tasting Room works, the cost, plus a coupon for new members. Sip on!
---
1. How Tasting Room Works

"Lot 18 Tasting Room is the first wine club to get it right." The Huffington Post
"The Tasting Room wine club eliminates the guesswork and uncertainty of shopping for wine… bringing an unprecedented level of customization and personalization to the wine club market." – winebusiness.com
Tasting Room claims that "wine should be accessible, fun to learn about, and easy to enjoy." These terms accurately sum up the experience of becoming a Tasting Room member. Here's an explanation of how the wine club works from tastingroom.com: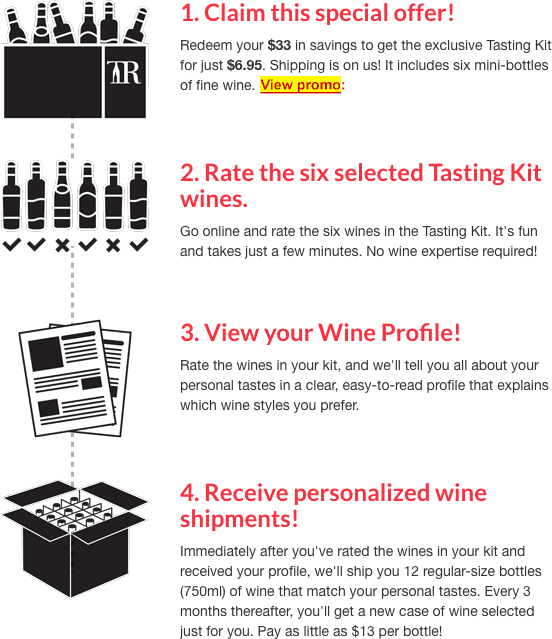 Getting started: Prospective tasters register for a Tasting Room account by providing contact details and answers to three key questions about flavor preferences. Sample questions may include:
Which type of chocolate do you prefer? (Milk, dark, or neither)
I drink my coffee: (Black, with sugar and cream, or I don't dink coffee)
The fruits I like best are: (Apples, bananas, or berries)
These flavor-specific questions, I presume, help the provider generally narrow down members' first Tasting Kit; a helpful point, as members are more likely to stay with the service if it begins by catering to their broader preferences.
A week or so after submitting this information, Tasting Room members receive their first Tasting Kit, a little black box of six wine varieties. Each miniature bottle holds 50 ml of wine, the rough equivalent of one-third of a glass of wine.
---
2. You Start With the Wine Tasting Kit!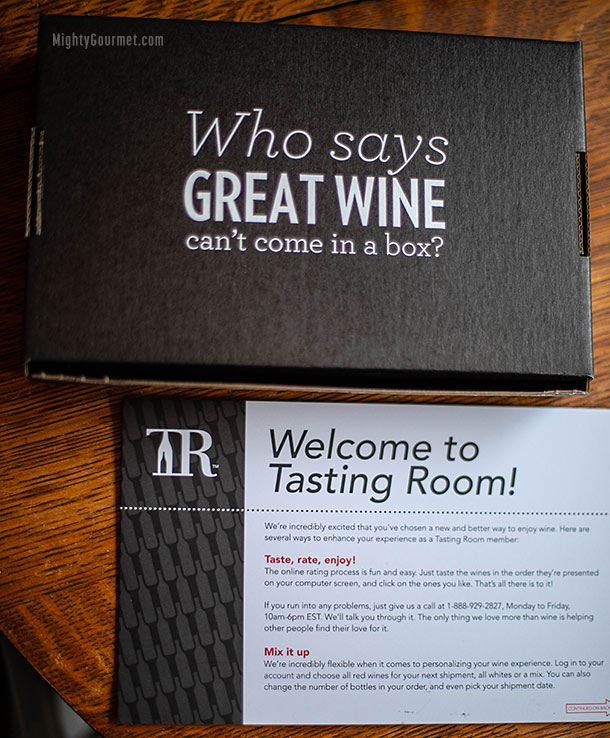 My kit arrived with four reds and two whites, an accurate combination as I tend to prefer full-bodied reds to whites. I had, after all, listed dark chocolate, black coffee, and berries as my flavors of choice.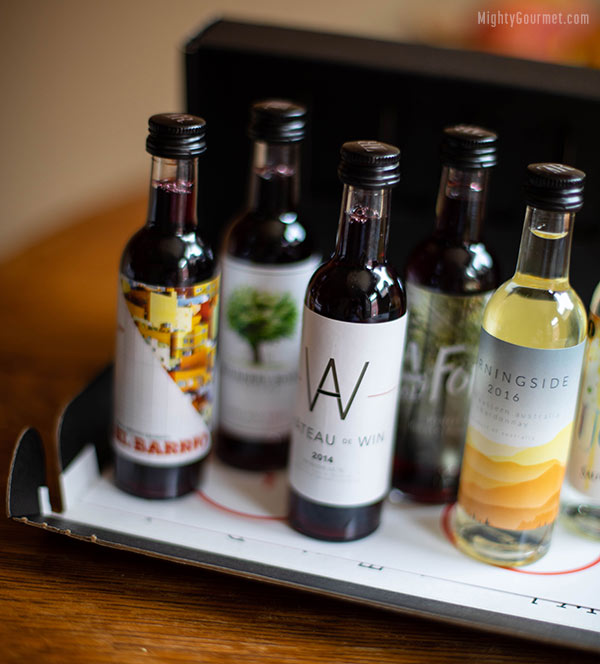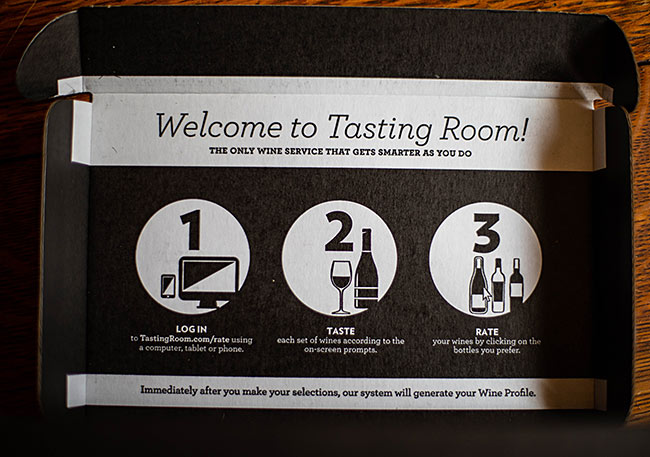 The box itself contains two cards:
A welcome card with instructions for rating wines
A tasting mat for lining up and ranking wines.
Tip: Once members receive their first Tasting Kit, the sipping can begin! Members simply navigate to their online TR profiles and select "Let's Start Tasting!" You can get started for $7 with this coupon!)
*Related: $35 off Purple Carrot coupon code at Wonky Pie!
---
3. How the Wine Tasting Process Works
In your account you'll get these tasting instructions:
You'll taste wine in pairs, just click the one you prefer
Undecided? If you like or dislike both wines, just click the, "No preference" button
Take small sips – you may taste and compare wines 2-3 times
It's OK to hate wine. The goal is to find the wines you love and loathe!
Tasting Room will then walk members through the tasting process, which requires tasting and comparing two wines at a time. I began with my whites, which TR advised me to chill for twenty minutes prior to beginning and pour into glasses set on my tasting mat.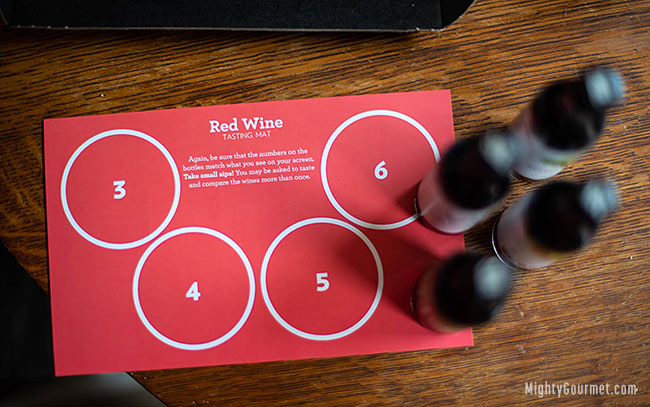 Tasting Room emphasizes the value of taking small sips to ensure members really distinguish flavors. After my tasting of the white wines, I decided that I preferred Wine #1–a sauvignon blanc; and that this preference was not too dramatic. I also had the option to choose "I liked both" or "I disliked both." (see below)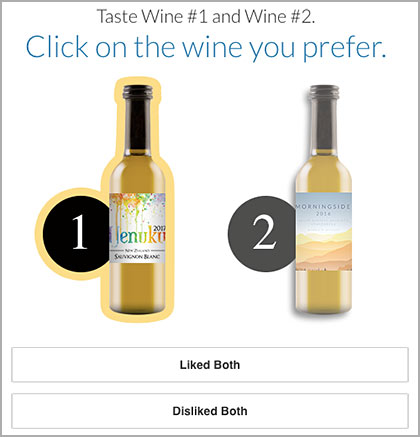 Members make these ratings for every pairing they try. At the end of the tasting, TR asks if there were any wines members would not like to see in a future shipment and what combination of wines they'd like to receive (reds only, whites only, or reds and whites).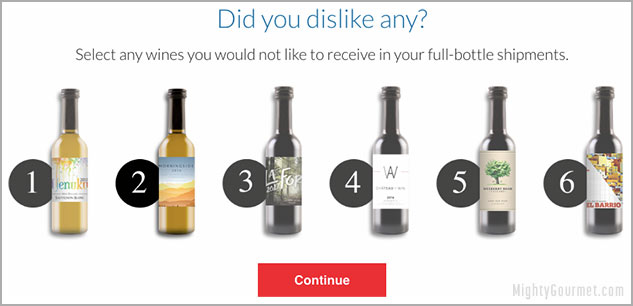 Then, Tasting Room generates a Wine Profile. Wine Profiles are relatively comprehensive, detailing the type of wine members prefer. For example, my White Profile claims that I prefer fresh, zesty whites and suggests ideal flavors, pairings, sources, and grapes for my future white selections. The profile even advises how to order white wine at a restaurant: allegedly I should tell my server that I like bright, crisp whites with flavors of honey and grassiness and smooth, buttery finishes.
Tasting Room then uses Wine Profiles to generate member shipments of full bottles of wine. Members can choose what they want to receive: 2, 6, or 12 bottles at a time delivered every three, two, or one month(s). Members can see the wines that will appear in their next shipments and modify these at their leisure.
Ok, now that they have a wine profile for me, they can send me my first shipment of wine!
---
4. My First Order (6 Bottles)
Once Tasting Room generates a custom wine profile based on Tasting Kit preferences, it will assemble full-bottle shipments for users based on these preferences.
To reiterate, tasters automatically receive a Tasting Room membership once they sign up for a Tasting Kit. To simply enjoy the tasting experience without having to purchase sets of full bottles, users will have to cancel their subscriptions. (Luckily, this is easy to do. Simply navigate to "Account Settings" and select "Cancel Membership.")
Once I received my wine profile, I noticed that Tasting Room had already set my shipment preferences to twelve bottles, to be delivered within a mere handful of days.
This is perhaps the only complaint I have with this service; many tasters are unlikely to want twelve bottles delivered monthly, and for $149.99 + shipping at that! To my knowledge, Tasting Room does not inform tasters of this automatic preference selection, at least directly.
I quickly opted for a six-bottle delivery at $79.99 + shipping, to be delivered every three months. (Tasters can also opt for 2-bottle deliveries). Given the fact that I prefer red wine, I requested a 4 red / 2 white combination. Users can also select all red or white bottles for individual shipments.
Wine aficionados can schedule deliveries at any time, without any apparent time constraints; it seems possible, for example, to schedule a delivery three or six months in advance.
Once my order was processed, Tasting Room assured me that I would receive my bottles within seven standard business days.
I also received a sneak peek at what I could expect come Wine Arrival Day. (It is always possible to view these details by selecting "Past Shipments" or "Next Shipment.") Users can view additional information about each wine–including flavor profile, suggested pairings, and regional source–simply by clicking on each thumbnail.
5. Delivery
I tracked my wine delivery religiously–Tasting Room provides tracking information to all customers–only to learn that several bottles had been damaged in transit. My initial shipment was thus returned to its source in California.
Unfortunately, Tasting Room did not notify me via email–as it had promised–and I had to reach out to its customer support team to arrange refunds and schedule a new shipment.
I will say that despite my disappointment, Tasting Room's customer service is impeccable. I received a friendly and apologetic email response within an hour of my complaint. While Tasting Room had to package an entirely new combination of wine bottles for me, the next shipment arrived within a week, undamaged.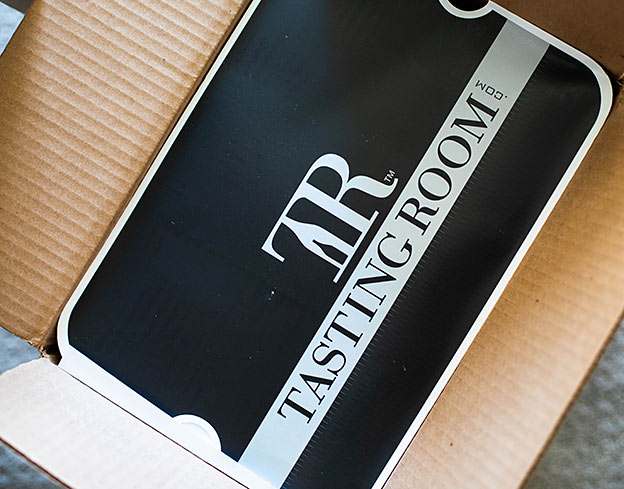 Tasting Room packages its bottles well, despite the fact that my initial shipment sustained damage. All bottles appeared as promised, although each was (strangely) coated with a fair layer of dust. I assume this was merely due to warehousing.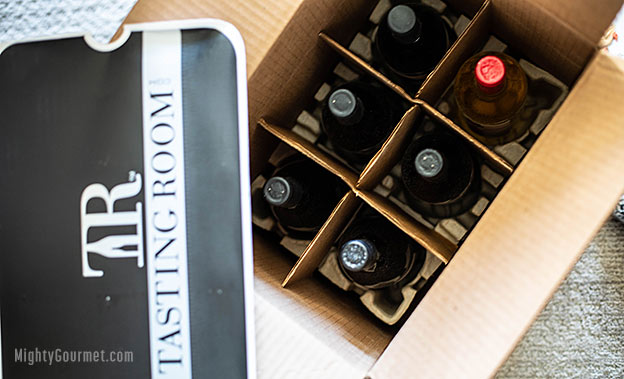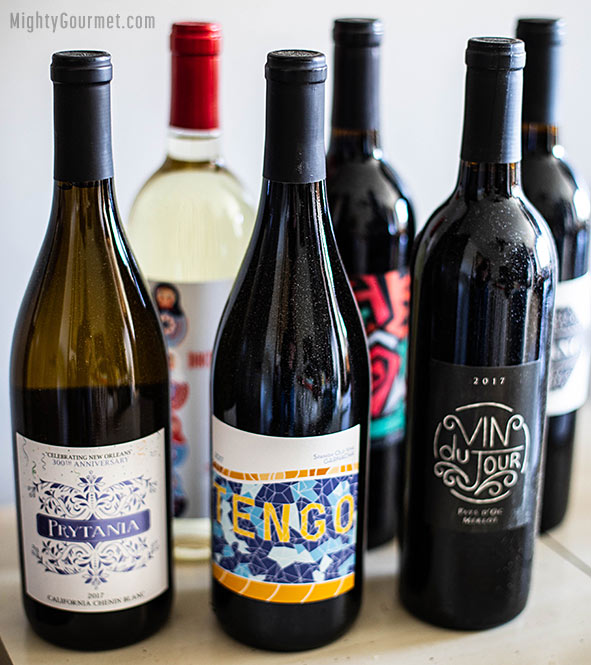 6. Opening the First Bottle
The next difficulty proved simply to be the question of which bottle to open first! I opted for the Garnacha-Syrah, a deep-bodied red suitable for these colder months. It did not disappoint: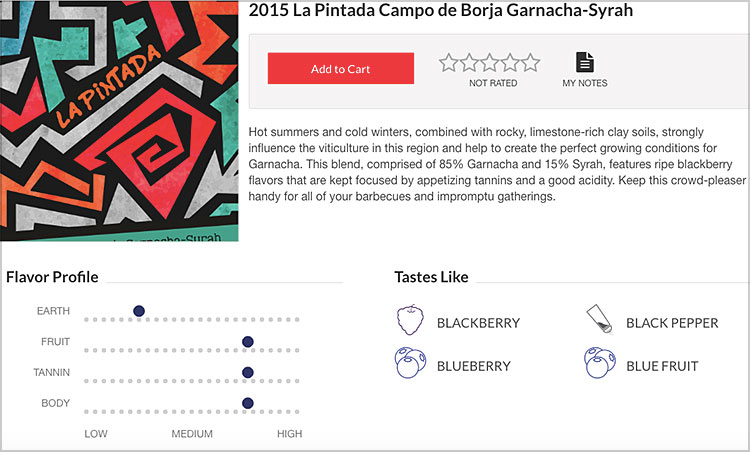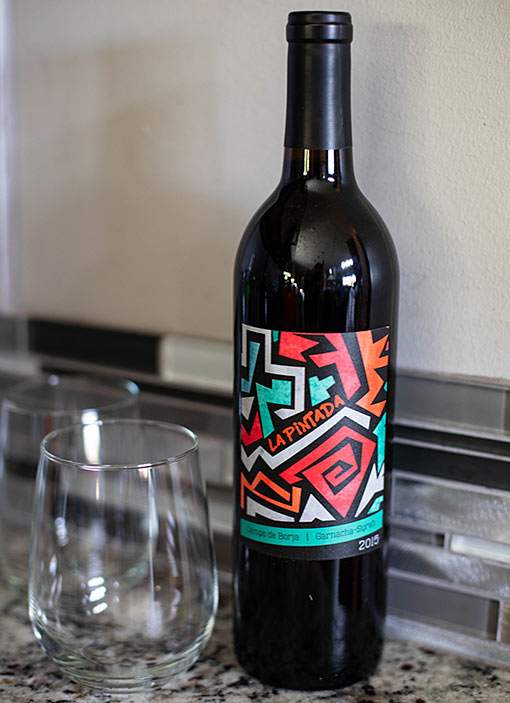 Despite the hassles of shipping, I realized once again the advantage Tasting Room offers wine aficionados and newbies like myself: its capacity to bring truly delicious wine to anyone's doorstep, eliminating the tedium and gamble of the grocery-store selection process. Tasting Room's desire to inform its tasters, particularly in terms of flavor profile and pairings, surpasses even Wine Spectator's attempts to educate sippers around the world.
For this reason, Tasting Room wine bottle shipments are worth their shipping cost and potential hassle if you like to have several high-quality wines on hand, find yourself wavering in the wine aisle, and/or simply want to expand your fine wine horizons without having to do the research yourself.
---
7. Tasting Room Cost: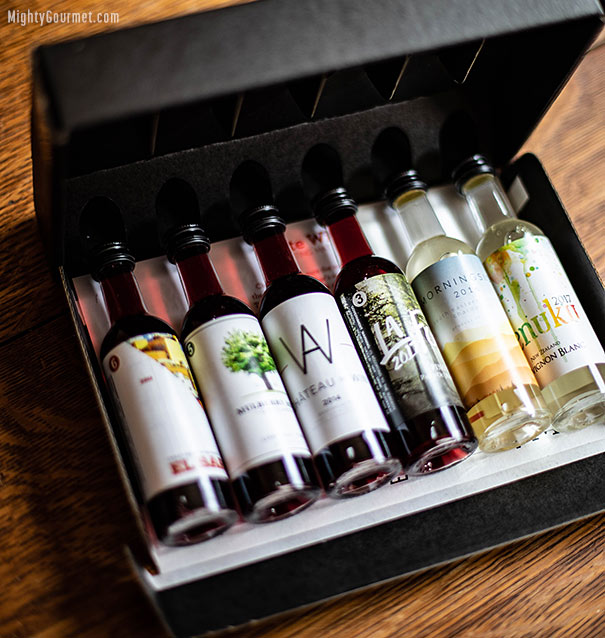 To receive their first Tasting Kit, new customers pay $6.99, (with coupon) which Tasting Room claims is $30 off standard manufacturer value. (I'd say, more like a $20 value
Future shipments (every 1,2, or 3 months) will depend on the preferences selected. For example:
12 bottle shipment is $149.00 (+ $19.99 shipping
6 bottle shipment is $79.99 (+ $9.99 shipping)
2 bottles are priced at $29.99 (+ $9.99 shipping)
Naturally, larger shipments are more cost-effective, as a twelve-bottle shipment equates to just over $12 per bottle of wine, many of which would cost $20 or more if purchased individually.
It is also possible to buy a single bottle of any of the wines provided in Tasting Kits or shipments by navigating to Tasting Room's Bottle Shop.
---
8. What's the Best Coupon?
If you're going to try out Tasting Room, be sure to use their new customer promotion. Here's the best available coupon to get started: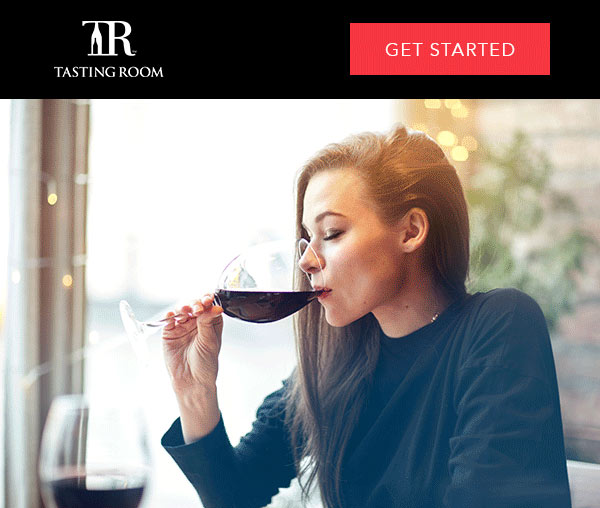 New Customer Promo: Save $30!
*Click to view their coupon for new customers. ($30 $7 for a wine tasting kit, including the cost of shipping. We also have a great coupon for $40 off Home Chef here!
---
Tip: How to Use a Promo Code:
While Tasting Room does have an option to enter a promo code (it's almost comically hidden as white text on their homepage!) the best promotion is their new customer coupon giving you the tasting kit for $7.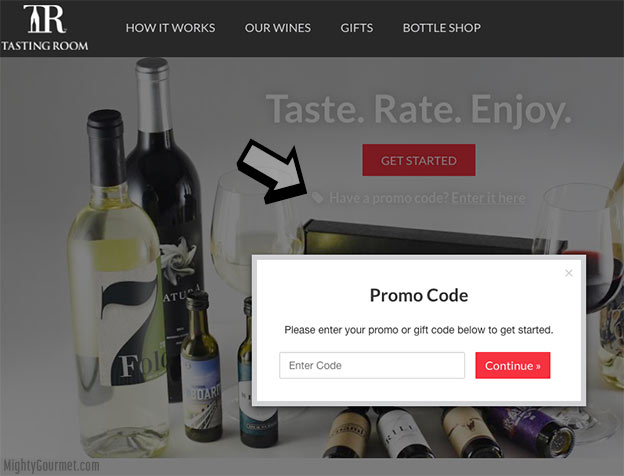 All of the other promo codes that I was able to find on coupon sites give you the same deal or actually save you less money by increasing the price of the tasting kit to $9.95. It seems that members will occasionally be emailed a promo code good towards a gift set or bottle shop purchase.
---
Conclusion: Is Tasting Room Worth It?
Overall, I would agree that Tasting Room offers an interactive and engaging wine-tasting experience for wine connoisseurs. It is easy to sign up for a Tasting Kit and rank wines accordingly; members can also savor high-quality wines sourced from state-of-the-art wineries all over the world.
Tasting Room seems to be an informed wine collective, too. The wine profiles it generates were relatively comprehensive and gave a unique insight into my sipping preferences.
Restaurant or wine-bar tastings typically do not generate such profiles; they are designed for the experience alone, and may or may not result in the purchase of a bottle. I will certainly be using these profiles to order wines at restaurants in the future.
I recommend trying out Tasting Room through their new customer promo. For less than $9, such a tasting experience is rare and worth the small investment. Start small, and stay with it for a month to receive your first 2 or 6 bottles.
If you don't like it, just cancel after a month or two knowing you're ahead of the game with very little invested for what you received. (Plus, it's really fun!
Why not give Tasting Room a try? If you are thinking about it, check out their featured $7 promotion?