The Marketing Genius of the AMC Pacer: Brigitte Bardot: If you were to make a list of the least sexy cars of the past 50 years, you might include the AMC Pacer. Developed in the 1970s when global change was roiling the average American, AMC (American Motor Cars) attempted to bring people gently (and early) into the '80s, while conforming to all of the new regulations & emissions standards imposed on the auto industry.
So, how would they market this new family-friendly, ugly, futuristic car? Why, with blonde bombshell Brigitte Bardot, of course. This is advertising, baby!
---
Brigitte Bardot and the AMC Pacer!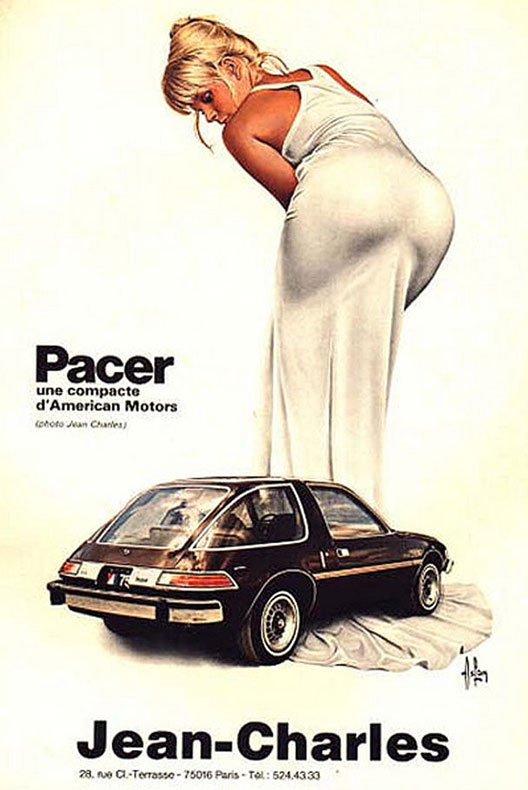 "I'm tired of magazines,
Sayin' flat butts are the thing.
Take the average black man and ask him that,
She gotta pack much back!" – Baby Got Back, Sir Mix-a-Lot
Also, I'm pretty sure that's Brigitte again riding on the hood of another pacer on the cover of AMC's "auto club" magazine: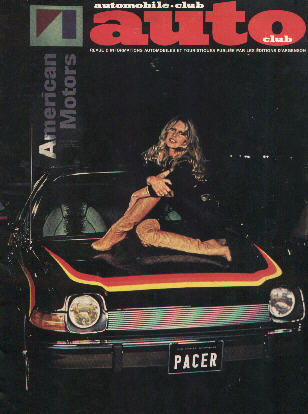 So, the funny thing is that Brigitte Bardot actually owned a Pacer, and reportedly loved the iconic car. (probably given to her for doing this ad.) Besides the blatant use of sex in advertising, I'm not sure how her ass relates to the actual car, except that they were both wide and bubble-icious?
To tell you the truth, putting a blonde on, or next to a car really is marketing genius.
Personally, I think she could be advertising fresh apples or pears with that sweet, well-maintained rear-end. Sorry, back to cars.
---
"You Only Ride Like a Pacer If You're Wide Like a Pacer"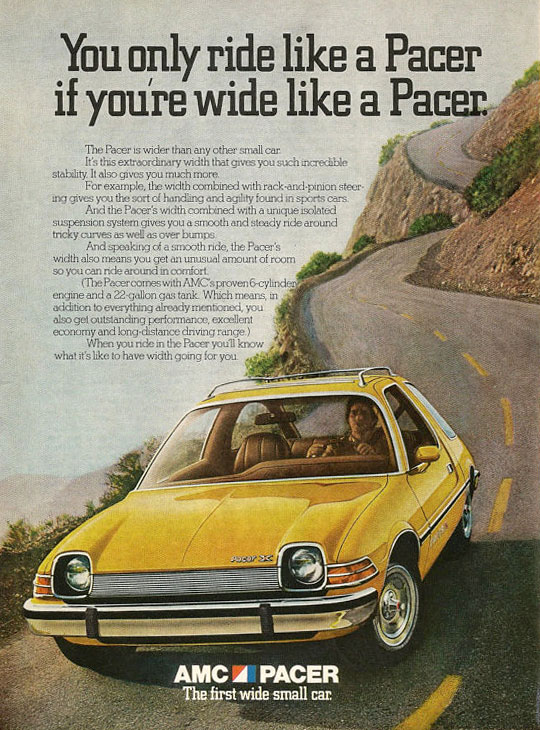 That was one of the Pacer's mottos, along with, "The first wide small car," so maybe there is a tie in there? Of course, the Pacer would go on to be an iconic design, especially after being featured in movies like Wayne's World, and Pixar's "Cars."
Speaking of Wayne's World and an AMC Pacer…
*Related: Vintage pin-up girls with cars from the 40's and 50's!
---
The AMC Pacer: Not As Sexy Without Brigitte Bardot
Having a blonde bombshell bend over by a car is a good marketing strategy, but as you can see, putting some average white people next to a Pacer isn't nearly as captivating: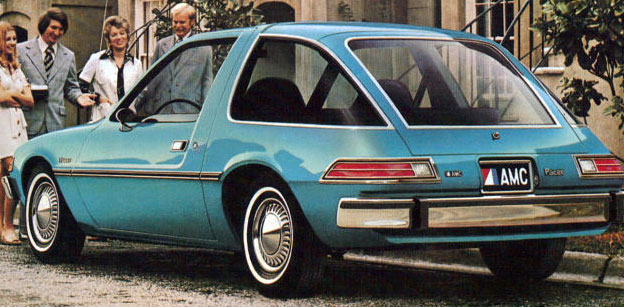 Look at that guy proudly presenting his Pacer after what appears to be a business lunch!
Actually, now that Brigitte is gone, I'm starting to think that maybe the Pacer is one of the ugliest cars of the 70's. We need more Brigitte!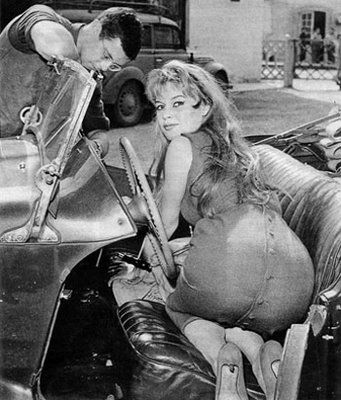 Awww, yeah! Brigitte has some serious junk in the trunk of her Pacer.
But wait… that's not an AMC Pacer that she's crawling into! What kind of car is that, because I need to have one! Well, that's marketing 101 for you. Speaking of that, here's a coupon for 25% off at Advance Auto! Pretty sweet, right?