Coupon codes for Winc wine club: In an effort to get you to try their wine club, Winc (our review) now offers coupons for up to $30 off your first order! We tried it ourselves, and love it! We think that you should try it too, so if you're on the fence, check out these promo codes that will save you big on your order. Not thrilled? You can cancel anytime. Here are the best coupon codes for Winc:
Note: The $30 off promo codes can expire quickly. However, if there is a valid $30 off code, we'll post it here asap!
---
Top 5 Winc Coupons Now:
New Winc customers. Click for promo code:

May end soon. Get coupon code:

New customers only. Get promo code:

All codes include free shipping. View coupon:

Discount applies instantly. No code needed:
---
1. How to Use a Coupon
If you use one of our links, a coupon will automatically be applied (quick as a winc!) to your order like this: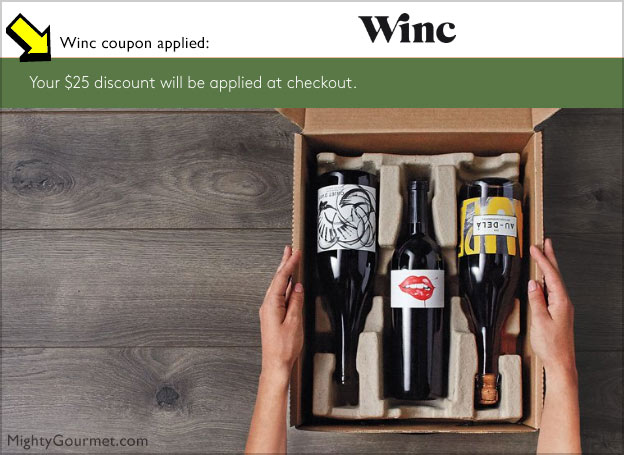 Success! Winc coupon applied.
However, the question is whether you can get an even better discount on your first order by using a promo code? Even though a coupon has been applied, you'll have the option to enter a promo code at checkout.
Tip: If you aren't getting at least a $25 discount, use a coupon code. It's easy to compare multiple codes at checkout, so take a moment to do so, as it might save you a couple of extra dollars. You might also find a promotion that includes an extra treat, like gourmet chocolate!
---
2. How to Use a Promo Code:
I'm a frugal person and was delighted to see that I could save an extra $5 when I used a coupon code at checkout. While these $30 coupon codes exist, they are rare and expire quickly. If you have one, here's where to enter it:
After you choose your wines, look for the "enter promo code" link under payment options like this: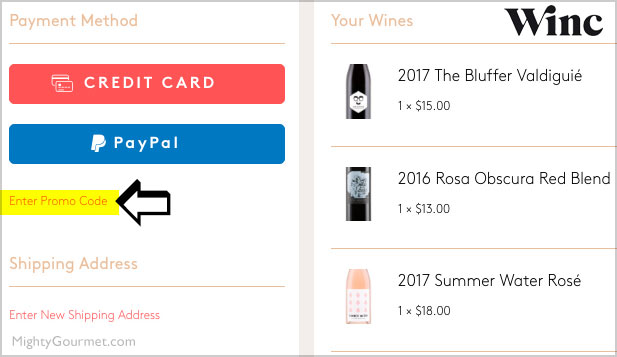 If the code is valid, it will give you a confirmation message saying, "promo code has been applied!" Pretty sweet! (Unless you prefer "dry." Sorry, had to.)
---
3. Tip: Not Saving $25+? Find a Better Coupon Code
While the most popular offer you see from Winc is for a $20 discount, you can usually find a code for $25 off, or even $26 off lately. For this reason, I wouldn't settle for anything less. In the last few months one of these $25+ off codes has almost always been available, so if you don't see one, try waiting a couple of days until the next one is released.
*Coupon not working? I've seen a number of dubious "$30 off" codes on coupon sites like retailmenot.com, but they don't seem to work, (too many characters to even enter at checkout) and may just be clickbait!
Also, coupons don't work for existing customers, and they do not offer a free trial. If you aren't sold on Winc, you can also consider Tasting Room, a similar monthly wine club.
---
Conclusion: Why Winc Is Popular
Choosing a bottle of wine at the liquor store is an intimidating experience, and most of us just go by the label and price to make an uninformed decision. Great wine should be easier to enjoy, and that's exactly why Winc was founded in 2012.
Since then their wine club has become wildly popular, and their community has thousands of wine lovers who enjoy a monthly delivery of hand-selected wine from their California winery, and small vineyards around the world.
It's hard to make a name online, which is why Winc is currently offering such great discounts and coupon codes in an effort to get new customers. These coupons might not be available for long, so use a code while you can!
*Related: Nutrisystem coupons | South Beach Diet Coupons
Related Posts