HomeChef.com promotions: Home Chef delivers everything you need to make delicious gourmet quality meals yourself in about 30 minutes. Just choose your favorite recipes or go with their recommendations each week.
So, how much does it cost? Home Chef can be expensive, but they offer great coupons and promotions to bring down the price. In fact, they now offer free shipping on all $40+ orders! Here's what it costs, plus today's best coupons for up to a $40 discount.
Best Home Chef Coupons Today:
$30 off 1st order + $10 off 2nd. Apply coupon:

3 free meals with any new order. Get promo code:

See what's cooking at HomeChef this week:

HomeChef.com: Click to apply promo code:

No promo code needed. All $40+ orders ship free!
---
How Much Does Home Chef Cost?
Home Chef doesn't post pricing until you signup or login to their site. So, how much does it really cost? All meals are $9.95 per serving unless noted.
The price for each dinner or lunch can be found by logging in to homechef.com and clicking any meal under, "Menu" like this: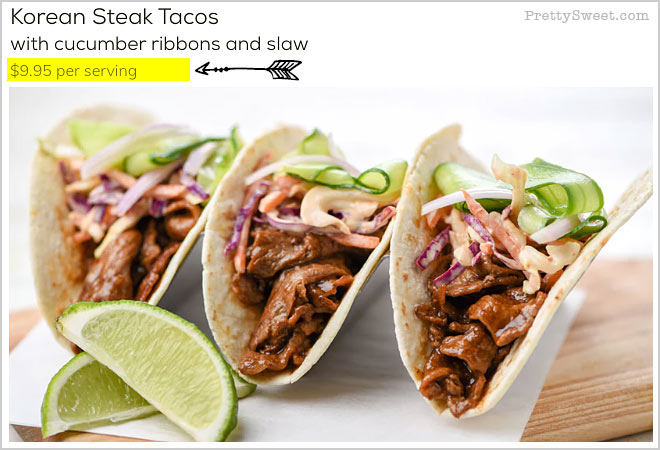 When you sign up for Home Chef, you'll set your "Number of Weekly Meals," (2-8) and the "Servings Per Meal." (2-6) To determine the cost, just multiply your number of weekly meals by $9.95. Home Chef also offers a variety of lunch meals costing $7.99 per serving. plus optional add-ons, like smoothies, cost $4.95 per serving:
Example: So, if you choose weekly 2 dinners of 4 servings each, your cost will be $79.60 per week. If you specify delivery every other week, your total cost per month will be $159.20.
*You can also choose to view their optional "Premium Meals," for special occasions, priced at $14.95-$19.95 per serving. (When available)
How much does shipping cost? Shipping is free on $40+ orders, but costs $10 for any order less than $40.
Is Home Chef Expensive? At about $10 per person per meal, Home Chef costs a little less than going to a quick-serve restaurant. We also spend a lot at the supermarket, and then end up wasting about half of the food!
So, if you enjoy cooking simple meals with fresh ingredients with no waste, Home Chef might be a better investment than buying groceries to cook!
---
How to Use a Coupon:
Using a coupon or promo code to bring down the cost of Home Chef is easy, here's how: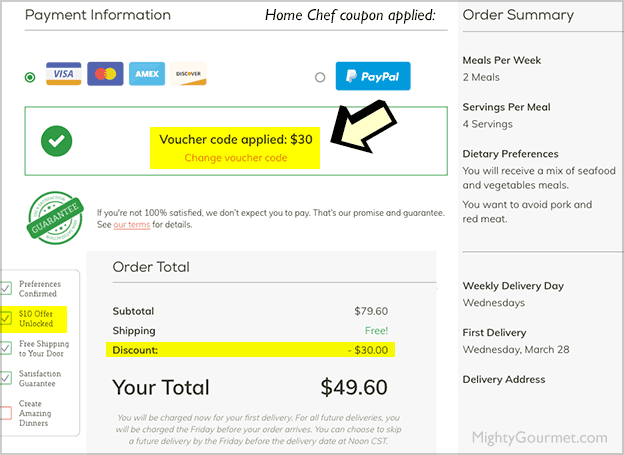 For most promotions, the coupon is applied as soon as you click over to homechef.com. (above) If you have a specific coupon code, just click, "change voucher code" next to the "Voucher code applied" message.
---
Home Chef: Can You Get a Free Trial or Free Box?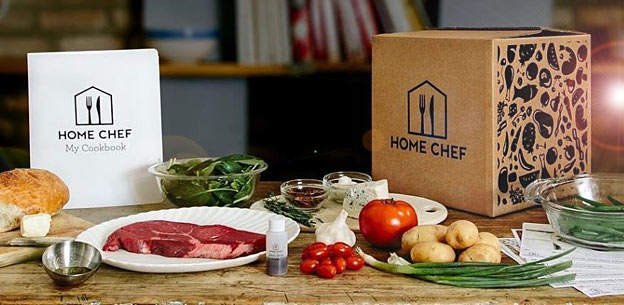 Shipping perishable foods is expensive, and delivery costs are clearly Home Chef's biggest expense. For this reason they don't offer a free trial or free box, as they are already losing money on their $30 off new customer promotion. You can, however, take advantage of the low cost to try it out as a new customer, and then quit anytime if you aren't loving it.
---
$30 Bonus If a Friend Signs Up
Psyched about Home Chef? Another neat bonus (not really a "coupon," per se) is that Home Chef will give you a $30 credit for every friend you refer. There's always a "Earn $30 Credit" button on their site which prompts you for the email addresses of anyone you think might also like Home Chef. So, if you get a friend or family member to sign up, you'll instantly get a $30 credit on your account. Sweet!
---
About Home Chef in 30 Seconds… (Video)
---
Tip: A Home Chef Coupon Is Always Available!
Besides Home Chef, there are a number of other names in the "meal kit delivery service" space, (over 100!) and they are all competing for your business. For this reason, you can usually find a coupon or promotion to get a great price, so don' t ever pay retail as a new customer!
Thanks for checking out our Home Chef coupons! We also have deals for other gourmet sites like Winc Wine Club (review, coupon). If you have a valid coupon code that you'd like to add, please drop us a comment below!
Related: Ultimate Guide to Best Meal Delivery Kit Delivery – Forbes.com
Related Posts