How much does it cost to join Jenny Craig? One of the most popular and highest-rated commercial meal delivery diets, ranked behind only Weight Watchers, (by U.S. News) but does it work for your budget?
Unlike other leading meal-delivery programs, Jenny Craig is not a "one-size fits all" approach to weight loss, so the cost isn't the same for everyone. This means that their pricing can be a little confusing, and requires a bit of homework to estimate how much it will cost you personally.
After you sign up, a personal consultant will work directly with you to determine your dietary needs, and because almost all of the cost of being on Jenny Craig is in the price of the food, there is a range of what the diet will actually cost you. For this reason I contacted Jenny Craig directly to for more cost info so that the potential price tag is clearer.
Let's look at the total daily and monthly expense of Jenny Craig, and see if it really makes "dollars and sense" to join.
---
Costs of Membership:
There are two ways to join Jenny Craig: either through their "Premium 12-Month Program" or their "Trial 12-Week Program."
To calculate the price of Jenny Craig, let's look at all of the expenses first before we break it down by daily, weekly, and monthly average:
1.) Premium 12-Month Program Cost:
Enrollment fee: $99 $49 to join
Membership fee: $19 per month
Food: $17-25 per day ($20 average)
Shipping cost: $29 per food shipment (twice per month)
The premium program offers unlimited personal support. When you join their Premium program, you'll pay an initial $68 + the cost of food… more
2.) Trial 12-Week Program:
Enrollment fee: $99 FREE to join
Membership fee: $16 for 12 weeks
Food: $17-25 per day ($20 average)
Shipping cost: $29 per food shipment (twice per month)
Personally, I think the current promotion for the Trial 12-Week Program looks like the best way to get started:
Cost of groceries: Also note that with both programs you will be expected to supplement their prepared meals with fruits and vegetables from the grocery store. Although it's not fair to include that in the price tag, you should account for this spending for your "all-in" cost estimates.
---
Jenny Craig Cost: Per Day, Week, Month
Ok, now let's put all of those expenses together. Because there is a range of what food costs based on your caloric needs and menu preferences, we'll go with the average food cost reported by Jenny Craig.
Here is the average cost of the Jenny Craig program:
They also offer a "12-week trial," and the daily and weekly cost averages are the same
The one-time $49 enrollment fee that you pay at signup is refunded to you once you reach your goal weight
The advertised "$100 off food" promotion is split over each of your first 10 weeks
Jenny Craig: Today's Best Deal
---
More About the Cost of Food: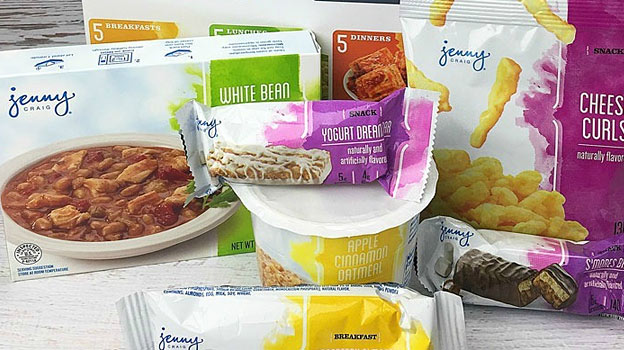 Upon joining jenny Craig, a phone appointment will be set up with a personal consultant who will determine your menu based on factors like your starting weight, lifestyle, and desired weight loss. Your resulting caloric needs and food preferences will help determine your menu, and the resulting cost of food. For this reason men pay slightly more for food on average as they may require more calories.
Although the cost of food is listed as "$17-25 per day," it might be helpful to use the "$20 per day" average for calculating potential daily food cost. Your initial phone call with the personal consultant is a great time to discuss your budget if you would like food costs to stay within your budget.
*Related: Our review of Jenny Craig: Does It Work?
---
Add Grocery store food costs: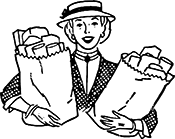 While Jenny Craig does replace most of the food you would normally buy at the grocery store, you still have to account for some additional spending.
I would assume a minimal cost of $5 per day for fruits and vegetables from the grocery store to supplement your prepared Jenny Craig meals. Popular weekly fresh food choices include bagged salads, fruit, (apples, grapes, blueberries, etc) and non-starchy side dish veggies. (broccoli, peppers, and zucchini, etc). Jenny Craig emphasizes the importance of fruits and vegetables, so this is an unavoidable but important additional expense.
Also, Jenny Craig doesn't encourage eating out at restaurants, so we won't factor that in as an expense. If you do go out to eat, they suggest that you order a garden salad and stay away from alcohol.
---
My Thoughts on the Cost:
As mentioned, Jenny Craig doesn't offer plans with a set price for food, but that's where most of the expense lies. It should be noted that Americans spend $160+ per week on food, (men spend more!) which is almost exactly the price of Jenny Craig. (plus the price of fruit & vegetables)
That is still relatively high for a meal delivery diet, and much more expensive than competitors like Nutrisystem, (review, cost, coupons) but why?
It looks like the role of the personal consultant (who you touch base with by phone, chat, or in-person at a Jenny Craig location at least once a week) is a big factor in why the diet is more expensive. Jenny Craig believes that the role of the personal consultant is very important to the success of their program, and because of this added value, it's worth the additional expense.
*Related: How Much Does the Noom App Cost?
Even DIY diets like Weight Watchers (reviews, cost, coupons) recognize the importance of individual attention, which is why they report that customers who attend meetings are twice as likely to meet and sustain their goal weight as those who go it alone.
---
In Summary
Even though most people would be surprised to see what they are already spending each month on food, there's no denying that Jenny Craig is a relatively expensive diet.
Fans of the Jenny Craig would argue that the personal attention is worth the extra cost, but would you?
Most customers are happy with the diet, but the hefty price tag is the source of most online complaints. (Also know that if you cancel their program before the second food shipment, you'll be charged a $99 cancellation fee!)
If you really like the idea of meal delivery but want a cheaper alternative, consider Nutrisystem or South Beach Diet. If you like the idea of personal support and prefer to cook your own meals, then consider WW + meetings.
*New: Jenny Craig vs Nutrisystem and Jenny Craig vs Weight Watchers
Thanks for reading our info and thoughts on the cost of Jenny Craig! If you have opinions on the fees and expenses, please leave us a comment below:
Related: How much does Home Chef really cost?